35 Denton wows crowds
By Aaron Ortega
Opinion Editor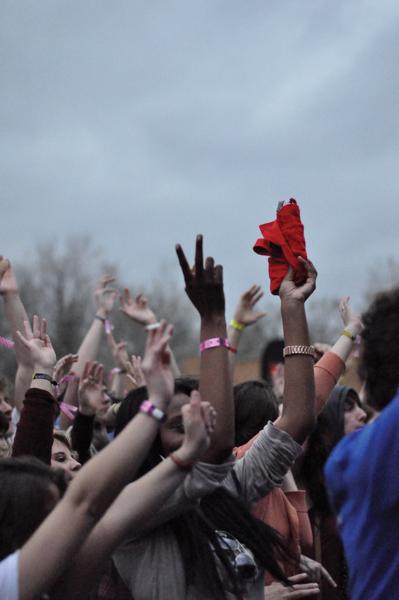 After almost an hour delay, 35 Denton's headlining performer, Solange, took to the indoor stage. Apologizing for circumstances beyond her control, Solange and her band created a warm atmosphere to dry off any festival goer that evening.
This year's 35 Denton is the music festival's fifth year running. Over a four-day period some 200 acts performed, including Solange. Droves of attendees traversed the festival's streets and venues over the course of the event. With a lineup as diverse as the crowd in attendance, every stage, house party or street corner pulsated with a mixed bag of sounds emanating in every direction.
Multitudes of rain-drenched crowds filed into The Hive, shivering and hopping over puddles in the flooded streets of Denton, Texas.  A ferocious downpour forced a last-minute rescheduling of what was to be an outdoor live performance.
Displaying various combinations of beards, black-rimmed glasses, beanies, dreadlocks and skinny jeans, toting backpacks or camera gear, show goers herded into The Hive, a converted industrial building, to witness Solange's Saturday night performance. An already delayed show kept fans in waiting. The venue, reminiscent of a cold airplane hangar illuminated with blue lights and red glows, pulsated with kinetic house music.
Maryam Jaluhara, an attendee, was up front for the action. "She held my hand, which was really cool. Her outfit, her hair, everything was just perfect." Jaluhara said, "There was a lot of energy, it was really upbeat and it felt good. I went home feeling awesome."
With venues and stages within minimal walking distance, anyone brandishing a colorful wristband could venture throughout any of the various performances. Friday night at Dan's Silverleaf, Danny and the Designated Drivers played a lively performance to a packed venue. The club's red luminescence glowed over the crowd, as the band's unique style of alt-country ranged from energetic and upbeat tempos to melodic ballads.
Frontman Daniel Folmer, a former Brookhaven College student, looks forward to the 35 Denton showcase every year. "It's like Christmas. Everyone gets manic," he said.
Looking back on the band's performance,  Folmer described his favorite moment. "At one point I was just screaming. I don't even know what song it was, but it just felt really good." Folmer said. Another band highlighted in 35 Denton's lineup, Denton electronic duo Vulgar Fashion, took the stage Saturday night at Hailey's. Vulgar Fashion recently made waves in the sea of Internet buzz, having a brief spotlight on the music website Pitchfork. The performance drew upon dark, pulsating beats and waves of white noise as the duo, Andrew Michael and Julie McKendrick, captivated the audience.
Dense fog, intermittently flashing strobes and a colorful array of balloons, which vocalist McKendrick handed out at various times throughout the set, added visual flair to Vulgar Fashion's already colorful performance.  McKendrick paced back and forth between stage and floor during the set, her long, dark hair masking her face. Her vocals sounded like faint echoes throughout the set.
The difference apparent between a normal Denton show and a 35 Denton performance became clear as the crowds at each venue varied. Michael of Vulgar Fashion said: "It's always interesting. We're from Denton, and playing in Denton we usually see familiar faces. With a festival like this, because there's so much going on, it's pretty much all new faces."
Michael also noted the amount of shutter action that took place. "I end up seeing more cameras, especially at 35. It's cameras everywhere," he said.
Another headlining act, Simeon, also known as Silver Apples, noted that he only plays festivals. Silver Apples, which began in the late sixties as a pioneer of electronic music, producing some of the first synthesizer-based music, according to the band's website, played to a predominantly young crowd Sunday night at Hailey's. One attendee crept in close to the stage for photos to capture Simeon's age.
Simeon said: "I love to play festivals. I think that's where it's at right now. For me, anyway." The diverse lineup at this year's festival ranged from hip-hop to electronic and progressive rock, with names such as Killer Mike and Chelsea Light Moving contributing to the myriad of musical flavors. "Festivals always have a very mixed bag, which makes it all the more fun," Simeon said.
Between performances, the daytime festivities offered a colorful array of food trucks and vendor booths, as well as print shows and discussion panels. Aromas of street friendly cuisines wafted over the event's square as patrons drifted to and fro between the two main stages on Hickory and Mulberry streets. A pocket of sidewalk nestled between the stages also offered an assortment of vendor tents for perusing eyes.
From shirts screen-printed live to vintage clothing, fashion and music became easily accessible commodities at 35 Denton. Bailey Chapman, co-owner/creator of Tater Cake Vintage, enjoyed the opportunity to sell items at the festival and give people the chance to feel, touch and see her fashionable wares as opposed to perusing her online shop. "Being right here in between the two stages and hearing every single band," Chapman said, "when we break down it's right at the time when all the other bands start, so we still get to have fun."
Technology may have played a key role this year, as those in attendance armed with smartphones and a roster of choice performances could rely on the capacity checker app provided by the 35 Denton website for live updates of each venues' attendance count. The app listed each venue along with an up-to-the-minute capacity percentage counter. The website also provided updates necessary for performance rescheduling, a constant complication due to severe storms Saturday night.
The 35 Denton gates came down Sunday night, marking the end of the four-day festivities. The facebook.com/35Denton page continues to post photos, videos, and updates from this year's event.