MLK Day of Service helps those in need
By Adriana Salazar
A&E Editor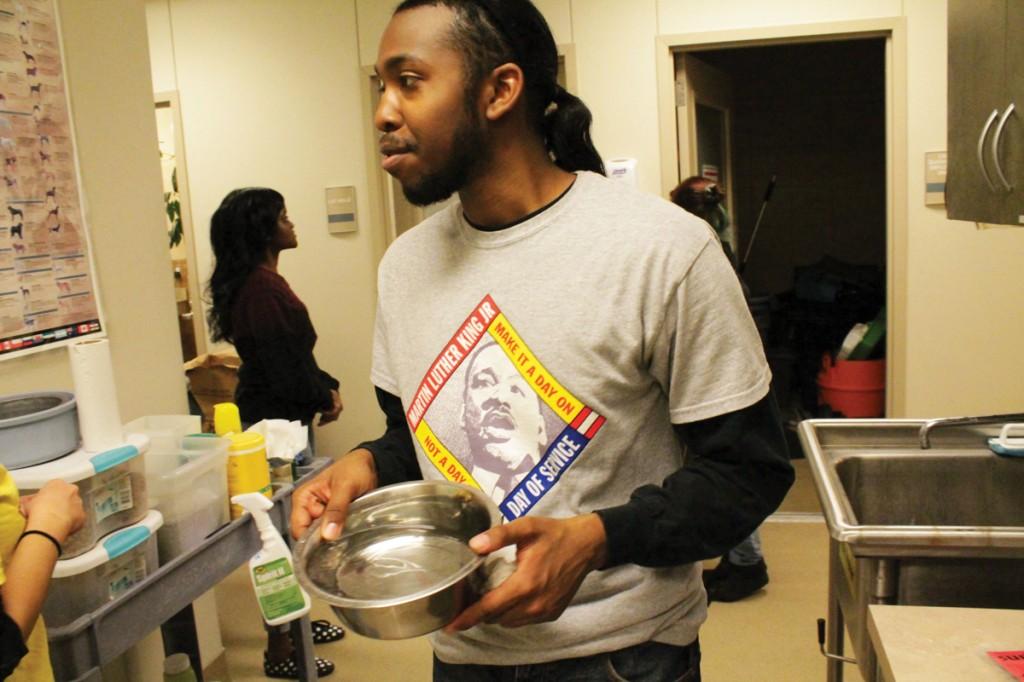 On their hands and knees going kennel to kennel scrubbing the cubicles of homeless puppies and kittens, Brookhaven College students got down to the nitty-gritty for a good cause. Andrew Deibert, coordinator of the Service Learning and Civic Engagement office, led Brookhaven's third annual Martin Luther King Jr. Day of Service event Jan. 20.
Deibert, who started Brookhaven's MLK Day of Service event, was one of 65 staff and faculty who received recognition Jan. 16 at the Emerald Awards. "My philosophy has always been to just do the best you can with what you have been given. I was happy to receive the award," Deibert said. "I know that there were some other very good nominations, and I would have been happy for either of the other ones to have received it. I would still do it even if I did not receive an award for it, so it's just icing on the cake."
Deibert has led the Martin Luther King Jr. Day of Service every year, supported by volunteer students. "There's always been this talk of doing service on Martin Luther King Day," Deibert said. "I think the message that he had during the civil rights movement was not just applicable to that time, but is more applicable to us treating each other and solving society's problems … so doing something on MLK day was important to honor him and the message that he had."
Deibert wanted to have the MLK Collegiate Challenge start the year with a big event that would leave a lasting impression on students. He said he wants the memories to linger throughout the semester and students' lives.
Brookhaven student Chukwuka John Umeojiako, the official photographer of the day, said he really enjoyed his day of service. "I am transferring to SMU next semester, but even with that, I will try to find time and attend next year," Umeojiako said.
Deibert said the projects allow students to get together and help the surrounding communities. He said the project started with 33 Brookhaven students and has since expanded. It has now reached North Lake College and Richland College. Deibert said he hopes to bring in all seven Dallas County Community College District schools and expand the services to Dallas County.
This year, students participated in seven different projects. Helping the homeless, the elderly, domestic violence victims, and animals at the Farmers Branch Animal Adoption Center were a few of the projects from this year's event.
"Andrew Deibert was an awesome leader, and I'm proud of him for putting this event together. Not only has it opened my eyes to the significance of MLK Day, but it motivated me to volunteer and help others as much as possible," Khadija Lateef, Brookhaven student government senator, said. "My favorite part was getting to interact with my team. I got to meet a few great people. I also enjoyed playing with the animals."
Deibert said there are benefits to helping others and expressed the importance of addressing the community's needs. He said big change starts with the initiative of only a few. "We have all been in a place where we needed something. If not, we are the fortunate few, but we all needed something or someone to provide comfort or service," Deibert said. "So it's important for us to get back and to do a lot of the things that MLK Jr. stated are important in our society."