By Adam Coleman
Staff Writer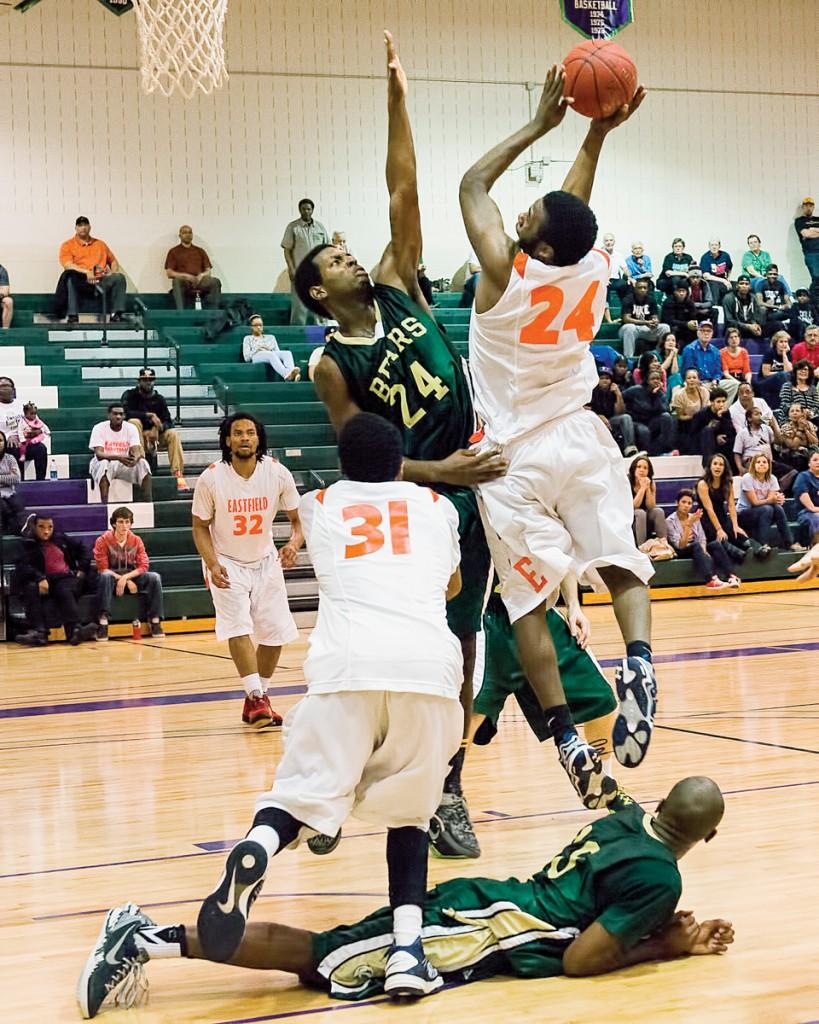 The Brookhaven College Bears continued to prepare for a conference championship last week for the Mid-American Conference tournament. According to the National Junior College Athletic Association, the Bears are ranked third overall for games in the division.
The Bears started out the tournament against the Mountain View Lions. Coming into the game, the Bears were 12-3 at home and 2-0 against the Lions. However, it looked as if Mountain View was tired of losing when the team came out in a full court press to jump on a quick 15-point lead.
Mountain View freshman Exzavia Seaton was scorching hot from the three- point line, knocking down shots at will. He would go on to finish with a double-double 26 points and 10 rebounds. The Lions continued to light it up from the field and extended their lead to 22 with eight minutes left in the first half.
Brookhaven student and spectator Frank Harris said, "It looks like they're playing nervous. We've got to get back to playing Bears basketball."
Head coach Kevin Hurst said he noticed some unusual play from some of his players. "I did have five or six guys that weren't ready to play at the start of the game," Hurst said. However, the resilient Bears continued to grind out possessions to get back in the game toward the end of the first half. Trey Mohair was among many who showed a lot of heart, as the Bears were able to go on a 22-11 run to close out the first half.
"I know this is going to sound cliché, but I really didn't have to tell them anything because of what we preach and teach in practice. I teach my guys to play whether we're up two, down two, up 20 or down 20. I tell them we play the same way no matter what," Hurst said. "We tell them to play with heart, no emotion, because when you play with emotion you get high, you get low or you get mad or sad, but when you play with heart, it matters to you, and you just never stop."
In the second half, Brookhaven came out swinging, trading buckets with Mountain View for the first 10 minutes. Hurst said he "reminded them [the Bears] what some of our principles, standards and expectations are."
The shortened lineup of Mohair, Kenny Slocum, Obioma Ugoala, Tray Baldwin and Zac Bowman worked best for Hurst, scoring 45 of Brookhaven's 46 points in the second half. "We have a very strict conditioning program. We played three games in three days in November on purpose because I knew that's how the conference tournament was," Hurst said.
Fueled by the enthusiastic home crowd, Brookhaven was able to go on a 10-0 run to finally take its first lead in the game. With less than a minute left and Brookhaven holding a slim lead, Lions guard Deion Robinson drove the lane only to have his layup rejected by forward Bowman, sending shockwaves through the crowd.
Although it looked like the Bears, who were up four with a couple seconds left, would go on to win, Mountain View had one last chance to tie the game when Baldwin got called for a flagrant foul on Robinson. Fortunately for Brookhaven, Robinson would miss both his free throws, icing the game. "The last five minutes of a game is winning time, and when it comes to winning time, big time players make big time plays, and tonight we had the big time players," said Harris.
Brookhaven would try to carry the momentum of this dramatic 22-point comeback against the Eastfield Harvesters the next night at Richland College. Eastfield and Brookhaven battled back and forth in the first half, but the Harvesters were able to hold onto a threepoint lead thanks to guard Tevin Corprew, who had 17 of Eastfield's 35 points. Slocum led the Bears in scoring with 10 points.
In the second half, the Bears struggled against Eastfield's 2-3 zone defense and fell behind. Despite a valiant effort by forward Bowman, who led all scorers in the second half with 17 points, the Bears were not able to crawl back again and would lose 75-92. Brookhaven will finish the season 21-9.