Profs discuss internet cheating
Brookhaven College professors voice their concerns on academic dishonesty.
By Monica Mitrovic
Copy Editor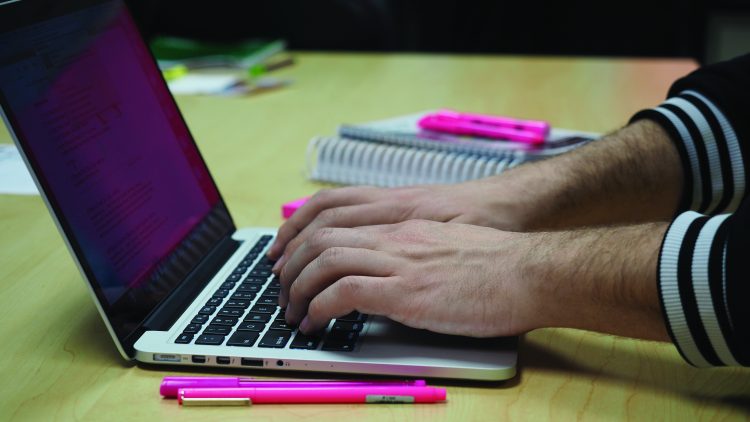 Despite preventive measures taken by faculty and staff, students still find ways to cheat in their online courses and in the classroom. Kessler International, an organization that offers a wide range of investigative and forensic services, surveyed 300 college students and determined nine in 10 cheated, according to campustechnology.com. Just as technology has advanced, so have the methods of cheating.
"We're so sick and tired of the cheating," Ahad Hayaud-Din, a government professor and former government chair, said.
"The Student Affairs Conduct Office receives, on average, about two academic integrity referrals per month, including summer," Susan Hibbs, chief conduct officer of Student Affairs, said in an email to The Courier.
Hayaud-Din has taught for 15 years and said cheating has become easier to catch because faculty can see it better. In the 1990s, plagiarism detection software did not exist, but after the  early 2000s, it became widely available to instructors, who then learned how bad the problem was, he said.
"The word's out that we're going to catch you," Hayaud-Din said. "SafeAssign system is extremely efficient. We all know how to use it at this point. We're looking for blocks that are in highlights, and we're looking for citation." SafeAssign is a tool used by instructors to detect and deter plagiarism, comparing students' submitted assignments with several sources from different databases, such as the internet and Global Reference Database, according to Blackboard, a service that facilitates digital classroom management.
"Technological advancements have made academic integrity violations easier for the student to achieve due to the availability of papers for free or purchase on the internet and sharing of electronic files," Hibbs said. "However, technological advancements have assisted in identifying academic integrity violations with software that identifies sources and authors of materials, regardless of where the information is obtained."
In an email to The Courier, Michael Bailey, a mathematics professor who teaches business calculus and STEM calculus online, said he uses an online proctoring system, Respondus LockDown Browser, to screen cheating. Respondus locks down browsers and films them during tests.
"I have personally found more cheating in classroom courses than online," Bailey said. He said this is because he uses Respondus, students are familiar with the course requirements and they are focused on their individual studies.
Hayaud-Din said department policy requires any student who takes a government course to use Respondus on online quizzes. "Cheating because of Quizlet is really hard to patrol," he said. "I think it's way too much of a coincidence that I have so many students who get perfect quiz scores." He said students use multiple devices, such as laptops and PCs, to find answers and pass the quizzes.
"The quizzes aren't worth much, so if you're cheating and spending all the time looking it up, as far as I'm concerned, you're still reading and you're still learning, and so you got 10 percent of your grade by spending time looking up the answer to something," Hayaud-Din said. But he said 90 percent of a student's grade is determined by their ability to demonstrate their understanding of topics discussed through written assignments.
Christopher Grice, a sociology professor and sociology chair, said he knows students have multiple screens now, so he lets students know exams are timed. "The time will eat you up," he said. "And I also let them know that I can look and see how much time they spent on every single question, to see whether or not they're looking at their book or looking at their notes."
Grice said many students do not know how to properly cite information.
"Oftentimes, students cheat simply because they're in a rush and they're pressured. I'm not saying that actually excuses it. It absolutely does not excuse it because it's unethical," Grice said. "However, I think that we should make a concerted effort and look at how we schedule our assignments: Do we give students enough time to learn the material, process the material and give them enough time to actually write, or is it a writing-heavy course?"
Grice said because students have other life obligations, they are pressured and make bad decisions, and some students see Brookhaven as a building ground for their GPA as they become transfer ready and try to have perfect papers. But he said there is no such thing as a perfect paper.
Grice said faculty should focus on not only the cheating problem, but also the causes.
Sam Govea, executive dean of the social science division, said in an email to The Courier, "I would like to see a focus on the prevalence and reduction of cheating and plagiarism overall."
Both Grice and Hayaud-Din said time management is important to prevent cheating. "And that can be solved by simply taking our fancy phones that we have and using the calendar app in it and setting a reminder," Hayaud-Din said.
"I don't want to ever see one of our students kind of go along making the same mistakes again and again and again," Hayaud-Din said.
Hayaud-Din said one of the biggest problems is that some faculty do not want to go through the process of writing a report. "They're actually doing that person a disservice because then they continue to cheat, and when they go to the universities, I mean, anybody will tell you what happens when you cheat at UNT. They kick you out the first time," he said.