By John C. McClanahan
Copy Desk Chief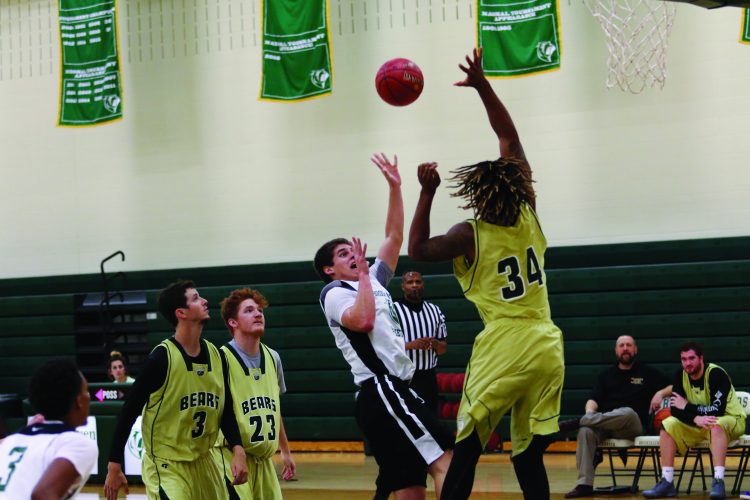 The Brookhaven College basketball team defeated a squad of former Bears players in the ninth annual Don Cockrell Alumni Basketball Game, 93-89. The match celebrated and commemorated Don Cockrell's, a former athletics and equipment manager, 26 years of service for the athletics department.
To begin the commemoration, Kevin Hurst, athletics director and coach for the alumni team, spoke to a crowd of fans, student athletes and coaches, emphasizing Cockrell's importance to Brookhaven athletics.
"He was a mentor, a friend and father-figure to all that knew him," Hurst said. Cockrell was a genuine person and a counselor who anticipated peoples' needs, lending an ear to whoever needed it, he said.
Hurst also said Cockrell loved animals and supported no-kill animal shelters. The Brookhaven athletics department collected monetary donations for Operation Kindness, the original and largest no-kill animal shelter in the Metroplex, according to its website.
The athletics department will continue to collect donations until Oct. 31, Hurst said in an email to The Courier.
Joe Wilson, a former Bears basketball player, assistant coach and current coach for Griffin Middle School in The Colony, Texas, said he remembers Cockrell's dedication to Brookhaven when he joined the Bears as a freshman player in 2007.
"He's a guy that would give a shirt off his back to you," Wilson said. "He did everything for the facilities and sports. He was a great guy."
Wilson recalled a time when the Bears' team bus malfunctioned on their way back from a game against Graceland Junior College. Wilson said Cockrell made a two-hour drive to pick up the team.
BEARS VS. CUBS
Both teams played hard from the starting whistle, showing the crowd their ardent determination to win. In the first half, Bears Logan Dixon quickly snagged a ball, a split-second before it bounced out of bounds. He tossed a no-look pass over his head to Bears Blake Hardamon, who delivered a shot for 2 points, giving the current Bears team a 24-20 lead.
With four minutes left on the clock, alumnus Nosa Amadasun delivered a layup to the rim, drawing a foul after making his shot. "And one," Amadasun shouted.
He went to the free-throw line and flicked a shot up to the net. "Oh shoot," he said as the ball bounced off the rim. The Bears stayed ahead 32-22.
Less than two minutes remained in the first half, when alumnus Roderick Lovelady swished a 3-pointer from downtown, closing in on the Bears 36-27.
The alumni team trailed the Bears 41-29 after the first half.
Starting the second half, Hurst switched up his offensive tactic. The alumni set up a quick play and alumnus Jordan Enloe nailed a 3-pointer to cut the Bears' lead down 41-32. "Coach Hurst put in some play called Kentucky," Bears Kaland Johnson said. "And he did a nice job with that because we didn't see it coming."
However, Bears Antwain Baker answered back with his own 3-point long-ball, pushing the Bears further up 44-32.
With 12 minutes left, Bears Khalil Adams snapped a quick pass behind his back to Justin Price, who made a layup to extend the Bears' lead to 63-48.
CUBS PREVAIL
As the clock wound down, the alumni team crept up on the Bears, severing their once 13-point lead to 4.
With less than a minute left, Bears Reid Walker posted at the 3-point line unchallenged. He took one last shot, but missed while trying to ring in a long-ball at the buzzer.
"We played great man," Johnson said. "We're brothers so we play like it. So, I think we did pretty good."