MVC to go to Cuba in May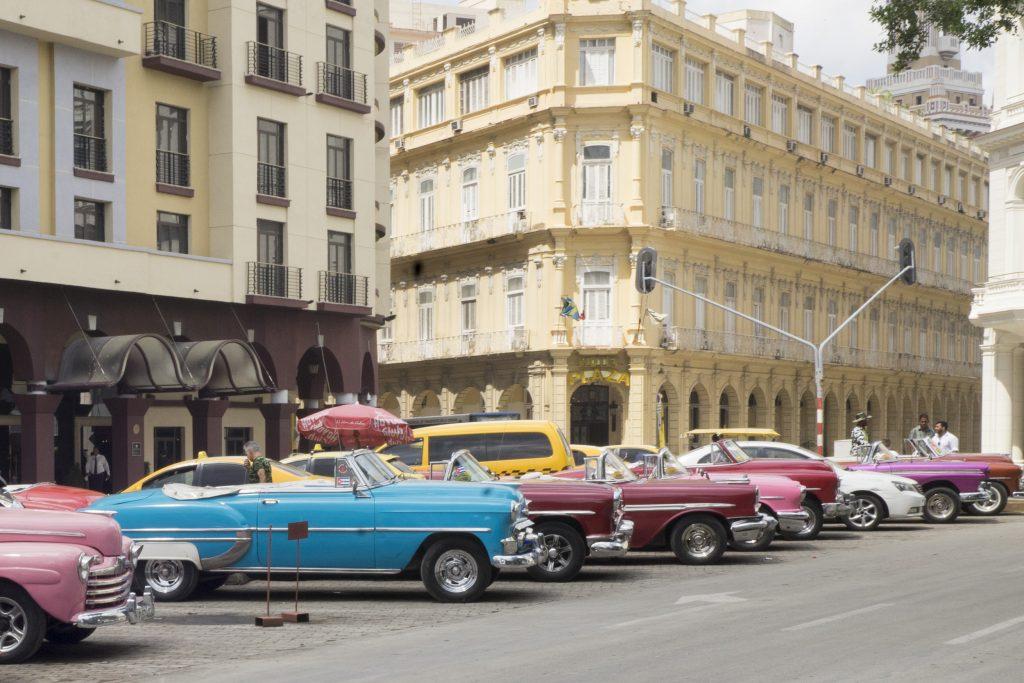 By Jubenal Aguilar
Editor-in-Chief
Mountain View College will offer students an opportunity to learn Spanish and explore Cuba in the district's first total immersion program to the island nation. The trip, which is scheduled May 19-June 1, will be the first study abroad trip approved by Dallas County Community College District to the once-isolated nation.
IMPORTANT DATES
March 5:
Deposit & application deadline
March 30:
Final payment due, Spanish placement exam given
April 1:
Study abroad scholarship deadline
Late April:
Enroll in SPAN 1300 or 2311
May 4 & 11:
Pre-departure meetings
May 6:
Spanish placement exam due
May 19:
Depart to Cuba
For two weeks in May, students will learn Spanish from local instructors, explore Cuba's historic sites and learn about the country's history and culture.
"If Mountain View goes to Cuba, we will be the first community college in the state of Texas to go. That is what excited me the most," Ulisses Rodriguez-Figueroa, a Spanish professor at Mountain View College and trip sponsor, said.
CREDIT COURSES
As part of the program, students will need to enroll in the SPAN 1300 or SPAN 2311 May term classes offered through Mountain View, Rodriguez said. Enrollment for these courses will be available when summer and fall registration opens in April.
Rodriguez said students who take Spanish with the intention of transferring to a four-year school should enroll in SPAN 2311. He said SPAN 1300 is not transferrable as a language credit, but may be accepted by a university as an elective.
Upon completion of the program, Rodriguez said students will be awarded a certificate of completion to show their achievement. Attendance to all class sessions and scheduled activities are mandatory to receive the certificate.
"On your transcript will only appear that class, but it will not say anything about you studying in Cuba," Rodriguez said.
The certificate can be used for potential employers as proof of studying abroad, he said. "That's the most valuable thing you will get out of the whole trip," Rodriguez said.
COSTS
The total estimated cost of the trip is $3,250, Rodriguez said. The final cost may vary due to currency exchange with the school. That amount will include classes in Cuba, round-trip airfare, all ground transportation, room and board, meals and full coverage of student health insurance for the duration of the trip.
A deposit of $850, to be paid by March 5, is required to secure a seat in the program, Rodriguez said. The initial payment is refundable, should a student change their mind, prior to the initial payment deadline. The balance for the total trip cost will be due March 30. All payments must be made through the Cashier's Office at Mountain View.
DCCCD tuition and incidentals, including personal expenses, are not included in the cost of the program.
Rodriguez said there are two study abroad scholarships, each with different requirements, available through the DCCCD Foundation. Students may apply for one, or both, if they meet the requirements.
"You should not place your hopes on going on these scholarships," Rodriguez said. This is because the application deadline for the two is April 1. Awards for the scholarships will not be disbursed to students before payment is due.
An application must also be completed to returned to Rodriguez by March 5. The form can be obtained by emailing Rodriguez at [email protected].
SPANISH LESSONS
Prior to departure, all students will be required to complete a Spanish placement exam provided by the school in Cuba, Rodrgiuez said. The assessment will be made available to students March 30 and will need to be completed by May 6.
The test will be used to place students in an appropriate level course when they arrive in Cuba.
Rodriguez said students will attend 40 hours of classes to meet the instruction time required by DCCCD. Classes will be taught by local instructors of Estudio Sampere, a Spanish learning institution with campuses in Spain, Ecuador and Cuba. Rodriguez, who has prior experience with Sampere, said the institution is a high-quality school. "The course in itself, the classes as your academic experience, they have a 95 percent approval by the students who have been surveyed," Rodriguez said.
EXPLORATION
An additional eight hours will be gained through other learning experiences. Classes will be taught by local Spanish instructors.
Beyond the classroom environment, students will engage in cultural activities designed to enhance their experience in Cuba. Trips to historic sites and museums are among some of the planned activities. A salsa lesson and music show, among other activities, will immerse students in Cuban culture.
"This is a very interesting trip because we will be traveling [around the country]," Jessica Matchett, a world languages professor at Eastfield College, said.
Though the final itinerary is still tentative, Havana, Viñales, Cienfuegos, Trinidad and Santa Clara are among the cities travelers will visit during their stay. Students will also have the opportunity to visit a tobacco farm.
She said she hopes travelers will have renewed vision of what is beyond their immediate circle and motivation and desire to continue learning Spanish.
Grant Sisk, global programing and relations project manager in the Office of Global Economic Development, said study abroad has many benefits to students. "It gets the student out of their comfort zone and into a foreign environment where they have the opportunity to see how other people live, work and interact," Sisk said. "It expands their world view."
Matchett said this deeper understanding of the world and studying a language opens doors for students.
During their travels, all students will stay with local families in homestays, Rodriguez said, which will help enrich their cultural experience and help practice speaking Spanish.
MEETINGS
Prior to departure, students will meet with Rodriguez at Mountain View two times – May 4 and 11. First to complete all required paperwork and submit travel documents, and then to go over expectations of the program.
Sisk said a study abroad fair will be held at 11 a.m. to 4 p.m. March 4 at Richland College to provide information to students interested in other study abroad opportunities.