When All Else Fails, Find The Signs
By Brandon Hines
Staff Writer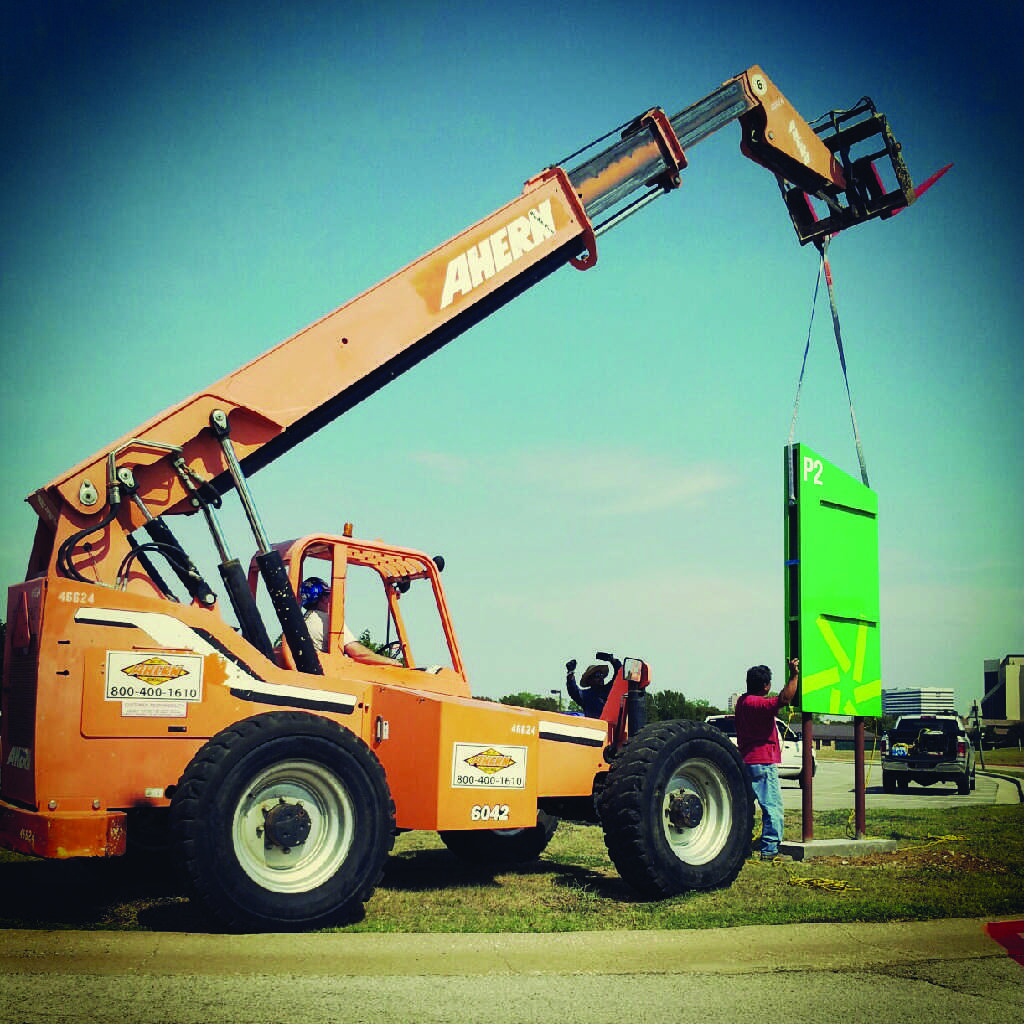 Community college or the real world? Students at Brookhaven College are using the newest cutting-edge technology to gain real-world experience.
Getting from one side of campus to the other can be a challenging endeavor for those who are unfamiliar with the location of the X Building or Commons Courtyard. In late October, crews finished installing Phase I of a new signage project at Brookhaven College.
A Brookhaven student could enroll full-time for 177 semesters at the current rate for the $125,000 price tag that the new signage carried. There were two large vehicular signs (seen from a car), 10 secondary vehicular, 11 pedestrian and 73 building high-visibility neon green signs distributed throughout the campus. The signs were designed by Brookhaven Global Information Systems students in conjunction with ASI Signage, out of Irving, Texas. The slope of the sign is designed to mimic the rooftops of the college buildings, as well as incorporate Brookhaven's logo and colors.
Scott Sires, lead faculty, geographic information systems, said: "[GIS] Students come to Brookhaven to go to work. We want to make sure they use state of the art equipment, state of the art software … even the state of the art processes. We want to be cutting-edge."
Students were graded on the signage project, but can also put it on their résumés because of the innovative curriculum developed by Sires and his team for teaching GIS."We have a very advanced program here at Brookhaven; we have the most rigorous geospatial technology program in the country," Sires said. "I'm interested to find out if there are any other programs that are quite as active or that offer more hours than us."
The next step for Phase I will be to add Quick Response Codes, or QR Codes, to the signage. Anyone with a smartphone will be able to scan the code. When the code is scanned, a web-based application will be launched that gives the  location and can give directions. The QR Code will also give pedestrians the fastest way to travel. "Not one penny of operational money from the college has gone into the QR Code project," Sires said.
Mohamed Hassan graduated last May from Brookhaven with an associate degree in GIS. He is currently doing a 300-hour internship at Brookhaven. Hassan created the QR code and is still working to develop the application, routes and data. "This project is going to take way more than 300 hours," Hassan said.
"The program is awesome— I've been stocking shelves at Wal-Mart for the last couple years and now I will be working for Collin County to complete another internship. I want to continue to university because I want to master something not a lot of people can do."
The plan is to have the new QR codes added to the signage by Jan. 22 in time for the spring semester. Hassan is from Sudan and has been in America for 12 years. His professors, colleagues and Dr. Thom Chesney, the president of Brookhaven, are very proud of Hassan's accomplishments.
The signage committee was co-chaired by Sarah Ferguson, executive dean, educational resources, and Tommy Gallegos, college director, facilities management. "This project was the final component of the bond program," Ferguson said. The bond program included the X and W buildings; when these buildings expanded, the automotive bay's money was set aside to set up new signage.
Brookhaven's old signs were put up in the mid-1990s. "The finish on the new signs is like the finish on a car, and they should last about 10 years," Gallegos said. The signs have removable panels so that they may be updated at a minimal cost. "They are very nice, very well done," Gallegos said. "The workmanship on them is just outstanding."
Gallegos' role was giving guidance and direction in the manufacturing of the signs. Gallegos has done sign projects before in previous jobs. In fact, he has 25 years of construction experience. "We had a really solid committee," Gallegos said. "Everyone listened really well. There were many different things that came together to develop these signs." Gallegos would love to be a part of the Phase II project as well, "if they ask me," he said, jokingly.
"When we were working on wayfinding, the way that we approached it was sort of like an onion," Ferguson said. "You keep peeling back the layers. What we were doing was creating signage: a wayfinding process to get you from the entrances at Valley View or at Alpha, to get you to parking, and then get you to the buildings, and also give you breadcrumbs to get you around the campus. And once we get you in from the parking, we positioned pedestrian signage with a map and a directory to get you to the various buildings."
The project was a collaborative effort because of all the different skillsets that it represented: visual arts, the arts, student services, marketing and public information and GIS, Ferguson said.
Chesney took to social media, posting on Twitter, "If there's any better wayfinding signs on a college campus, I have yet to see it." Chesney also posted a picture. "One of the things I first noticed was how many people are coming up now, and boom, self-service," he said. "Not only are they attractive, they certainly do the job. I think they're fantastic."
The next step will be the installation of interior wayfinding signage in Phase II. Phase I took a year to develop, and Phase II has not yet been planned.
Readers interested in GIS can go to www.dcccd.edu/gis.