Alumnus pleads guilty in bribery scandal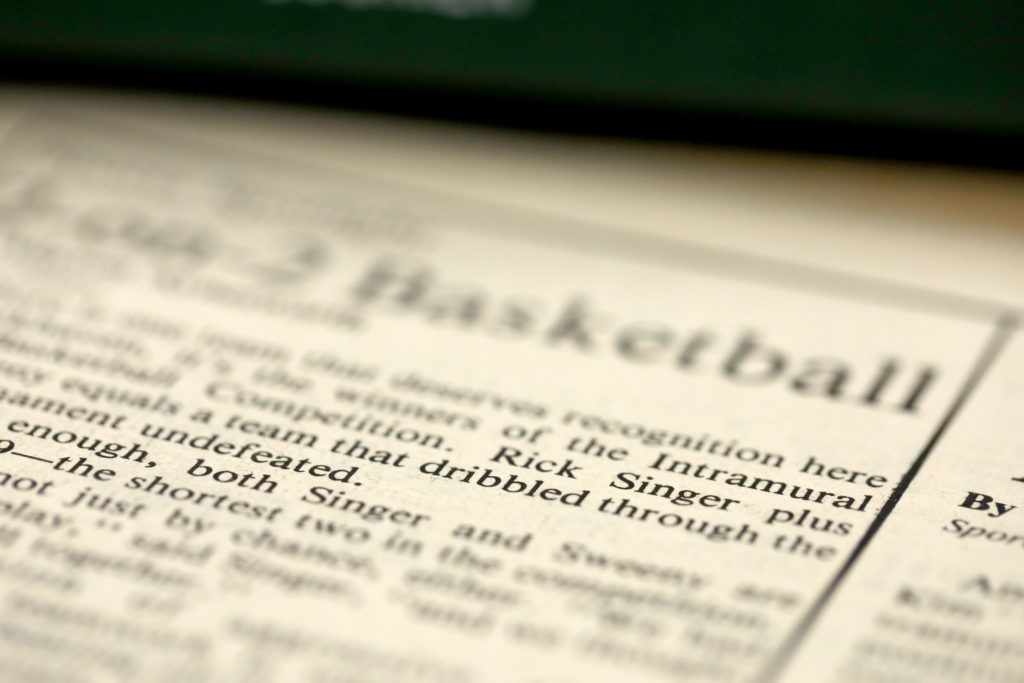 By John C. McClanahan
Editor-at-Large
On March 12, former Brookhaven College student William "Rick" Singer, 59, stood in front of a judge inside a courthouse in Boston and pleaded guilty to counts of conspiracy to commit racketeering, conspiracy to commit money laundering, conspiracy to defraud the U.S. government and obstruction of justice.
Singer spearheaded what U.S. attorney Andrew Lelling called the largest college admissions scandal in U.S. history. "For every student admitted through fraud, an honest, genuinely talented student was rejected," Lelling said.
According to The Courier's archives, Singer won a two-on-two intramural basketball competition at Brookhaven in the fall of 1981.
BIG CHEAT
"I am absolutely responsible for it," Singer said, according to NBC News. "I put everything in place. I put all the people in place and made the payments directly."
Singer operated a California-based college preparatory business, Edge College & Career Network, also known as The Key. The company served over 90,000 adults and high school junior and senior college applicants, according to its website.
From 2011 to 2019, Singer bribed college exam administrators and proctors to facilitate cheating on ACT and SAT exams to ensure his clients' children were accepted into elite U.S. universities, including Stanford University, Yale University, The University of Texas at Austin, the University of California – Los Angeles and the University of Southern California, according to The Los Angeles Times.
At the same time, Singer ran a college athletics recruiting scheme in which he bribed coaches and administrators to enroll students by adding them to team rosters of prestigious schools using falsified student-athlete credentials, according to LA Times.
"There were essentially two kinds of fraud that Singer was selling," Lelling said, according to CNN. "One was to cheat on the SAT or ACT, and the other was to use his connections with Division I coaches and use bribes to get these parents' kids into schools with fake athletic credentials."
Singer used his enterprise's tax-exempt nonprofit branch, The Key Worldwide, to funnel $25 million given to him from wealthy parents into bribes, according to a 204-page affidavit.
The affidavit lists 50 people involved in the scheme, including 33 parents, nine coaches, two exam administrators, one proctor and others who orchestrated the operation, such as Singer.
"This is a game," Singer said on an audition video for a reality TV show he submitted to an undisclosed network and later obtained by TMZ. "Just realize that this is a game."
SLICK TALKER
After his time at Brookhaven, Singer transferred to Trinity University in San Antonio in the mid-80s, according to Rolling Stone.
In 1992, Singer founded Future Stars College and Career Counseling, his first business, which focused on helping high school juniors and seniors navigate the admissions process, according to NBC News. In the late 1990s, Singer provided counseling services at Rio Americano High School, where he was fired, according to The Orange County Register.
"He was a slick talker and people believed him," Jill Newman, a high school counselor in Sacramento schools, said, according to The New York Times. "But every high school counselor in the area knew about him. He was sneaky from the get-go."
VARSITY BLUES
Singer, who authored the 2014 book "Getting In: Gaining Admissions to the College of Your Choice" often told applicants to embellish or fabricate accomplishments and accolades to better brand themselves for admissions.
He said he helped over 800 families cheat on ACT and SAT exams and falsify student profiles, though prosecutors are uncertain how many of Singer's clients knew of his activities, according to NBC News.
"All of these things, and many more things I did," Singer said. "I created a side door that would guarantee families would get in."
According to the affidavit, Singer "bribed college entrance exam administrators to allow a third party to facilitate cheating." Some students were provided with exam answers or had answers corrected after they completed an exam, while others received extra time to complete an exam after showing a doctor's note falsely stating they had a learning disability, according to The Washington Post.
The scheme began to unravel in 2018 after a financial executive in trouble with the FBI came forward about his involvement with Singer, according to The Wall Street Journal. After investigators obtained a court order, the FBI wiretapped conversations between Singer and his clients as part of Operation Varsity Blues.
After he was arrested, Singer began cooperating with authorities and has led prosecutors to charge parents, coaches and college administrators involved in the scheme, including TV actresses Lori Loughlin and Felicity Huffman, according to NPR.
According to USA Today, "Full House" star Loughlin and her husband Mossimo Giannulli, a fashion industry mogul, appeared in court April 3 on charges of allegedly paying $500,000 in bribes to get their daughters into the University of Southern California.
RIPPLE EFFECT
University officials have also taken action against employees wrapped up in the scandal.
On March 18, Jorge Salcedo, UCLA men's head soccer coach, resigned after being accused of accepting a $100,000 bribe. Salcedo was allegedly paid to add Lauren Isackson, the daughter of real estate developer Bruce Isackson, to UCLA's women's soccer roster, according to Fox News. But Lauren never played competitive soccer. In 2017, her image appeared as a midfielder on UCLA's women's soccer website despite the fact that she never played a match with the team, according to Fox News.
Salcedo, who carried the men's team to national titles in 2006 and 2014, faces conspiracy to commit racketeering charges, according to Fox News.
On March 13, UT athletic administrators fired men's head tennis coach Michael Center for his involvement in the scandal, according to The Dallas Morning News.
According to The New York Times, Singer was released on a $500,000 bail. He is scheduled to reappear in court for sentencing June 19.