Join the award-winning Brookhaven Courier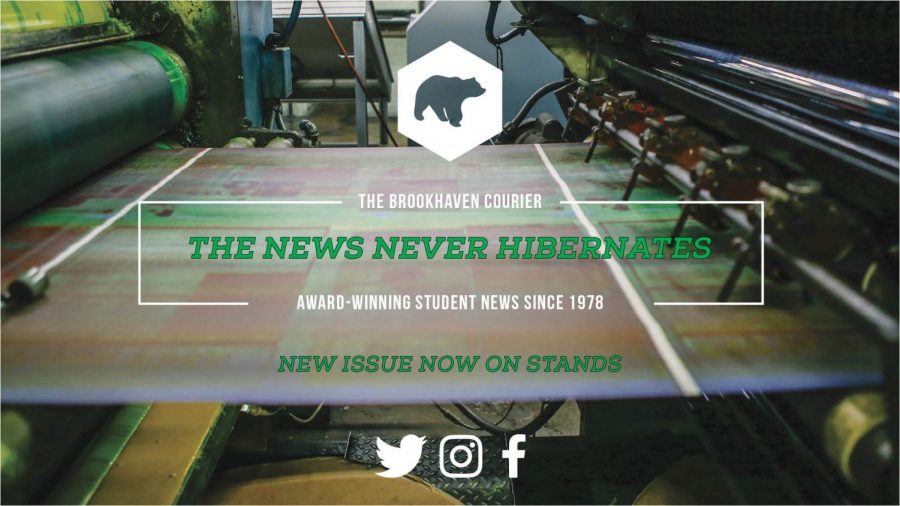 Looking to start a career in journalism or mass communications? Start building your résumé today while working as a part of a diverse, award-winning news team of other Brookhaven Campus students. We're always needing new contributing news writers, columnists, opinion writers, photographers and illustrators – not to mention copy editors.
The student newsroom, Room U241, offers COMM students hands-on learning that helps one gain practical newspaper and magazine writing and production experience in print and online media. Have any questions about how to join? Then stop by the newsroom, Room U241, between 11 a.m. and 2 p.m. any Wednesday or email anytime at [email protected].
As a part of The Courier's staff, students learn to research, interview, write news and features, capture print-worthy photographs and more.
The Brookhaven Courier, a designated public forum, is published as the campus newspaper. Functioning as a lab for our students, the newspaper (both online and in print) can help students build a portfolio for careers in journalism, photography, publications, editing and layout or advertising, marketing and public relations.
Students interested in completing course credit should enroll in COMM 2311 – Media Writing or COMM 1316 – News Photo I at Brookhaven.
The experiences in our student newsroom produce transfer students ready to enter university programs newsrooms as participating contributors or even editorial staff. Some of our students have gone on to study work in college newspapers including SMU, TWU, UNT UT Arlington, UT Austin, Baylor and Texas State. Other students have worked for The Dallas Morning News, the Dallas Observer, Dallas Voice, Central Track and the Denton Record-Chronicle.
Our staff members have received numerous awards from the Texas Community College Journalism Association, Texas Intercollegiate Press Association and the Associated Collegiate Press.
---
Student Interest Form
Complete the form below to send us your information and we will get back to you!