Electronics are waste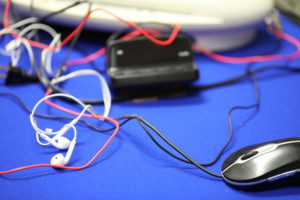 By Mykel Hilliard
Contributing Writer
The Brookhaven College Green Team Coalition made nine e-waste bins in an effort to raise awareness for e-recycling on campus. Used items such as handheld calculators, smartphones, chargers, pagers, power strips and USB cables, are some of the electronics that can be dropped in the bins across campus. Bins are found in A, D, L, M, P, S, X and W buildings.
Brookhaveans are encouraged to drop off items before the bins are removed from campus at the end of April. "We will keep the bins out for the month of April in honor of International Earth Day," Lois Wagenseil, reference librarian and Green Team Coalition co-sponsor, said.
Electronic recycling, or e-recycling, is the recovery and reuse of material from old electronic devices. In 2016, 44.7 million metric tons of e-waste was generated worldwide, according to United Nations University, a global think tank and postgraduate teaching organization. This number is expected to rise to 52.2 million metric tons by 2020.
Wagenseil said the idea was first mentioned in a meeting by Britanny Hernandez, a student and Green Team member. "I thought it was a good idea, and we had enough time to prepare the bins a few weeks before our annual e-waste event that has taken place at all of our past Earth Day Fests," Wagenseil said.
Maureen Dale, a student, said she finds the idea interesting. "I have plenty of old electronics that are sitting around," she said. "We are such a technology-based generation, yet we focus more on recycling items such as paper and plastic. We need to focus more on recycling our old cell phones and tablets. I have a few in my drawer now that I plan on recycling."
Briana Rosas, a student, said she will make an effort to bring in items. "I haven't noticed the [bins], but I think they are worth it," she said. "I am big on recycling and repurposing items." Rosas said she disposes her old batteries in the battery station in Commons Courtyard and donates unwanted books to Brookhaven's Little Libraries.
Local businesses and cities have joined the effort to reduce electronic waste too.
The Farmers Branch Public Works Department allows e-waste to be dropped off at the Citizen Collection Center. Residents can drop off items including computers, hardware and accessories, televisions, DVD and CD players, printers, copiers, fax machines, typewriters and telephones.
San Diego-based company ecoATM offers Dallas consumers a way to recycle old electronic devices such as smartphones, tablets and MP3 players through in-store kiosks for cash. The company has 51 kiosks throughout the Metroplex in stores such as Walmart, Kroger and the Collin Creek Mall.
Coppell-based company United Electronic Recycling, LLC specializes in e-waste recycling and will identify the lowest cost possible for potential item pick-ups. E-waste pick-ups can be requested through a form on the company's website. Pick-ups come at a price, but the company encourages communities to collect as much electronic equipment to help offset the expenses.
After completely processing e-waste, the company provides a Certificate of Destruction, or COD, to customers for guaranteed disposal of items. In an email to The Courier, CEO Jason Keller said customers can engage the company by calling, emailing, texting or dropping items off at their building.