Longtime prof retires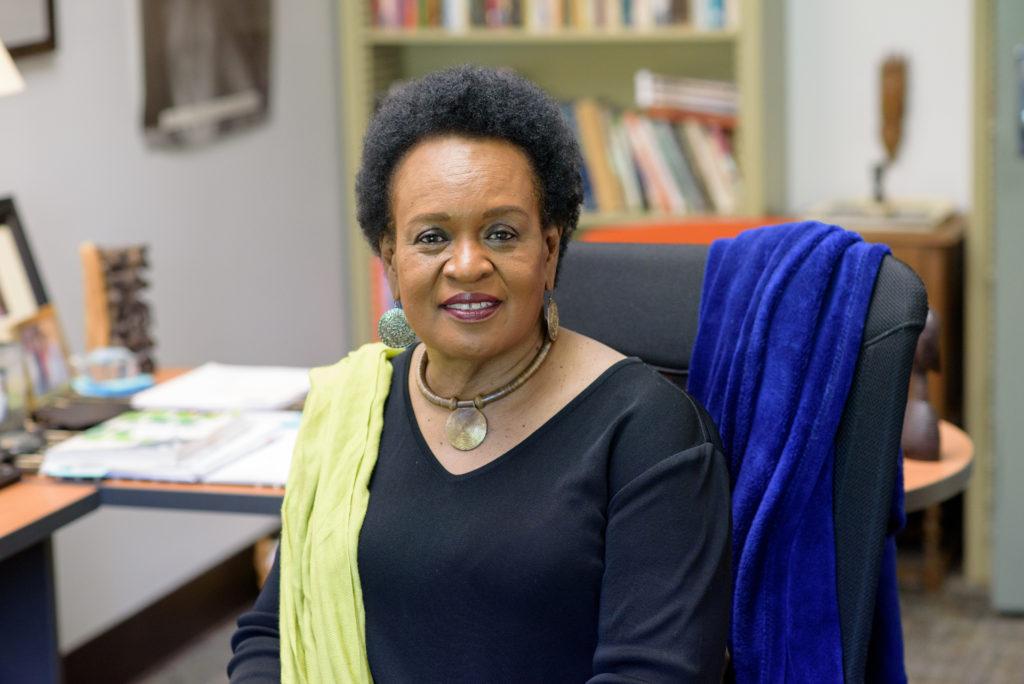 By Mykel Hilliard
Contributing Writer
Nestled into a corner of L Building in Brookhaven College's third floor is a vibrant office that almost doubles as an African American history museum – a place where vintage and modern black culture meet. Posters of historical African and African American figures, such as Ethiopian Emperor Haile Selassie I, former president Barack Obama and his family, poet Langston Hughes and James Baldwin, cover the walls.
The office belongs to Hazel Carlos, an English professor, and grammar workshop coordinator. After 32 years as a professor at Brookhaven, Carlos will retire at the end of the spring semester.
Carlos grew up in Jackson, Mississippi, in a pre-Brown vs. Board of Education era when racism and discrimination were socially accepted, and public school segregation was still prevalent. She attended Holy Ghost High School, a Catholic private school and one of the first schools in Jackson to accommodate black students.
Carlos said she enjoyed school from a young age. She was academically competitive, which led to long nights of studying. "I would stay up half the night working on trig because I just knew that there was going to be a girl in class the next day that knew it like the back of her hand," Carlos said. Her hard work paid off, and she graduated valedictorian of her class.
After high school, she attended Jackson State University, where she earned her Bachelor of Arts in English. During her junior year at Jackson State, she was chosen to study at the State University of New York at Binghamton.
While attending Jackson State she spent her summers at Yale University and Harvard University in intensive study programs for undergraduates. "I had good experiences at Jackson because I was able to study at all these different places, " she said.
After graduating from Jackson State, she continued her education at Western Michigan University, where she earned her Master of Arts in English.
In 1969, Carlos began teaching at Jackson State alongside her former English literature professor and mentor Margaret Walker Alexander. "Being taught by her and coming back and teaching beside her was amazing," she said.
After teaching at Jackson State, she met her husband Joseph Carlos and moved to Michigan. She traveled with him as he practiced obstetrics and gynecology around the country. In the 1970s, she worked at Western Michigan University and various community colleges in Michigan and Mississippi, until she and her husband permanently settled in Texas in 1977. She taught at Mountain View College before transferring to Brookhaven as an adjunct English professor around the time the campus opened.
Since then, Carlos has taught English at Brookhaven as an adjunct and full-time professor. She said that the biggest change Brookhaven has gone through over the years is in technology. "We went from depending solely on one secretary to typewrite our material for us to having the opportunity to have computers on our desk," she said.
In recent years, Carlos helped develop the core curriculum for all seven Dallas County Community College District schools. She also served as co-chair of Brookhaven's English program from 2009-2015. Since 2015, she has served as the director of the English Comp Corner.
In 2012, she took over as director of the African-American Read-In, an event she created in collaboration with former English department colleagues Delryn Fleming and Marjorie Westberry. Now, 26 years later, Carlos is in charge of putting on these performances with help from students, staff and faculty.
Donna Crenshaw, college tutor coordinator and current read-in narrator, has participated at the read-in for 13 years. She said she has fond memories of working with Carlos and will miss her leadership. "I will miss her kindness," Crenshaw said. "She is the type of leader that empowers you and listens to you."
Stephanie Venza, English professor and charter faculty member, has worked alongside Carlos for 40 years. Venza said Carlos has helped mentor new and old faculty by sharing her wisdom and encouragement. She said it will be hard to fill the gap left by Carlos' departure. "Besides contributing to the Communications Division, she has also given her heart to the larger Brookhaven community in many ways," Venza said.
Carlos said her advice for future English professors is to learn the language of writing and to build relationships with colleagues. "Collaborating with co-workers and exchanging teaching strategies is helpful," she said.
After retirement, Carlos plans to do a lot of traveling, including a trip to Hawaii, then a visit to New Orleans for a family reunion.
She said she is grateful for her time at Brookhaven. "Brookhaven has helped me find better ways to teach, collaborate with colleagues and reach students," she said.