Prof explores Spanish dance, culture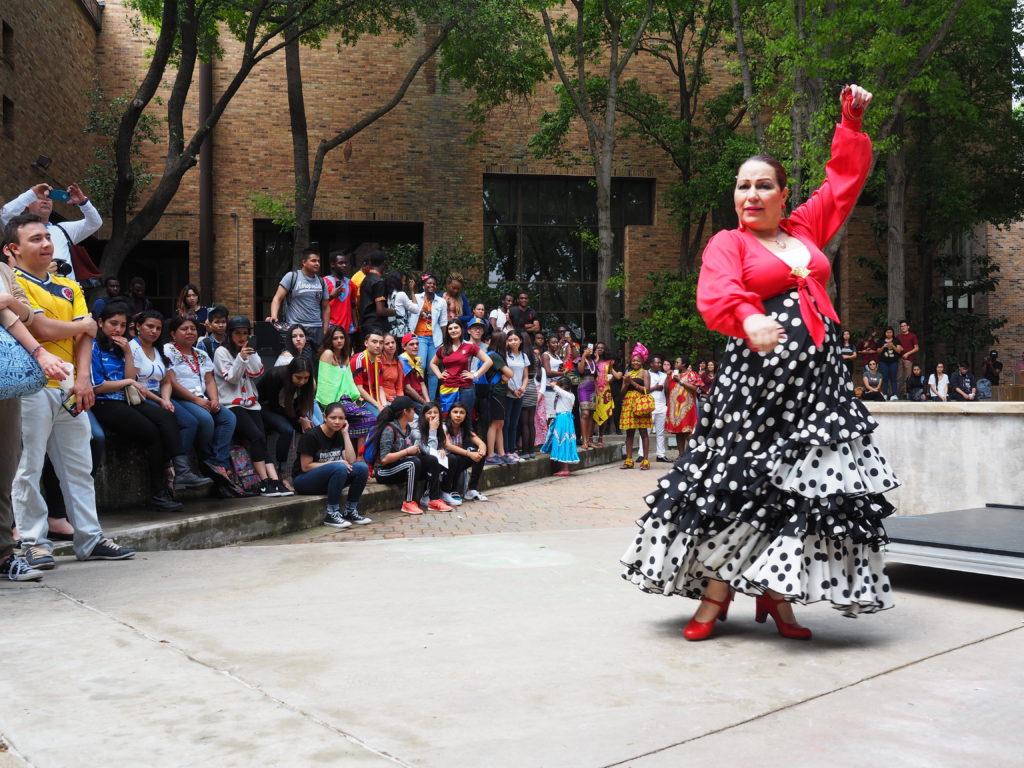 By Itzel Macias Ibarra
Contributing Writer
Rebecca García, a Brookhaven College Spanish professor, demonstrates a flamenco dance. Students, staff and faculty gather around her in a tight circle craning to see.
She stomps to the beat of the Spanish music. She waves her hands and flares her black-and-white dress as she claps a pair of castanets.
García, who has taught Spanish at Brookhaven since 2004, is expressing a passion for Spanish language and culture she has held since she was little girl. It all started when her family made it clear that it was very important for her to learn the language and about the culture behind it.
EARLY INSPIRATION
During third grade, her interest in Spanish grew when she saw a teacher instructing flamenco, a Spanish dance. "I said, 'Mother, I would love to dance that,'" García said. Her love for flamenco and folklórico grew. The disciplines were more than just dance for García. Dance was the connection to her culture she had been searching for.
In the summer of 1978, her love for dance landed her in Mexico City, where she danced for Ballet Folklórico de México as a substitute dancer. She said dancing for them was a wonderful and therapeutic experience. But she came back to the U.S. after her mother insisted she finish college.
In 1982, García graduated from Texas Christian University with two degrees, one in Spanish and a second in fashion merchandising.
After graduating, she worked in retail for a few years, but felt she needed more out of life, so she decided to pursue teaching, García said.
In 1989, García became a bilingual teacher for the Dallas Independent School District. While teaching, she danced for Anita N. Martinez Ballet Folklórico, an organization of troupes dedicated to educating the public on the culture of the dance.
While working at DISD, García ventured into TV broadcasting. She starred in a Dallas Schools Television show called "Nuevos Amigos." The show was dedicated to teaching Spanish and was nominated for a Lone Star Emmy in 2004 and 2005, winning in 2008 for Children/Youth Teen – Program/Special.
"As usual, they always cut funding," García said, laughing when referring to "Nuevos Amigos." At that point, García had already earned her master's in Spanish literature and was looking to do something new. Then one of her friends told her about Brookhaven.
A NEW DIRECTION
García came to Brookhaven as a visiting scholar, and was later hired for a full-time position. García now teaches four levels of Spanish to Brookhaven and Early College High School students.
In an email to The Courier, student Donita Vinduska said García is a vibrant, fun and caring teacher with a fast-paced but fun class. Vinduska said she enjoys the cultural aspects and personal experience García brings to the course, which make the class more enjoyable.
MAKING AN IMPACT
Getting to know students and watching them grow is García's favorite part about teaching Spanish. "I like them getting excited about things I get excited about," she said. For her, Spanish is more than just a language. It is about the culture, art and history, she said.
Student Paul Panek said he enjoys García because she really cares about her students. He also appreciates how adaptable García is. She is able to change the class based on what her students need, he said.
Teaching at Brookhaven is not the only thing on García's mind. She said she hopes to become an audiobook narrator, an idea she fell in love with after doing voice-over for TV network Univision. She said she would also love to have a local TV program about Texas history, study Italian in Italy and continue dancing she said.