First student recalls time at BHC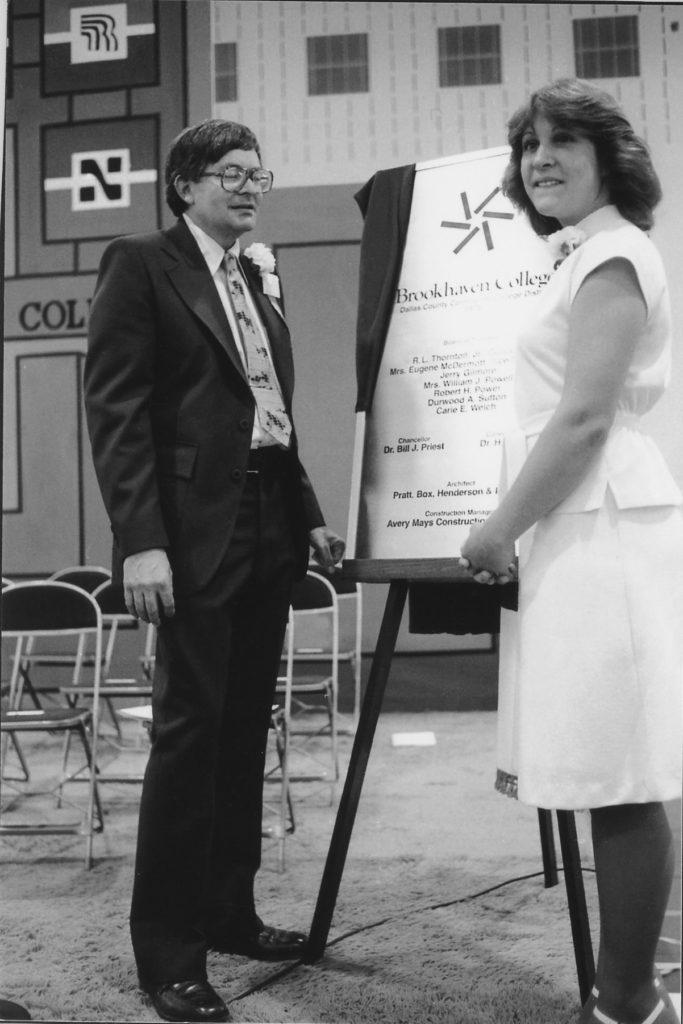 By John C. McClanahan
Editorial Proofreader
In 1978, 17-year-old Donna Camp, a recent R.L. Turner High School graduate, applied to a newly-opened community college close to her home in Carrollton. Unbeknownst to her, she became the first student to be processed and enrolled at Brookhaven College, the last of Dallas County Community College District's main campuses.
"I was fresh out of high school, and I just put out a bunch of admissions to different colleges and Brookhaven contacted me first," Camp said. "So I said, 'Ok, let's do this here in my hometown."
Instead of moving to a large university, Camp stayed at her parents' house in Carrollton during her first semesters. She said many senior classmates at R.L. Turner also chose Brookhaven as their launchpad into higher education.
"I knew I wasn't ready for a major university," she said. "I knew I wasn't cut out that way. I was kind of a sheltered person growing up. So [Brookhaven] was the perfect venue for me to get my feet wet and take some classes and be surrounded in a known and comfortable environment."
FIRST STUDENT
Brookhaven was still developing in 1978. The campus had temporary trailers, fewer buildings and a 120-foot metal windmill standing in the Commons Courtyard.
Bob Little, government professor and charter faculty, said Brookhaven's first days were an exciting time for everyone involved, even though parts of the campus were still under construction.
Brookhaven also had a different mascot – the Pioneers.
And as the first Pioneer, Camp was asked to participate in Brookhaven's first dedication ceremony, which opened the campus to the community.
In the late '70s, before eConnect, students enrolled in classes on campus, Stephen Link, psychology and charter faculty member, said.
"When students came in to enroll we were in the gymnasium," Link said. Students were given punch cards to enroll in courses and visited with faculty set up in the gym.
HIGHER EDUCATION
Camp said she was interested in studying physical education and kinesiology. During her first semesters, Camp signed up for physical education and first aid classes, as well as English, math and science classes.
She also took a computer class, which was different from today's tech courses.
"I remember taking a computer class, and it was like learning the mainframe," Camp said. "It wasn't any coding or anything. It was just learning the hardware of the computer. I don't remember much about it, but it tickles me because it was such a dinosaur class compared to what we are doing now."
UNNATURAL STUDENT
Although she enjoyed taking college classes, Camp said she was not a natural student. She preferred engaging in activities outside the classroom and making use of the campus' recreational areas.
An athlete at R.L. Turner, Camp said she played against friends on Brookhaven's tennis courts and put together pick-up softball and soccer games on campus.
Every day, Camp ran around Brookhaven's jogging trail, often admiring the surrounding atmosphere. She said the area around Brookhaven was less incorporated with more trees, and Valley View Lane was a two-lane road.
Camp also said the area's culture was different when she was a student.
DIFFERENT TIMES
At the time, Carrollton and Farmers Branch were small towns where most residents knew each other, she said. The area was less populated, and parents were not afraid to let their children roam after the sun went down.
However, social inequality was prevalent. Despite progression in women's rights, the community still considered women to be stay-at-home mothers and men better fit for college educations and careers, Camp said.
"Even though we were breaking out at the time, it was kind of a new thing that women were becoming educated instead of housewives," she said. "I know it happened earlier, but we are still reeling in the ramifications of the differences between a really ambitious young woman and one that should still be a housewife."
Although men were more encouraged to seek higher education, the social norm did not stop Camp and other women from attending college.
"The cultural expectations weren't for women to go to school, but we sure had a lot of women going to school back then," Link said. Brookhaven always had a large proportion of women enrolled and graduating, he said.
AFTER BROOKHAVEN
Camp earned her associate degree from Brookhaven in 1980.
She briefly attended Texas Tech University and took a couple of classes at North Lake College. Afterward, she enrolled in North Texas State University, now the University of North Texas, where she studied marketing. However, Camp did not finish her degree program after she met Jim, whom she married and had three children with.
The family lived in The Colony while Jim worked for the Texas School Book Depository. In the early-90s, she and Jim relocated the family to Arkansas. Camp has lived there ever since.
At 46, Camp earned her bachelor's degree in education from the University of Central Arkansas. Now, she teaches third grade at an elementary school in Little Rock.
Her oldest son is a dentist, and her youngest son is close to finishing college with a degree in computer science. Her daughter is finishing her master's degree in art education at UCA. Camp said four decades ago she was not as independent as her daughter now, and she is glad to see her daughter's academic and professional career blossom.
"She is someone who is on the move and moving up in the world with her career and her art," Camp said. "She's very aware of what the importance of her education is. But at the time in the '70s, I was not. I went because my dad said I needed to go."
Camp said she occasionally visits Brookhaven when she is in town. Her sister, Dianne Johnson, is a continuing education student who takes welding classes.