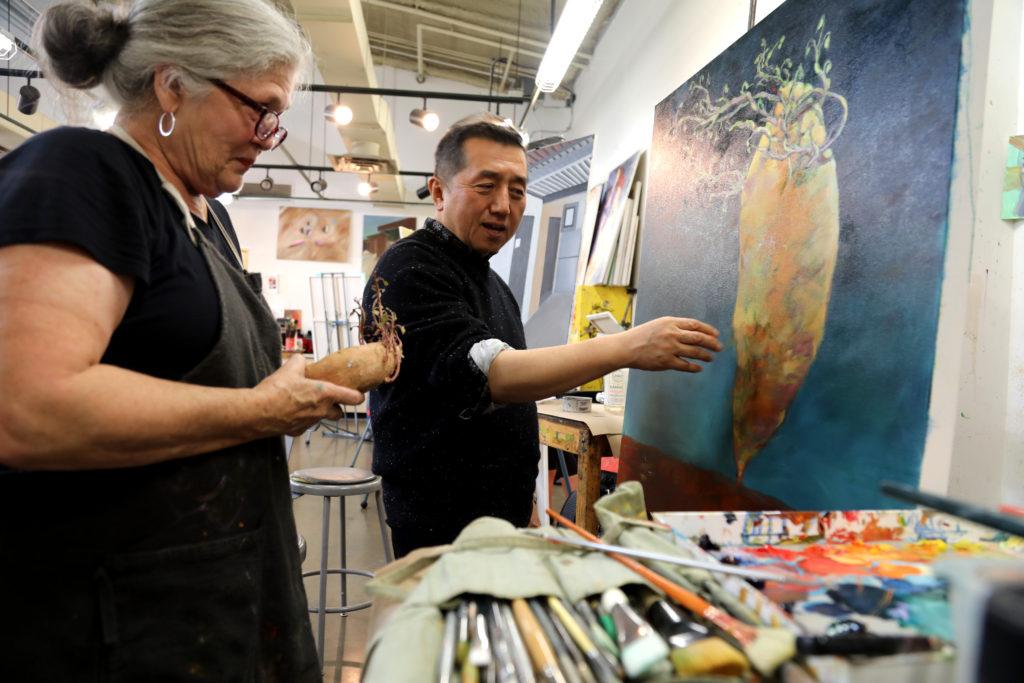 By John C. McClanahan
Copy Editor/Editorial Proofreader
Paint fumes linger throughout Brookhaven College's F Building. There, art students stand in front of canvases, splashing colors and shapes sparked by their imaginations. Drawings and paintings are pinned and propped against the walls in Room F114.
Some of the works were made by students under the tutelage of professor Chong Chu, who helps them channel their artistic abilities. Chu, a professional artist and full-time faculty, began his formal training 40 years ago in the classroom next door. Now, he passes his knowledge of art on to younger generations.
"He knows how to develop painters," Nomaan Nur, a student, said. "I would not know how to hold a paint brush correctly if it wasn't for him. … There's people who say, 'Oh, Picasso influenced me. Matisse influenced me.' But for me, professor Chong Chu has been the biggest influence for my painting."
Nur said Chu's teaching methods are innovative. He said Chu provided his class with iPad Pros to digitally draw and paint designs. However, along with adding new media to his curriculum, Chu challenges his students to undertake a rigorous artistic journey.
"He makes you struggle, which is good, because there is beauty in the struggle," Alex Opland, a student, said. "And when you really need it most, he swoops in and blows your mind with some technique you've never seen before."
Since the mid-80s, Chu has used his expertise to help students hone their drawing and painting skills, and learn the nuances of 2D design.
In 2017, he was awarded the Outstanding Alumni Award by the American Association of Community Colleges recognizing his status as a world-class artist and the contributions he has made teaching art. He also won last year's Full-Time Excellence in Teaching Award at Brookhaven and was nominated for the Minnie Stevens Piper Professor Award – an accolade that recognizes superior teaching at the college level in Texas.
Chu's art has been recognized too. His work has been featured in several galleries around the nation and abroad, including the Museum of Biblical Art, Brookhaven's Forum Gallery, the Gensler in Dallas and the Galveston Art Center.
His art is influenced by both Christianity and Korean folk art. Chu uses yellows, reds, blues, and black and white in his works – each color and shape has a symbolic meaning. He often creates episodic pieces based on remnants of his past. A first-generation immigrant, Chu says he tries to integrate contemporary cultural concepts with his Eastern heritage.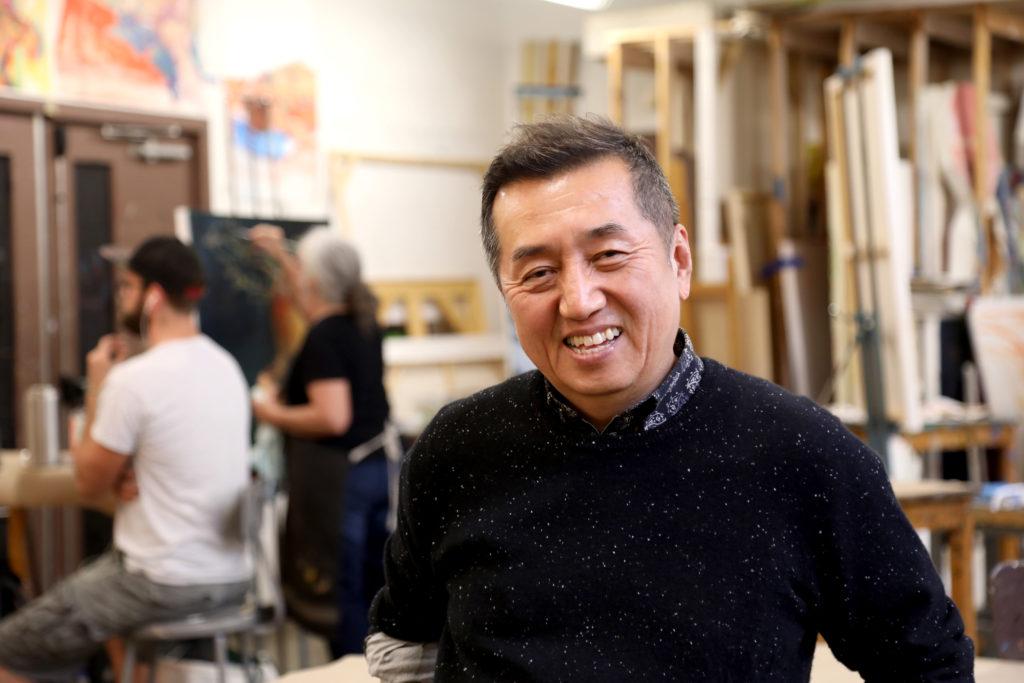 EARLIEST PASSION
Ever since he was a small boy growing up in Seoul, South Korea, Chu dreamed of becoming an artist.
"I was always interested in drawing with my imagination," he said. "When I drew, it was exciting, and I loved colors and making shapes. Maybe I did it too much."
He regularly doodled and scribbled in his books and notebooks, which sometimes irritated his parents. But he naturally grew up around art.
Chu's father was a commercial designer who created graphics, logos and other designs. As a child, Chu watched his father draw and sketch projects using tools in his work space. He said watching his father create influenced his interest in art.
"I was right next to him to watch his brushes and tools, and then I started to see what he does," Chu said. "And I enjoyed using those tools after he would leave."
However, Chu's father envisioned a different path for him. He wanted his son to become an engineer for better financial security – Chu's two younger brothers are both engineers.
"He knew I had a talent, but he felt my talent wasn't enough to be an artist," Chu said. "So, he decided to ignore my talent, and he asked me to be an engineer."
WELCOME TO TEXAS
In 1974, when Chu was 17, his father found work in the U.S. The following year, Chu moved to Dallas and took up various manual labor jobs, such as loading frozen food onto 18-wheelers. Chu said when he arrived in Dallas there were about 200 Korean families living in the city. As a teenage immigrant, he said his hardest struggles were adapting to American culture and learning a new language.
Despite the cultural barriers he faced, Chu never lost his desire to become an artist, though he had to learn English to formally study the craft.
In the mid-70s, he briefly attended Richland College, but could not afford to stay enrolled.
A couple years later, Chu discovered Brookhaven. One evening in October 1978, he peeked into a noncredit drawing class, where he saw about 20 middle-aged women stroking canvases as he waited outside Room F111.
Although he was not registered, the instructor allowed him to paint with his class. Impressed by Chu's artistic ability, he encouraged him to enroll in a credit course with Don Taylor, art professor and charter faculty. The next semester, Chu enrolled as a student in the Brookhaven College School of the Arts, and Taylor became his mentor.
"When Brookhaven opened in 1978, he was one of my first painting students," Taylor said. "He was extremely promising, hard-working, skillful and energetic."
Chu took drawing, painting, design, sculpture and ceramics classes.
In 1980, Chu transferred to the Meadows School of the Arts at Southern Methodist University on a full scholarship. There, he refined his skills and earned a bachelor's degree in fine art. After SMU, he moved to Philadelphia to attend graduate school at the Tyler School of Art at Temple University.
While working on his master's degree, he met and married his wife Hyun Ju Chung, a fellow artist from Seoul. In 1984, the two returned to Dallas, and on Taylor's recommendation, Chu began teaching at Brookhaven as an adjunct. By 2002, he was a full-time faculty member.
ART & CULTURE
In addition to creating fine art, Chu and Hyun designed and created the artwork for two Dallas Area Rapid Transit light-rail stations – Spring Valley Station in Richardson and Royal Lane Station in Dallas. Chu said he based the Royal Lane design on the culture that influenced the surrounding area.
He said the area was home to many Asian communities in the '80s and '90s, especially ones with families of Korean descent. His design reflects the ever-emerging mix of cultural identities in the U.S.
"I love to see the culture I had grown up with and the culture I'm in now try to integrate to make a new culture," he said. "I do identify myself as a Korean-American, so I like to contribute new ideas and new concepts as a Korean-American here in this country."
ACCOMPLISHMENTS
In 2018, Chu represented the U.S. at the first Jeonnam International SUMUK Biennale, an international residency art program held in Mokpo, South Korea. He is also the author of "From Trash to Treasure," a Korean-language drawing book that connects cultural differences between Korean and American art method and instruction. He occasionally travels to South Korea to participate in art lectures and workshops.
Chu has garnered other accolades, including the John & Suanne Roueche Excellence Award from the League for Innovation in the Community College and the National Institute for Staff and Organizational Development Excellence Award from The University of Texas at Austin. He was also selected as Brookhaven's 2018 commencement speaker.
Last month, Chu's painting "The Garden of Dallas," an ode to the place he has called home for most of his life, hung in the Forum Gallery as part of the fall faculty showcase. He currently has an exhibit displayed in the Educational Art Gallery at Cedar Valley College.
Today, he continues to help students develop their creative abilities the same way he did.
"I never dreamed that I would end up being a faculty here, but I think it is a God given grace for me," he said.