Visual artist exhibits 3D work at BHC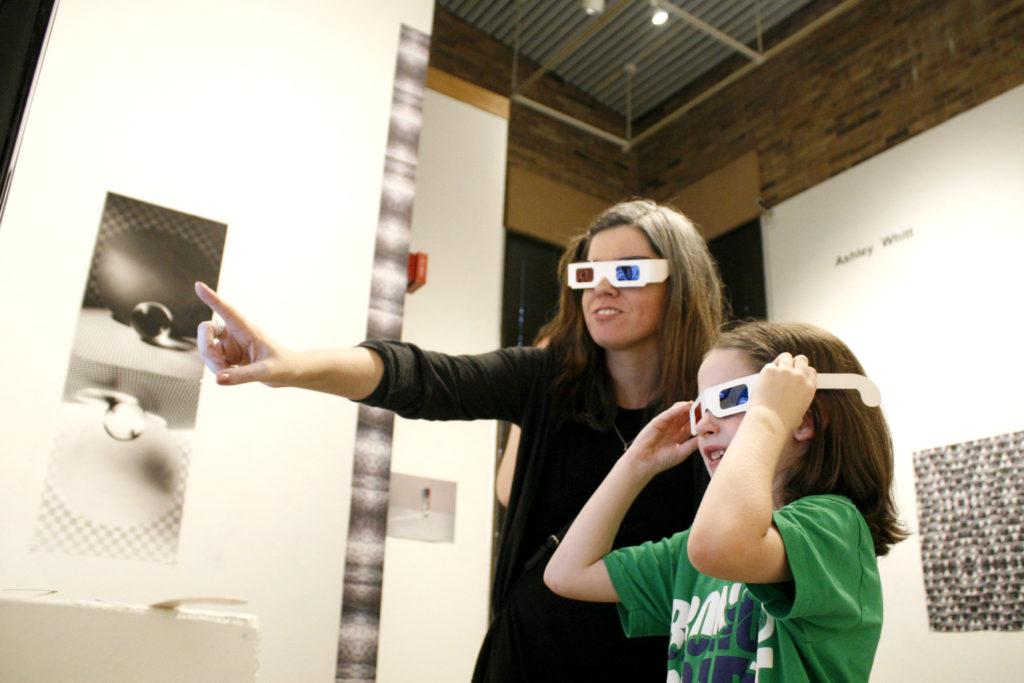 By Jacob Vaughn
Editor-in-Chief/Music Editor
Haunting nightmares float off the walls of the D Building Studio Gallery. Visual artist Ashley Whitt has been honing her craft for the last 10 years, drawing inspiration from dreams and the subconscious.
In her exhibition "Mind Loop," Whitt incorporates 3D in her work, exposing students, staff and faculty at Brookhaven College to an evolutionary stage in her artistic career.
"'Mind Loop' is a series inspired by nightmares and the inability to escape certain memories or thoughts in one's mind," Whitt said.
The 16 pieces in "Mind Loop" vary from inkjet prints to GIFs – short looping videos – playing repeatedly on a TV monitor. Attendees, armed with 3D glasses, can watch different pieces pop out at them as they roam around the gallery.
Whitt explored 3D technology over the years, she said, but it was not until she was hired as director of visual resources at Southern Methodist University's Meadows School of the Arts that she was able to dive deep into the medium.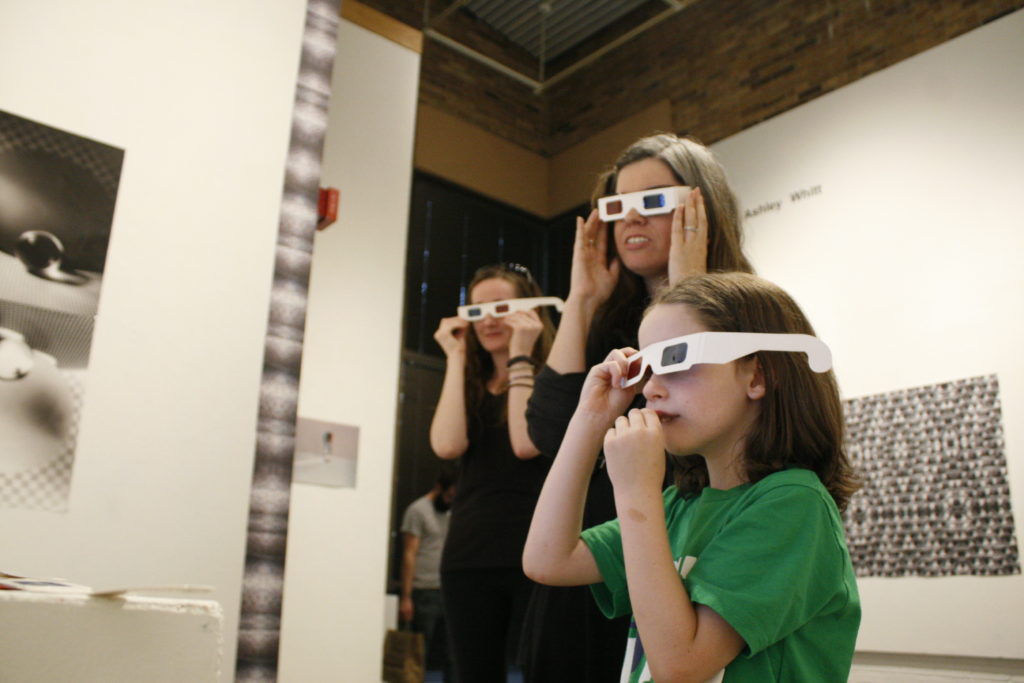 John Neal, a Brookhaven professor emeritus, who has given lectures in North Texas on 3D technology, said it has been around since the 1830s. "[3D] comes and goes," Neal said. "Almost every generation can look back to a time when it was popular."
"The interest in 3D really comes from my day job [at SMU]," Whitt said. "I am researching virtual reality, 3D printing and 3D mapping, so the things that I work on at my day job have kind of started to cross over into my artist practice."
Whitt started the series of pieces in "Mind Loop" about two years ago. Around the same time, her father began having health problems, she said.
"Right around the time I started making this work, he was getting more and more sick and having more health problems," Whitt said. "He actually passed away over the summer and I think that dealing with something traumatic, watching someone deteriorate over time and not being able to stop it really fueled a lot of the symbolism you see in the images."
Gallery attendees can pick up one of the pairs of anaglyph glasses lying next to the TV monitor. The red-and-blue lenses make the 3D works seem to pop out at anyone viewing them. On the screen, her pieces "The Patterns Repeat," "Copy of a Copy of a Copy No. 7" and "Eyes and Circles No. 1" play on a loop as GIFs.
"The GIFs are something that I'm really happy with," Whitt said. "I really like the way that I'm starting to think about the moving image and how that can change the way that those particular objects look when you see them move across the screen."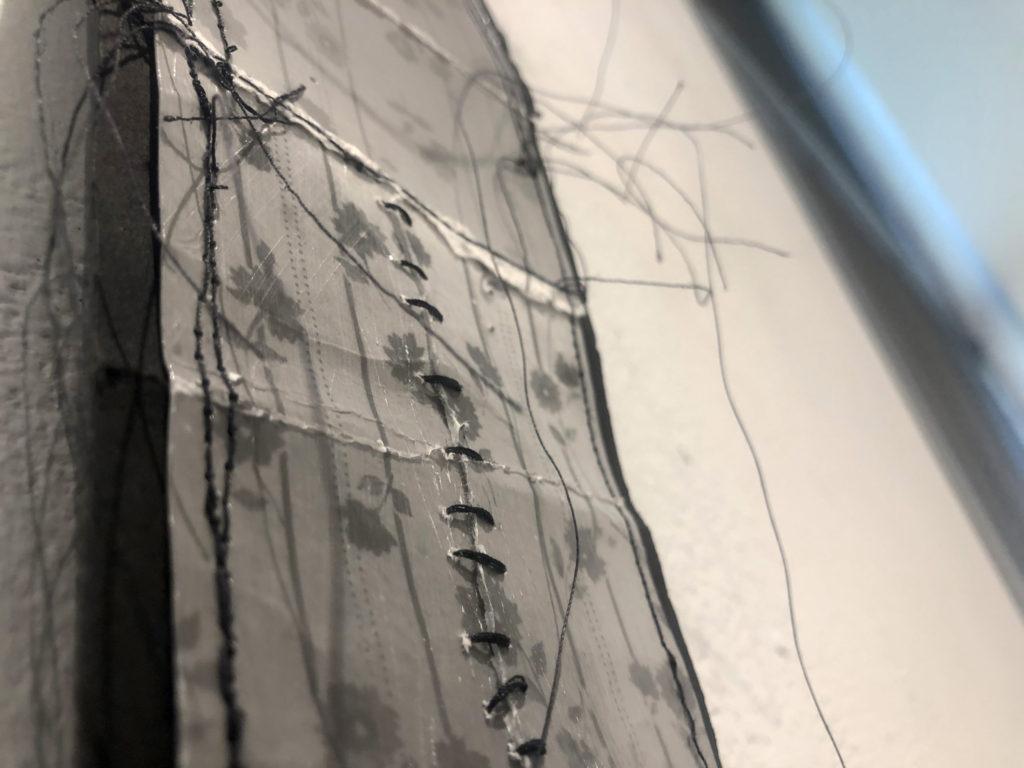 Remnants of Whitt's childhood are also visible in "Mind Loop." Her piece "Wallpaper Glitch," resembles wallpaper and runs up one of the walls of the gallery. "That's actually the wallpaper from my childhood home," she said. Whitt took pictures of the wallpaper and created an abstraction of it in Photoshop.
"I think it's really symbolic of how things get manipulated and twisted in your mind as you are working through certain memories or trauma," Whitt said.
"Mind Loop" is Whitt's first exhibit at Brookhaven, but she is no stranger to the Dallas County Community College District. She has shown her work and taught workshops at Mountain View College and had a solo show at Eastfield College.
Whitt's exhibit in the Studio Gallery is set to run until Sept. 20. She is still researching 3D printing, as well as augmented and virtual reality. She said she hopes to begin utilizing all of these technologies in the future.