Long-time staff members leave posts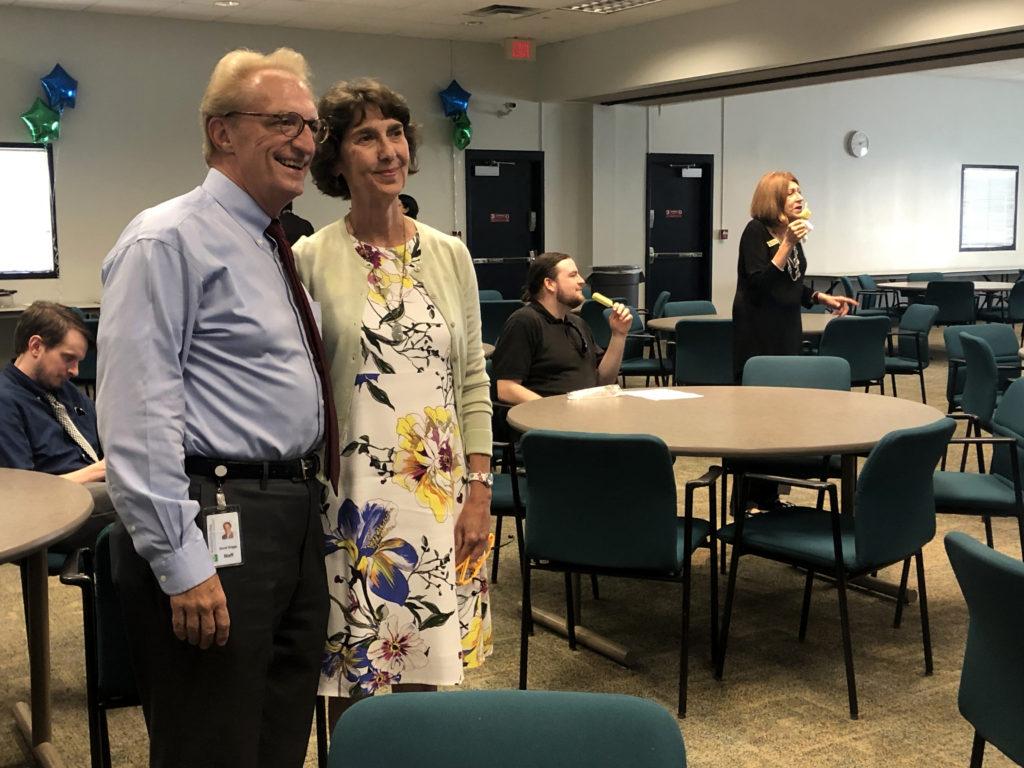 By Jacob Vaughn
Editor-in-Chief/Music Editor
Brookhaveans Carrie Schweitzer and Lois Wagenseil danced to "Gangnam Style" by K-pop artist PSY. They were surrounded by their peers at Brookhaven College in Room H125, celebrating their retirement Aug. 28. Schweitzer was director of sustainability and Wagneseil was co-chair of the Green Team and a librarian. It was one of their last official days on campus.
"We are gathered here today because we wanted to optimize our opportunity to recognize two of our awesome colleagues who have chosen to leave us," Marilyn Kolesar-Lynch, vice president of resource development, said.
During their combined 53 years at Brookhaven, Schweitzer and Wagenseil helped raise awareness of sustainability issues in an effort to make the college a greener place.
Together, they created the Green Pledge, a hands-on way to get students, staff and faculty involved in thinking of ways they can live more sustainably. They have organized and participated in the college's annual Earth Day Fest, among many other sustainability events on campus
Though they are leaving, Schweitzer said there is still much work to be done for sustainability. She said the dire circumstances of the climate crisis are accelerating. "I don't want to talk about where we put a plastic bottle anymore," Schweitzer said. "We have some serious things to confront," she said
"On behalf of the Green Team Coalition and every sustainability effort on campus, we're going to miss both your light and your enthusiasm," Megan Coit, a counselor at Brookhaven, said to attendees of the retirement celebration. "We couldn't be where we are without you, and we will never be as far as we could with you now that you're gone."
Georgia Alvarez, senior administrative assistant to the vice president of academic affairs, said the Green Team was one of the first groups she joined when she began working at Brookhaven about five years ago. She said Schweitzer and Wagenseil were the first people to make her feel at home at the college.
"You guys have made a huge impact, not just in our world here on campus, but around the Dallas area," Alvarez said.
Deanie Martin, director of business operations, said she and Wagenseil connected right away. "When we started out our friendship, both of us were very outspoken people, headstrong and very opinionated," Martin said. "Those became good qualities that both of us had that we loved about each other."
Venus Bullard, an administrative assistant, said she respects Wagenseil as a strong woman who has good core values. Of Schweitzer, she said when it comes to sustainability, she is all-in.
"She'll just put her thumb in, put her hand in, put her foot in, put everything in and got everybody involved," Bullard said. "That's how she got that green thumb, and that's how she became so bright at what she does."
Bullard said she is excited about the journeys Schweitzer and Wagenseil are beginning as they retire. "I hope God blesses you in every endeavor that you do and blesses everything that your hands touch, and the steps that you take are ordered by him and that they are clear and divine."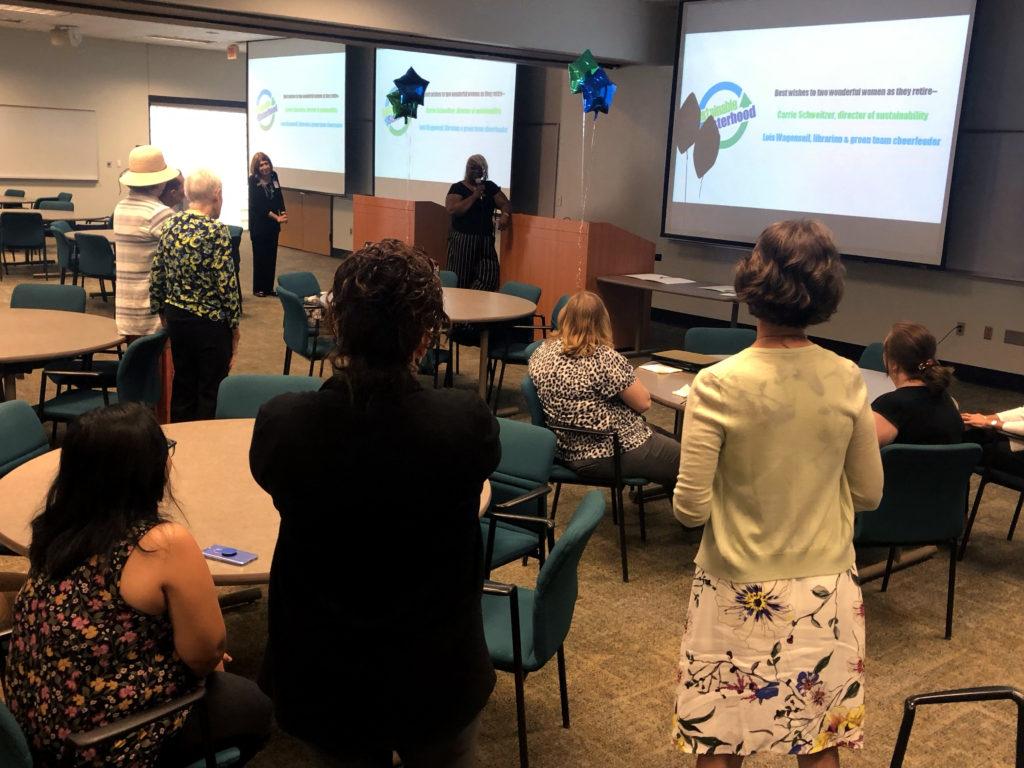 Brookhaven already has a familiar face to fill Schweitzer's big shoes as director of sustainability. Former North Lake College sustainability coordinator Brandon Morton will assume Schweitzer's responsibilities this semester. Schweitzer said they have worked together for the last five years and, with him in her former role, the future looks bright for Brookhaven.
Schweitzer said: "Brandon and I have worked together for the last five years. He has been the coordinator of sustainability at North Lake College. He has been involved in sustainability since he was a student at the [University of North Texas]."
In retirement, Schweitzer said she will get involved in political campaigns and continue to try to make the world a greener place.
Wagenseil said she has not thought much about what to do in her retirement, but she would like to one day move somewhere with a beach.
As the party came to a close, Wagenseil insisted "Gangnam Style" be played again, and the two retirees danced their hearts out.
A previous version of this story said, incorrectly, that Schweitzer and Wagenseil had served a combined total of 18 years, instead of 53. This has been corrected.