Bears rout Blazers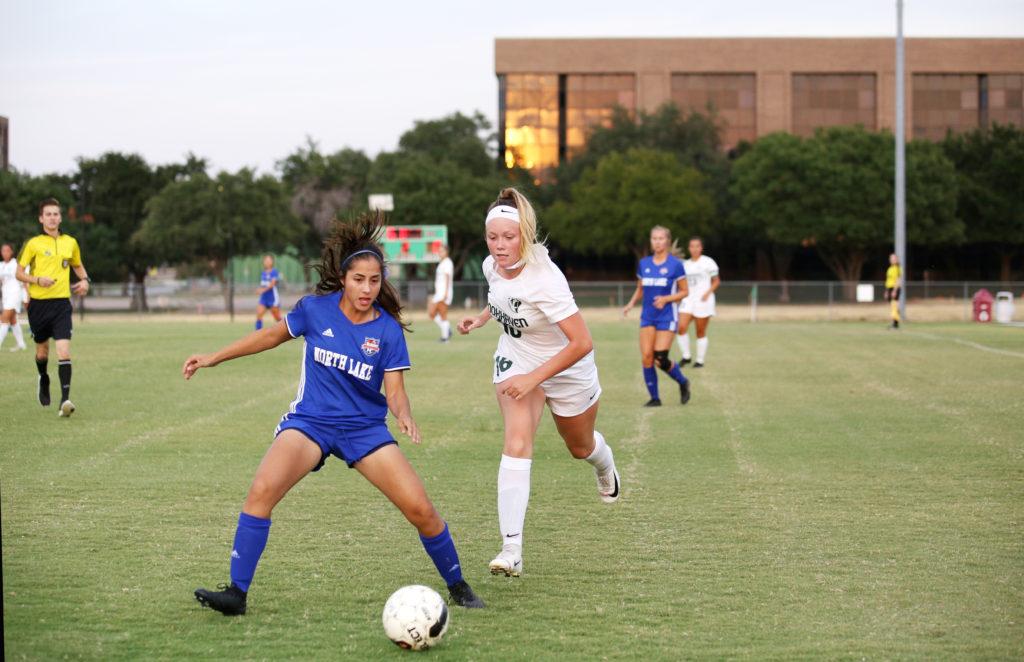 By Ivan Avila
Staff Writer
The Brookhaven College women's soccer team secured their first conference win of the season against North Lake College.
The Lady Bears won the one-sided onslaught 7-0 on Sept. 13 at home. The game was fast-paced, as Brookhaven scored multiple goals in the first half.
Brookhaven had an aggressive start and dominated ball possession. The team chemistry was clearly visible. Midfielder Tatiana Garcia said: "We came together as a team. We started passing, and that's when you can see our team chemistry, because we keep our composure."
The first goal came when Lady Bears forward Alexandria Sandlin made a cross to forward Taylor Nelson, who was able to put it in the back of the net at 10 minutes.
With the momentum on their side, they continued their attack. They scored their next goal three minutes later. Midfielder Tatiana Garcia contested the ball in the midfield. She broke away from a defender and passed it to Nelson, who scored while fighting of a Blazer.
North Lake began to stack players on the defensive end to cut off opportunities for Brookhaven to score. Their plan backfired.
After multiple attacks by Brookhaven, Nelson was able to find a pocket in the defense and burst through the zone. Lady Bears forward Victoria Sifuentes made a lob pass to the right side of the field, where Nelson was able to score in the air at 22 minutes.
The Lady Bears pressed on, and Sifuentes would score five minutes later from a straight-on attack down the center.
The counterattack began afterthe Blazers had gone down 4-0 in less than 30 minutes.
North Lake forced the ball to the other side of the field, but what finally seemed like an opportunity turned to ash, as the Lady Bears' fresh defenders were ready for the Blazers' offense.
As a back and forth began, it was Brookhaven that came out with another opportunity.
Defender Valeria Villanueva stole the ball from the Blazers and passed to Garcia, who stormed the box to score the fifth goal for Brookhaven.
A last-second goal came just a minute before the end of the first half. Lady Bears forward Erin Lincoln made a quick pass to midfielder Chloe Perez. Perez got the ball into Nelson's feet, and Nelson, scored her fourth goal of the game.
Brookhaven controlled the ball for most of the second half. Twenty minutes in, Garcia scored the final goal for the Lady Bears.
Head coach Jimmy Elder said he was happy with the win, but still not content with the team's overall performance. "We had a good start in the first half, but we had missed opportunities," Elder said.
The Lady Bears' next home game is 4 p.m. Oct. 11 against the Mountain View College Lions.