New apartments being built near Brookhaven's east entrance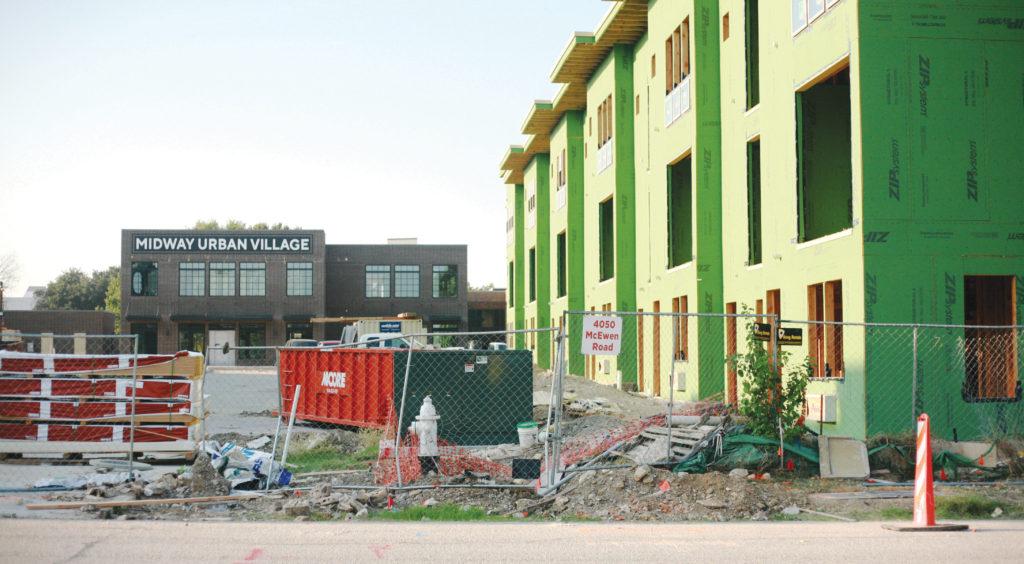 By KT Reid
Contributing Writer
A 50-acre plot of land less than a quarter mile from Brookhaven College's east entrance will soon be home to a new apartment and townhome complex called Midway Urban Village.
Laci Ficke, leasing coordinator for Midway Urban Village, said the company is currently setting up a preferred program for Brookhaven students, staff and faculty.
Ficke said the complex will offer up-front concessions and discounts for Brookhaveans. Among these are free applications, half-off on admin fees with a standard deposit and first full month's rent at no cost with a 13-month lease, Ficke said. The new development sits on McEwen Road behind the business complex that runs along Alpha Road. It also includes a small pond that acts as a centerpiece for the apartment complex.
The residential complex will be walking distance from Brookhaven and a five-minute drive to Galleria Dallas or to the nearest Walmart.
Ficke said some units are currently available for pre-leasing. Midway Urban Village offers units with one to three bedrooms, some of which have connected garages, Ficke said.
The new complex is near completion. Ed Kozun, superintendent for Stanford Construction, the company contracted to oversee the development, said construction is expected to be completed by March 2020.
When complete, the complex will consist of 193 townhomes and 70 apartments.
Ficke said the monthly rent for townhomes will range between $1,799 and $3,395, while rent for apartments will range between $1,085 and $1,595.
Kozun said the project should take a total of 18 months to complete. The area used to be a group of one and two story office buildings within a large office park called The Centre built in the 1970s. Stanford Construction has at least 80 workers on this project.