Student leader earns second chance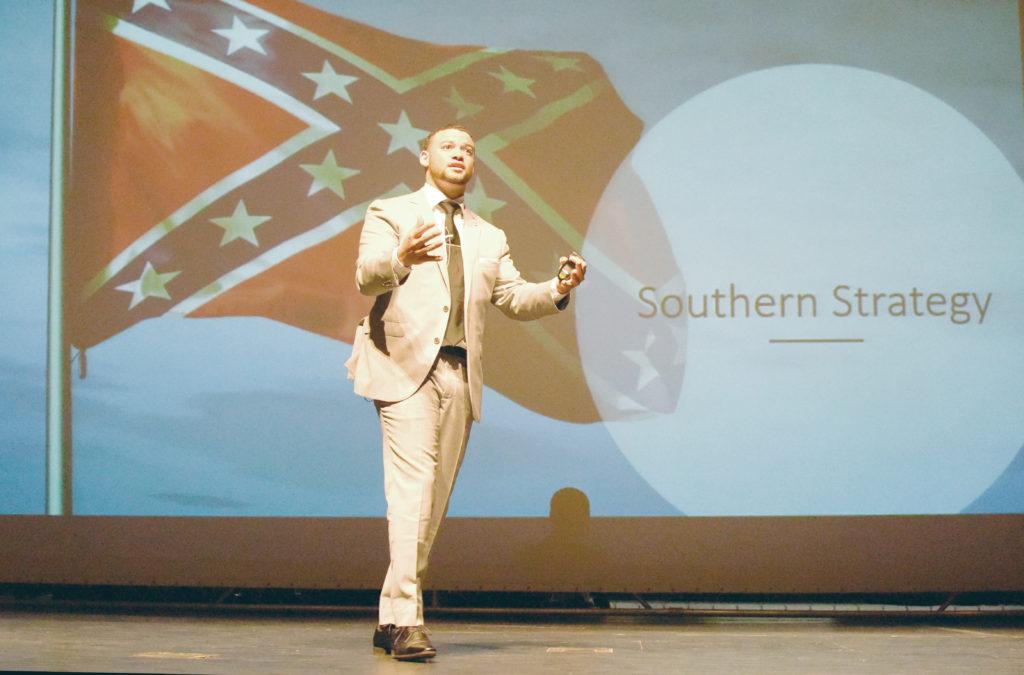 By Jacob Vaughn
Editor-in-Chief/Music Editor
For a month, James Elliot spent 23 hours a day in a small jail cell. He was in solitary confinement with nothing but a Bible, soap, toothpaste and a toothbrush, serving seven years for his part in an armed robbery.
On Sept. 17, Elliot, a Delaware Tech student, stood on the stage of Brookhaven College's Performance Hall as the international president of Phi Theta Kappa Honor Society and gave a speech on mass incarceration.
"I was sentenced to seven years in prison and it was the worst mistake of my life – one of the hardest times in my life," Elliot said. His time in solitary confinement messed with his head to the point that he started talking to himself, he said.
He said prison is not the rehabilitating place people like to think it is. Prison is closed-off, he said, intended to keep prisoners out of sight, out of mind. It is a system of mass incarceration, he said.
"How did we get to 2.2 million people incarcerated in America today?" Elliot said. "Well, it starts with slavery." The 13th Amendment freed the slaves, but it also created a loophole for mass incarceration, he said. "The politicians back then said, 'If we lock up African Americans, we can then enslave them again,'" Elliot said.
Policies such as vagrancy laws criminalized minor offenses, putting black people without jobs back in the fields to work as prison laborers, Elliot said.
Over the years, this cycle has also been sustained by the war on drugs and has evolved to become the modern prison-industrial complex, he said.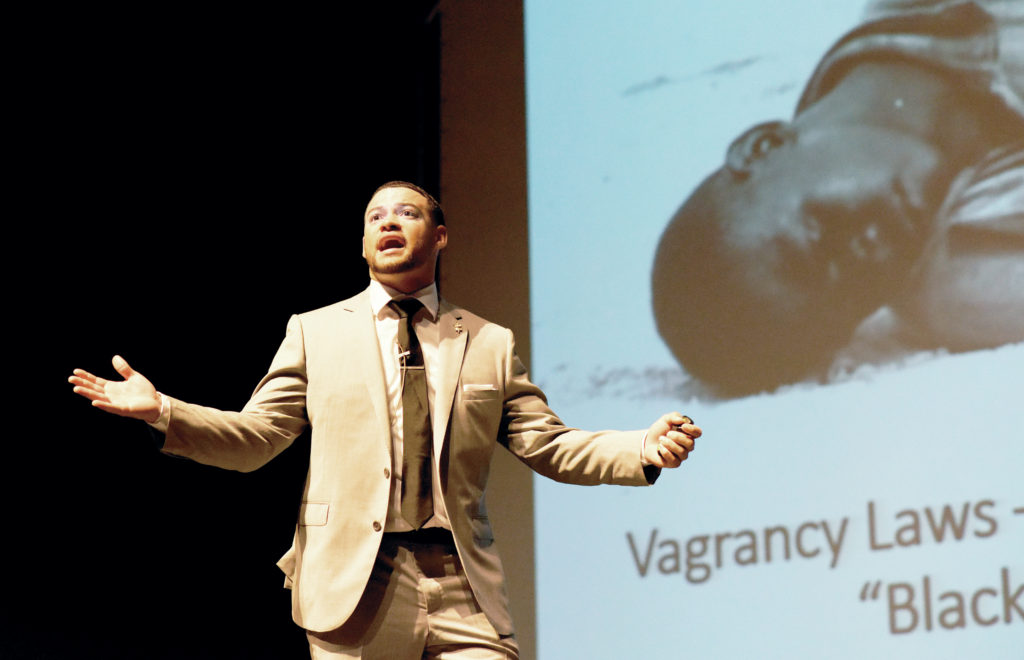 Mass incarceration
"Slavery is the foundation the South was built upon," he said. "The backs of those slaves is what fueled the economy."
A person caught with an ounce of crack cocaine would be sentenced the same amount of jail time as someone with a hundred ounces of powder cocaine, Elliot said. "Why did this policy pass?" he said. "Because [politicians] knew people of color, Hispanics and African Americans, were more using crack cocaine." According to jrank.org, a website that explains the laws for cocaine, the minimum sentence for possession of an ounce of crack cocaine was three years in prison.
In 1994, President Bill Clinton signed the Violent Crime Control and Law Enforcement Act, Elliot said. "Bill Clinton's 1994 crime bill basically instituted what we see today in our criminal justice system," Elliot said. The bill introduced the three-strike law to address repeat offenders. After three drug-related offenses, a person would be sentenced to life behind bars. "This is why people are still in prison today from that time period," he said.
Clinton's crime bill was amended two years later. The amendment provided states with grants to expand their prison capacities if Truth in Sentencing requirements were placed on violent offenders. Those required offenders to serve substantial shares of their sentences before being eligible for release.
Elliot was required to serve a majority of his sentence under this amendment. "I had to serve 85% of my time no matter what," he said. "It didn't matter how good I was. I could have come up with the cure to cancer, [still] 85%."
Private Prisons
The private prison industry has incentivized putting bodies in jail cells, Elliot said. Companies such as Geo Group and Corrections Corporations of America lobby for some of these policies through the American Legislative Exchange Council, or ALEC, a conservative political group.
ALEC helped pioneer sentencing laws such as mandatory minimums, three strikes and truth in sentencing laws, he said.
"Of course the prison system is going to say, 'Put in mandatory sentencing. Put in three-strikes laws.' This makes extended sentences. This means their prisons, which are for-profit, continue to run, which means they make more money."
Second Chance
Despite all this, Elliot was able to pursue an education while he was incarcerated. "That gift of education changed my life and brought me to this stage today," Elliot said.
He said students need to lead the changes of the future. "It's on you to change the future," he said. "I'm not asking you to do it; I'm telling you that you need to change the future, and it starts little by little, one day at a time."
Change takes time, he said, and it takes votes.