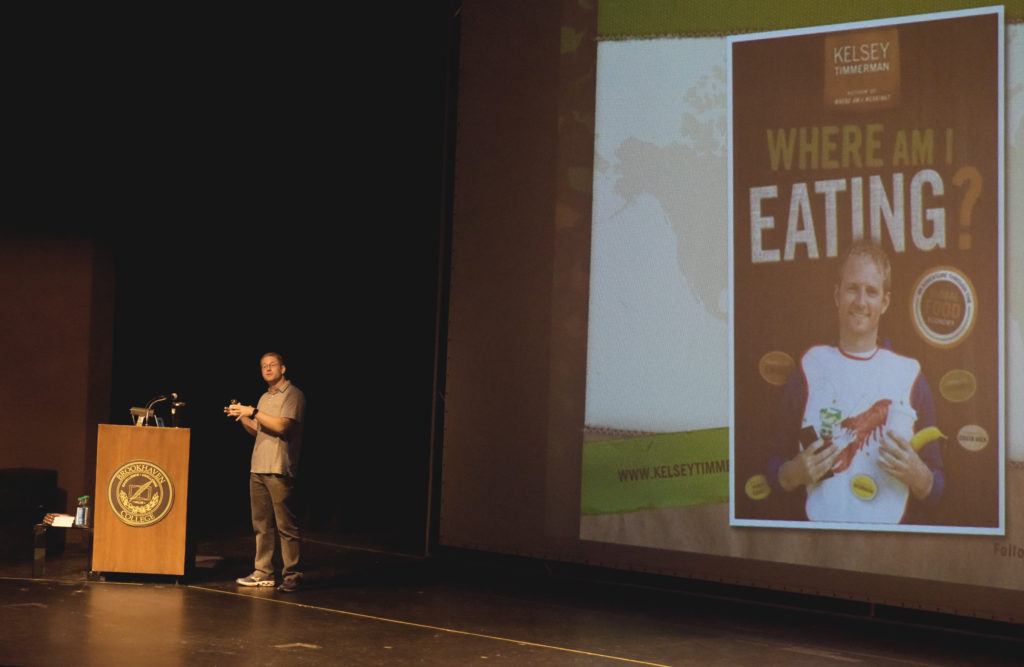 By Malen Blackmon
Managing/Sports Editor
Kelsey Timmerman, author of "Where Am I Eating?" the book chosen for the Brookhaven College Open Book Project this academic year, shared a story and experiences from his travels with a of crowd of Bears Sept. 24 in the Performance Hall.
After a brief introduction, he dove headfirst into a jarring experience he had on a cocoa farm in West Africa, where he met a man named Solo.
Solo, Timmerman said, was effectively a slave. He was on the farm on an unwritten contract that required him to work for a full year, at the end of which he might be paid $300. In the meantime, he was not allowed to leave the farm.
"Solo told me he asked to leave but he was not allowed to leave," Timmerman said. "He told me the donkeys get treated better than he gets treated, because at least they get fed when they are not working." As Timmerman finished his story about Solo, people in the crowd wiped tears from their faces.
In his book, Timmerman travels the globe in search of where some of his food is made. He goes to Columbia to pick coffee beans, Costa Rica to harvest bananas, West Africa to find cocoa farms and China to track down where his apple juice is packaged.
He said that when he speaks at schools, he wants to show students their world is bigger than they may think: that the things they eat or wear connect them to distant people and places.
Timmerman said it was sometimes hard to assess whether people in poorer countries are taking advantage of opportunities to improve their lives or merely being exploited: "As you're reading the stories of where am I eating I want you to ask yourself this question: 'Exploitation or opportunity?' They are these two polar opposite things, but keep that question in mind as you're reading."
He said becoming aware of the problems of people such as Solo is great, but that awareness without some kind of action just leads to feelings of guilt and apathy.
"You can hear these stories and read these stories and I think you can have this natural reaction of guilt," he said. "I think we should only feel guilty if we are not fully exploiting the opportunities we have been given to make a difference in the world for other people who have fewer opportunities," Timmerman said.
"I want Timmerman to set up a tour based on this book," Brookhaven English tutor Megan Hutchinson said. "As miserable and awful as a lot of it sounds, I think that's a really important lesson. You can't really materialize all of this just hearing about it from our comfortable air conditioned environment where we can just go on with our lives."
After the speech, about 15 Brookhaveans participated in a private luncheon and Q&A session at which they asked Timmerman more personal questions about his book and his experiences.