Adjunct combats PTSD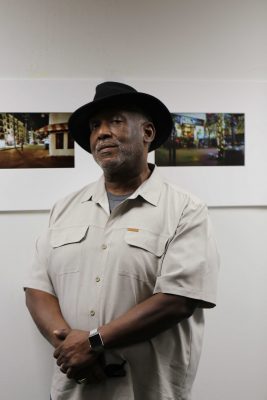 Aboard the aircraft carrier USS John F. Kennedy, Petty Officer Third Class Aaron Thomas was woken in the middle of the night by a loud whistle. "General quarters! General quarters! All hands, man your battle stations!" he heard the loudspeaker bark, as a siren blared.
The night of Nov. 22, 1975, just two weeks into its deployment in the Mediterranean Sea, the John F. Kennedy collided with the guided missile cruiser USS Belknap. Jet fuel sprayed from ruptured fuel lines aboard the carrier, igniting fires on the two ships that burned for three days and claimed the lives of eight sailors.
The collision and the events that followed it left a lifelong impression on Thomas, who is now a visual communications adjunct at Brookhaven College. After serving two years of active duty, Thomas was honorably discharged from the Navy and left to find a way to move forward.
LOVING PHOTOGRAPHY
Thomas fell in love with photography while traveling the world in the Navy. He worked a few odd jobs before starting his first photography studio, called Time Stoppers, at the age of 20. He earned his GED while working as a freelance landscape and portrait photographer, then started an information technology firm that was successful for 30 years until it went bankrupt during the 2008 recession.
"The bankruptcy triggered a chronic diagnosis of major depressive disorder, which was lingering from traumatic events that happened during my military service and [was] aggravated by the economic downturn in 2008 and the closing of my IT firm," Thomas said.
Thomas was passionate about photography and found it therapeutic, so he began promoting himself as a freelancer shooting photographs and video. While struggling with a shoot, Thomas realized the industry had changed a lot. He decided to go back to school to refresh his skills.
He started at North Lake College, using money left over from his information technology firm to buy a nice camera. He took a digital photography class, which he said was very different from the film shooting he had done when he started photography. But he pushed past the learning curve to figure it out.
After finishing one semester at North Lake, Thomas decided to switch to Richland College's photography program. While at Richland, Thomas entered two images he had taken during an external learning trip to New Mexico in a photography class.
When his professor, Wayne Loucas, told him three were required, Thomas added a third image of a stucco-textured wall with a cracked window and a water pipe running down the side, but was not proud of it.
The day of the contest, Thomas walked into the Brazos Gallery at Richland and saw a white Best of Show ribbon hung next to his third image. He said this experience taught him two things: "No. 1 is to never second-guess my own images. No. 2, the power of inspiration is greater than what you can see with your eye."
SHARING HIS PASSION
When Thomas finished his associate of arts with an emphasis in photography at Richland, he decided he would teach photography.
"The discipline of higher education and photography, for me, was a calming effect in the negative space created by the symptoms of PTSD," he said. "Creating and teaching photography is a happy place for me." Thomas said it has helped decrease his need for the antidepressants and other medications he used to minimize the symptoms of his PTSD.
In 2016, Thomas started a nonprofit organization for veterans called Photographically Touching Souls Deeper. He said his goal is to help other veterans with PTSD and their families find peace, tranquility and a sense of purpose to improve their quality of life by accelerating the healing process through the photographic art as therapy.
Thomas said he wanted to break the stigmas attached to soldiers who have PTSD. Thomas graduated with a Bachelor of Fine Arts with an emphasis in photography and a minor in radio and television broadcasting from Texas A&M University-Commerce in 2016. He is currently attending the University of North Texas and is working toward his Master of Fine Arts in documentary production and film studies. He expects to graduate in 2021.