Brookhaven hosts Texas House Select Committee hearing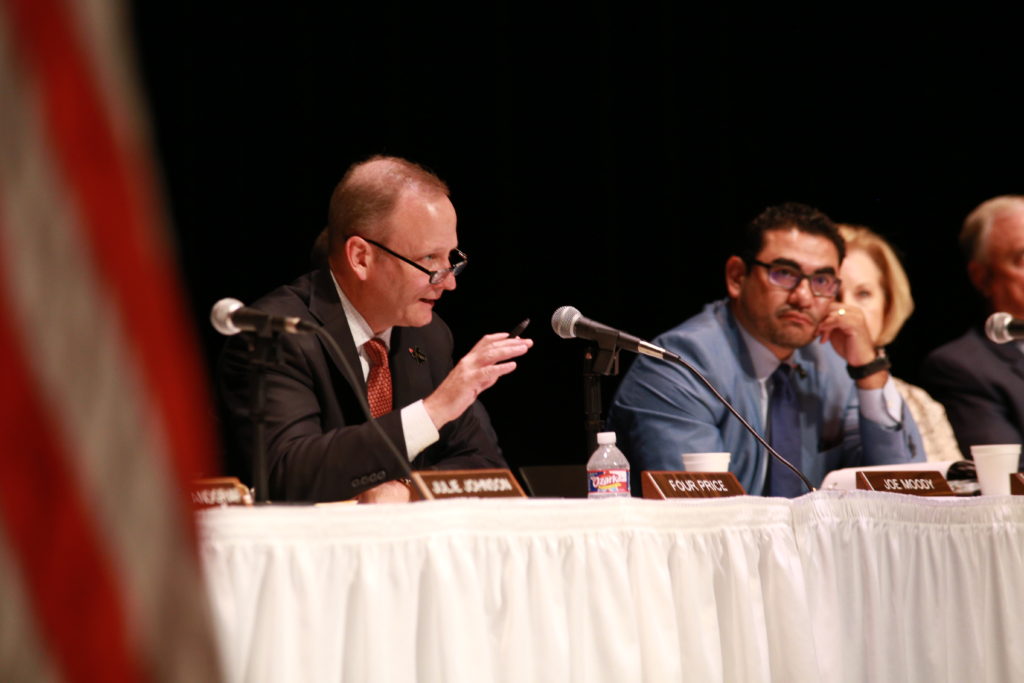 By Jacob Vaughn
Editor-in-Chief/Music Editor
Tech companies need to be more involved in detecting online threats, Danny Coulson, a former deputy assistant director for the FBI, said to a panel that came to Brookhaven College. The obstacle, he said, is securing tech companies' involvement.
The Texas House Committee on Mass Violence Prevention and Community Safety, a committee created after the El Paso and Odessa mass shootings in August, met at Brookhaven Oct. 10. The committee hearing is one of several to be held across the state.
Texas lawmakers invited several big tech companies to discuss how they are combating the spread of online threats and extremism. Out of the five companies invited, Microsoft, Amazon, Twitter, Google and Facebook, only one sent a representative – Facebook.
Several committee members expressed disappointment for the tech companies' absence. San Angelo Republican Rep. Drew Darby, the committee chairman, said: "This was an important conversation and they needed to participate, and they didn't. It's disappointing."
A primary focus of the hearing was how tech companies can better communicate with law enforcement agencies to help identify potential online threats. Darby said the number of committee members who attended the hearing at Brookhaven was evidence of the topic's importance. The committee is comprised of 13 members.
"This is kind of unusual to have a committee meeting and have every member of the committee present," Darby said.
Maj. David Cabrera of the Texas Department of Public Safety said a threatening post was made on Twitter on the morning of Oct. 3 indicating there would be a shooting at an evening screening of "Joker." The post said the attack would occur around 10 p.m., but the location was not specified.
The attack was not carried out. DPS requested information from Twitter, but by the time the social media giant supplied it, it was already 10:43 p.m., after the attack was supposed to have been carried out.
El Paso Democratic Rep. Cesar Blanco, said there is a lack of swiftness regarding tech companies' collaborations with law enforcement agencies.
Throughout the first round of testimony, members of the committee fired questions at Ana Martinez, the head of public policy and community engagement for Facebook's southwest region. However, often times, Martinez only gave vague answers to the committee's questions. Other times, she simply said, "I don't have that information."
Martinez told the committee that Facebook has a team of mostly former law enforcement officers dedicated to working with agencies to address potential threats.
However, Richard Pineda, chair of the department of communications at the University of Texas at El Paso, said: "This committee and the legislature should consider how to ramp up law enforcement's ability to have digital public information teams trained and dedicated to live and crisis situations."
When it comes to online threats, Comal County District Attorney Jennifer Tharp said every second counts.
She said: "There's been a lot of talk about social media and some of the companies possibly providing information. I will tell you, in 15 years, I've never seen one."