President holds rally in North Texas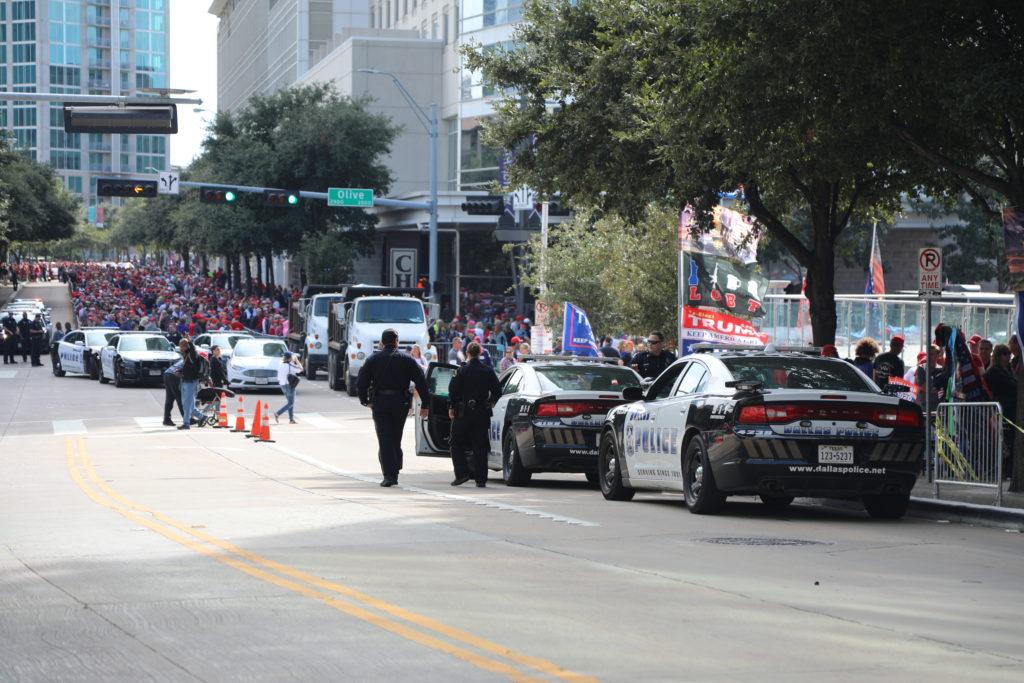 By Youssef Chaibi
Contributing Writer
Thousands of President Donald Trump supporters, sympathizers and protestors lined up outside American Airlines Center to hear the president speak Oct 17th.
Several streets surrounding the arena were closed during the event snarling traffic in all directions.
Giant TV screens around the arena broadcasted Trump's speech to the overflow of crowds who attended the rally. Many attendees wore red caps and T-shirts with Trump's image and his 2016 campaign slogan "Make America Great Again".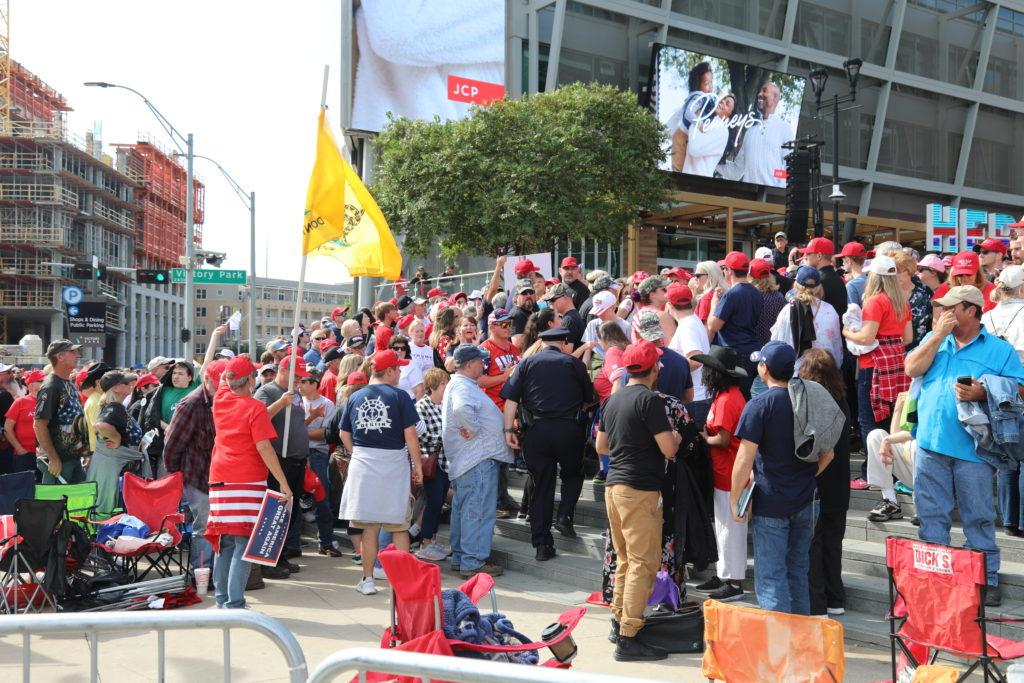 According to The Houston Chronicle, President Trump has visited Texas many times, a state his supporters have said will always be a stronghold for Republicans.
"Texas is not in play," Trump said. "[The Democrats are] not going to win. … They won't come close in 2020."
One supporter, Christie Reed, said: "I would like to see the end of taxpayer funded abortion, and I think that it should be turned over to the states to decide, not on the federal level.
I would like to see a more streamlined process for people that want to come here legally instead of getting caught up in the red tape."
Reed said she wants more funds put into helping victims of human trafficking and would like to see increased job growth.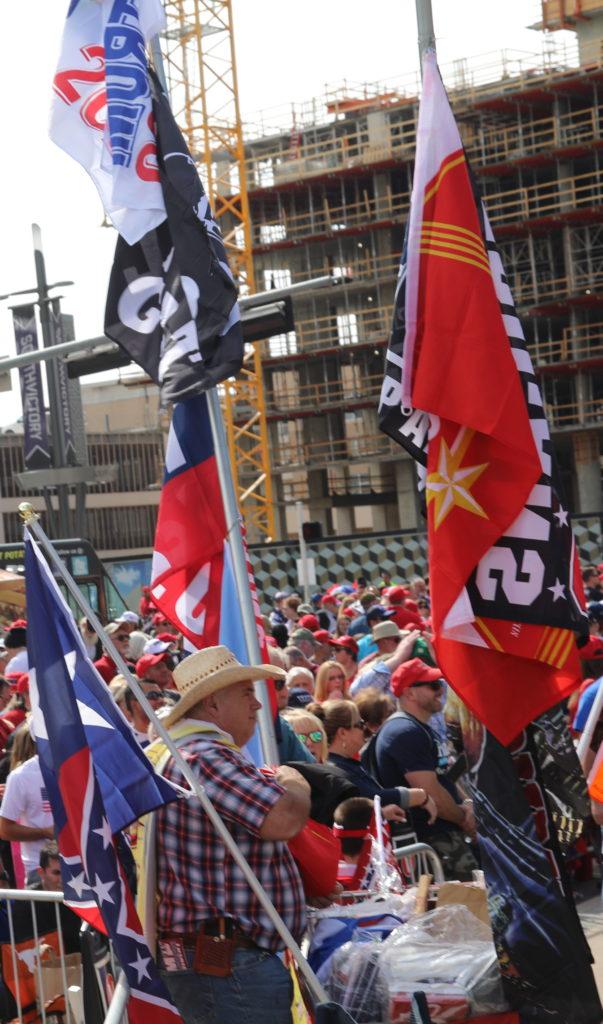 In his nearly two hour speech, Trump mocked the speaker of the U.S. House of Representatives Nancy Pelosi and some of his other Democratic rivals.
Trump said: "We must hold the Democrats accountable for their lies and their corruption. They are corrupt people. That crazy Nancy [Pelosi]. She is crazy. She's nuts."
The more Trump scoffed at his Democratic opponents, the more his supporters applauded and chanted: "Four more years!," "Make America Great Again!" "Keep America Great!"
There was a lot of sarcasm, criticism and insults in Trump's speech addressing his Democratic opponents whom he described as radicals.
He said they wanted to impose their extreme agenda on Americans.
"The only message these radicals, and they are radical lefties, will understand is a crushing defeat [in] November 2020," Trump said.
Trump said Democrats wanted to turn against the 2016 election through leading the impeachment inquiry his administration is dealing with now.
"For three straight years, radical Democrats have been drawing to overthrow the results of a great, great election," Trump said. "The more America achieves, the more hateful and enraged these crazy Democrats become."
Trump criticized Democratic presidential candidate Beto O'Rourke for his proposal to restrict firearms and cut off tax exemptions for religious institutions that discriminate against same-sex marriage.
"Beto, in a few short weeks got rid of guns and got rid of religion," Trump said. "Those are not two good things in Texas to get rid of."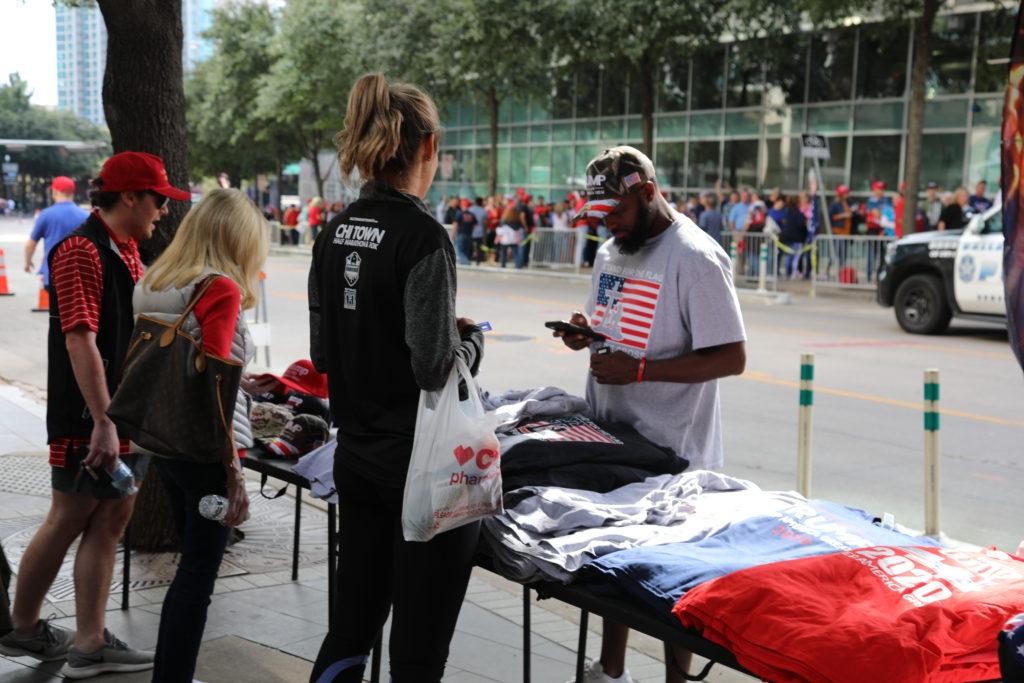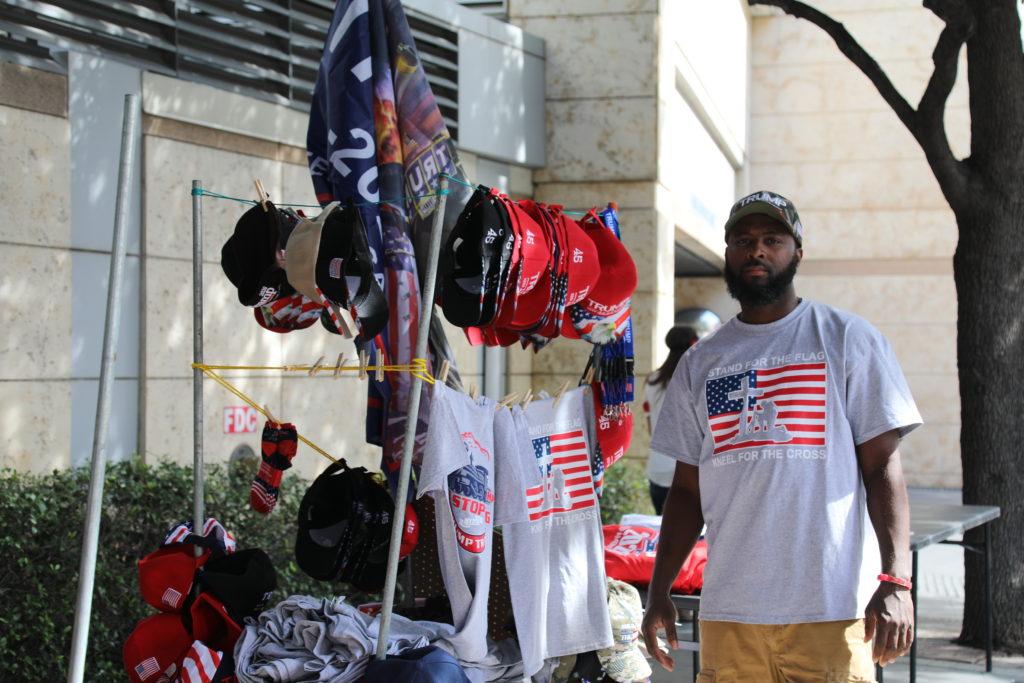 Trump also satirized the Democratic presidential candidate, Elizabeth Warren. "I thought Pocahontas was gone, left in embers," Trump said. "You got to give her credit. Now it looks like she's doing better."
Although he was rebuked by the House majority for the Syria withdrawal, Trump defended and justified his policy pulling out troops from Northern Syria and the ceasefire agreement with Turkey.
Trump said: "I sent Vice President [Mike] Pence to meet with President [Recep] Erdoğan of Turkey.
They got there today and it did work. Without spilling a drop of American blood, not one drop of American blood. We've all agreed on a pause or a ceasefire in the border region of Syria."
According to The Dallas Morning News, there was a back and forth between Kurdish and Turkish supporters regarding Trump's decision to pull U.S. forces out of Syria.
Trump also received criticism from some Republicans for military removal from Syria because it may lead to Turkish retaliation against the Kurds.
"Sometimes you have to let them fight like two kids in a lot" Trump said. "You got to let them fight and then you pull them apart."