Lady Bears No.1, headed to nationals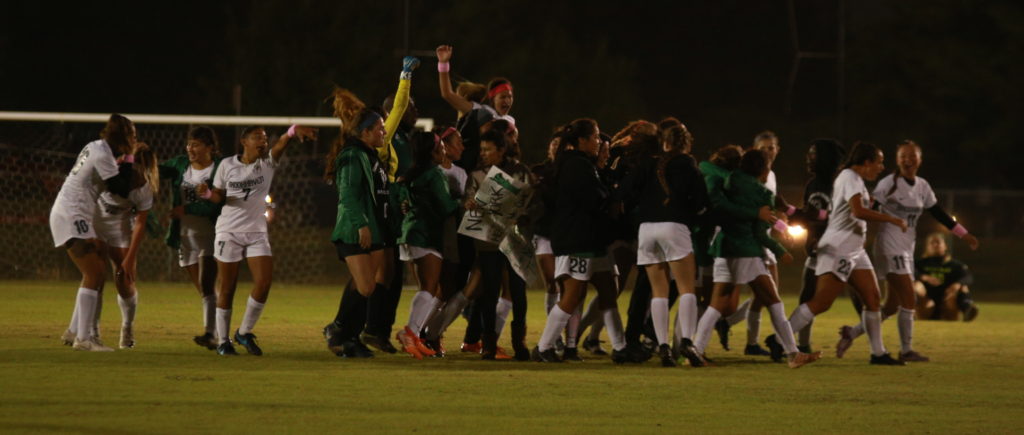 By Malen Blackmon
Managing/Sports Editor
The Brookhaven College women's soccer team erased the pain from last season's ending with their 1-0 victory in the NJCAA Region V Championship game Oct. 28 against Richland College. Bears head coach Jim Elder predicted the season might come down to this match-up earlier in the year.
Their 9-0-1 conference championship record would mean nothing if they could not get past the Thunderducks in the finals. The Lady Bears battled the cold weather and windy rain and punched their ticket to New York for nationals.
"It was a really hard game," Elder said. "[The] Girls were playing their hearts out, so I'm just really proud."
The only goal of the match came from Lady Bears forward Taylor Nelson in the 37th minute. She sprinted through the box with a defender chasing her and kicked a low shot past the goalie in the right bottom corner of the net.
The goalie got her hand on the ball, but was unable to stop Nelson from getting it past her.
"I was nervous, but she crossed it and it was make it or break it," Nelson said. "New York or stay home, so I just knew I had to put it away."
The rivalry between the Lady Bears and the Thunderducks always brings a physical game that includes multiple yellow cards and warnings. The Richland coach received one in the first half and Elder got his in the second.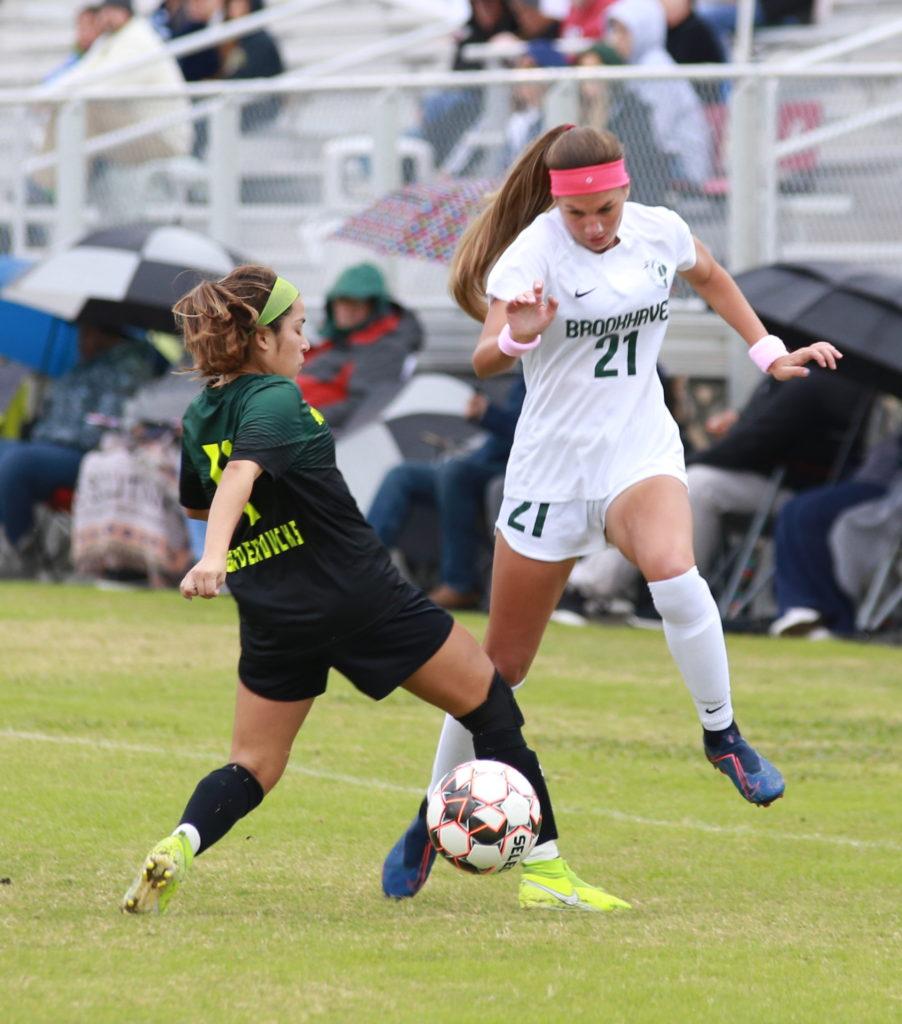 Richland came out aggressive in the second half. They controlled the ball and tried to fight their way back into the match with a couple of close shot attempts, but were unsuccessful in their offensive efforts.
A big stop by Brookhaven goalie Vanessa Villanueva helped secure the victory for the Lady Bears. She rushed out of the net and laid out to stop the ball with her body.
The ball then ricocheted back into play toward a speeding Richland offensive player. Villanueva dove and rolled her way in front of the ball to stop the second attempt.
Another shot attempt by Richland came during the 83rd minute. Richland defender Adrianna Smith had a free-kick from about 40 feet out that she tried to sneak past a diving Villanueva.
The celebration for Brookhaven was a mixture of relief and excitement. Brookhaven midfielder Tatiana Garcia was on the team last season and watched as Richland celebrated their victory on the Lady Bears pitch.
She was unable to play in the semi-finals against Mountain View because of an injury, but she was back at full strength against Richland.
The victory left her speechless. Garcia said, "I don't know what to say," as she took off and jumped into the arms of one of her teammates.
The next challenge the Lady Bears will face is nationals. The tournament will take place Nov. 14-17 at Tompkins Cortland Community College in Dryden, New York.