BHC explores literature at read-in
Students, staff and faculty gathered to celebrate black poetry and explore controversial topics in Brookhaven College's annual African American Read-In. The read-in, which was held Feb. 12 in the Performance Hall, was titled "Stand Up, Wake Up and Stay Woke."
Donna Crenshaw, a college tutor coordinator and longtime participant of the read-in, as well as English professor Stephanie Venza, provided a constant narrative throughout the read-in, giving each presenter an introduction for their pieces.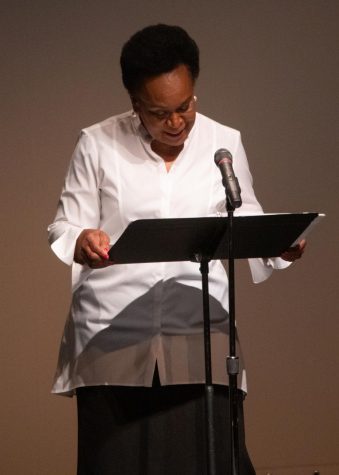 Hazel Carlos, retired English professor and creator of the read-in; Dawn Bishop, assistant to the vice president of business services; Edna Love, executive assistant to Brookhaven's president; and Venza read, "Ain't I A woman?" by Sojourner Truth. Around the period she wrote the poetry, Truth became involved in the growing antislavery movement, and by the 1850s she was involved in the women's rights movement as well, according to The National Park Service.
At the 1851 Women's Rights Convention in Akron, Ohio, Truth delivered what is now recognized as one of the most famous abolitionists and women's rights speeches in American history, according to The National Park Service.
Hazel's husband, Joseph Carlos, joined Jazmine Nailon, an administrative assistant of communications, to recite "When Sue Wears Red," written by black poet Langston Hughes.
This is Nailon's first semester working at Brookhaven. She said she has a background in the arts. "I'm a singer, I dance, I do plays," Nailon said. "I've done all that kind of stuff." She said being involved in the event has made her feel like she is part of the read-in family. "Understanding how important it is to everybody who's been involved for so many years, it's kind of like they have this family that I've just been engrafted into." 
Nailon said black people have been a part of and impacted so much throughout history and that the read-in is a good reminder of this. 
On their own, Joseph and Hazel occupied the stage and recited "This is for the Kids Who Die," also by Hughes. Psychology professor Elgrie Hurd sang "I too, Sing America," written by Hughes. "The poet looked to honestly portray the joys and hardships of working-class black lives, avoiding both idealization and negative stereotypes," according to poetryfoundation.org. 
Associate registrar Joe Sanders took the stage to recite "A Black Man Talks of Reaping," by Arna Bontemps, a poet and novelist. The writer explored the African American experience in a wide variety of genres, enriching and preserved black cultural heritage, according to poetryfoundation.org.
Nailon and Bishop recited "Ballad of Birmingham," by Dudley Randall, a poet and publisher from Detroit, Michigan. Nailon said she hopes to be more involved in future presentations of the read-in.