The evolution of a magician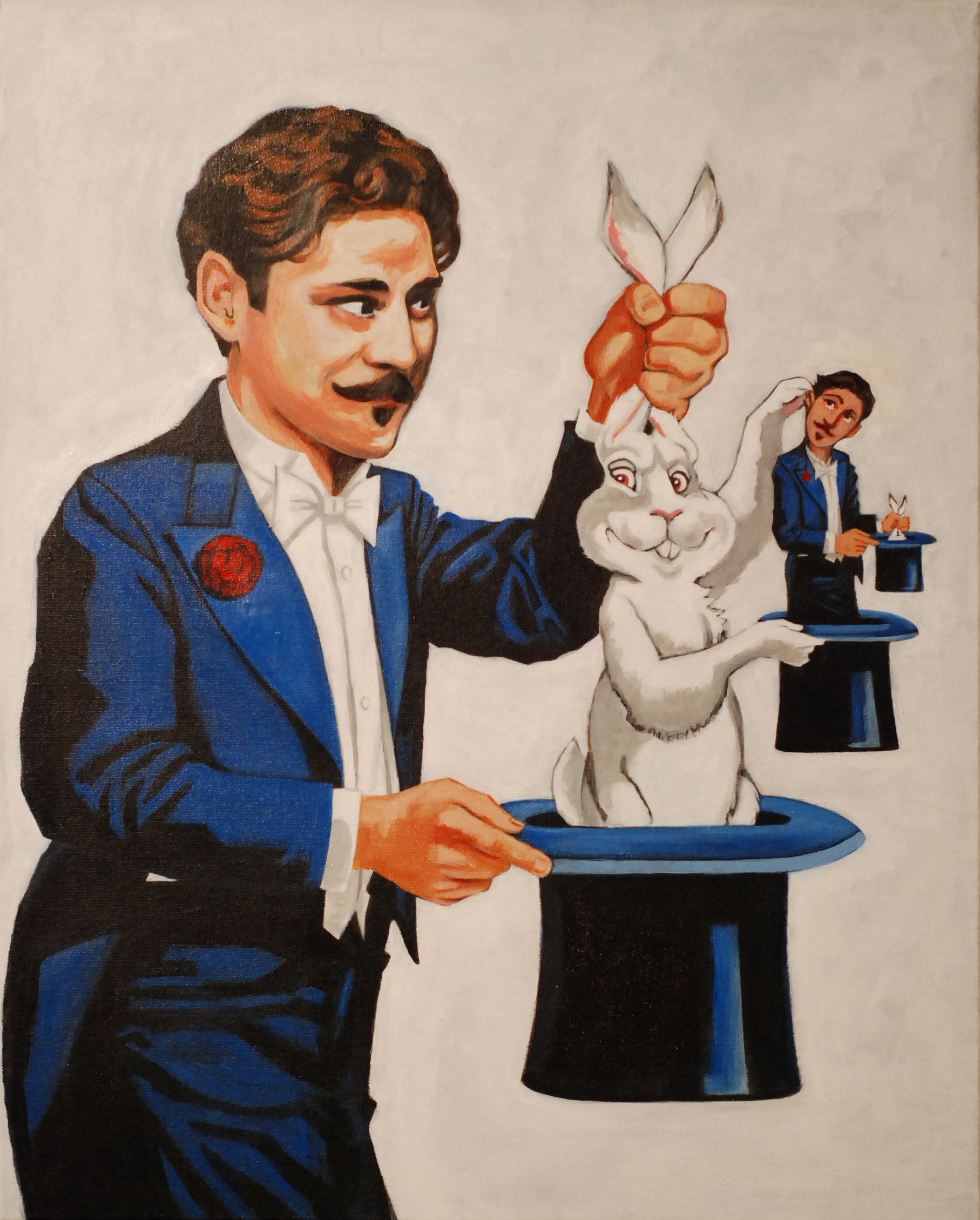 Edward Ruiz stepped onstage wearing a vest, slacks, sparkly sequined jacket and spats, creating a 1920s vaudeville aura. Ruiz appeared from behind a red velvet curtain as the dim lights come up. A champion of close-up magic and intimate performances, Ruiz is better known as Confetti Eddie.
Ruiz was creator and owner of Confetti Eddie's Magic Parlor. For 26 years, he showcased a variety of artforms. He began with an art gallery that evolved into a space for a variety of magic tricks and fun entertainment at Exposition Park in Dallas.
Ruiz attended Brookhaven College in 1992-1994 before launching his first business. While he chose art as his career, he said, but had a love of magic since early childhood. Ruiz remembers his uncle performing fun magic tricks for the family and aspired to do the same. Being astonished and curious, he sent for a magic catalog filled with illustrations and tricks. He said, "I fell in love with the art of magic."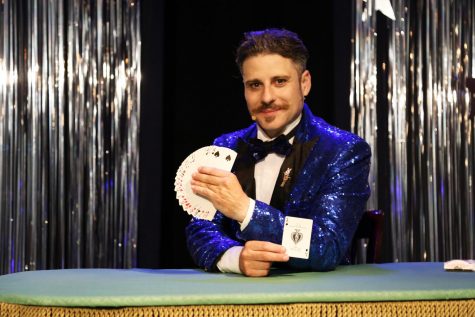 CHANGE OF PLANS
Ruiz and his girlfriend planned to move to Denver. However, she changed her mind but could not tell Ruiz, he said. She did not show up for the move and Ruiz was heartbroken. He decided to remain in Dallas and lived in his tan and white VW Camper bus outside a friend's apartment. His friend supplied him with electricity by an extension cord through their windows.
Ruiz turned back to his art career. In addition to his paintings, he painted murals throughout Dallas and for major corporations. He placed huge canvases on warehouse walls and painted what a company asked. Afterward he would take the canvas down, roll it up and mail it.
THE SPACE GALLERY
To display his artwork freely, Ruiz opened The Space Gallery. "There was nothing sci-fi or spacey about the art gallery," Ruiz said. "I named it The Space Gallery because there was plenty of space in the studio and the blank white walls were like a canvas waiting for art to be displayed."
He invited other artists to display their work. Art lovers, musicians, performers and all kinds of people often visited The Space Gallery.
However, Ruiz said newspaper art critics would not write reviews for the gallery. Critics told him he needed to show art for two years before they would consider the location a serious art gallery, he said.
This did not stop Ruiz. He continued to type press releases, mail them and follow up with calls over the next two years.
Ruiz thought to add live music to permit further flow to the gallery. The concept of art and live music inspired him to increase entertainment value by using his lifelong love of magic to this steadily evolving scene for all to enjoy.
THE MAGIC BEGINS
Confetti Eddie's Magic Parlor officially opened its doors in 2012. Ruiz said there are three types of magic. "Close up [magic] is the hardest because your skills are very noticeable," he said. "Close up magic really gives worth to the art."
In street magic, a magician approaches people on the streets and asks to show them a magic trick. Stage magic is performed on a stage to an audience that is 12-14 feet away. "Since stage magic is performed from a distance, theater tricks and lighting aid in the illusions," Ruiz said.
MAGIC & MUSIC
Poppy Xander, a pianist, served as musical director at Confetti Eddie's Magic Parlor. She met Ruiz on a July 4 while she was playing in a bar with no customers.
Xander has been interested in playing piano since the age of 7. She practiced on a neighbor's piano after letting their dogs out. She went on to purchase a piano from someone at church and moved it into her room. Xander said she became obsessed with playing the piano. In middle school, she played competitively and played with bands in high school.
Ruiz offered her the opportunity to play at his magic parlor. Xander said: "You never know who will come into your life. We must take risks even if we are unsure of our skills or ourselves."
Xander said she thinks her classical style of playing attracted Ruiz. She said, "It fit into Eddie's atmosphere." Xander said Ruiz wanted music for performer introductions and magic performances. "He wanted someone to be creative," she said. "I have made up lots of music to fit what is happening at the magic parlor from dramatic to introduction music. I have developed my own stage persona."
She admires Ruiz for his business savvy. Xander says he has vision for an event and knows the elements that make it exciting.
BEYOND THE PARLOR
Realizing the space was changing, Ruiz expanded Confetti Eddie's Magic Parlor to display his and others' artworks, comedy routines, music and burlesque shows. From behind the red velvet curtains sprang lots of fun entertainment as colored confetti drifted onto a happy audience.
Now that COVID-19 has stopped theater performances, Ruiz is experimenting with virtual shows through social media. "Live theater shows provided audience participation, as well as posters, lapel pins, resin magic cats' heads and T-shirts for sale," Ruiz said.
Ruiz said he plans to attend Brookhaven College to sharpen his writing skills. He wants to be better equipped to write press releases and possibly books about his experiences.
On May 12, Ruiz announced via Facebook he was closing the doors of Confetti Eddie's Magic Parlor for the last time. "When I walked into the space and saw there was nothing else I could create there, I knew it was time to go," he said. "All my experiences, creations and great memories are within me. I will always have them, and I can create any place I go." Ruiz has a venue's worth of gear that will not fit in the house. He has set up a backyard stage  to create an open-air venue.