"Jimi Hendrix Live In Maui" album review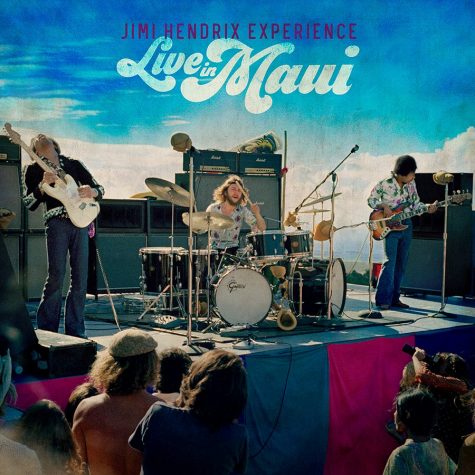 In 1970, The Jimi Hendrix Experience gave their second to last performance in Maui, Hawaii, during the The Cry of Love tour.
Even though Hendrix's career lasted less than five years, his band managed to produce four studio albums. However, the live performances Hendrix gave throughout his profession were the most recognizable aspect of his career.
The ability to create raw and distinctive sounds with a guitar and a couple of effect pedals was, and still is, extraordinary. On Nov. 20, 50 years after the concert, the "Live In Maui" album was released.
Unlike previous concerts by The Jimi Hendrix Experience, "Live in Maui" experienced issues which prevented the concert from being recorded completely. Hendrix's producer at the time, Eddie Kramer said in an interview with Alice Cooper, technical difficulties resulted due to high winds during the concert at Olinda, Hawaii. Consequently, drummer Mitch Mitchell decided to re-record his drumming bits from the concert in the studio. "Mitch's drums unfortunately were not recorded that well, I managed to salvage probably about 60% of what he had played," Kramer said.
Despite the unpleasant weather conditions, the band continued to play and gave an acceptable performance. "Live in Maui" includes popular tracks such as "Purple Haze" and "Foxy Lady." The album provides a different field of music, from funk to blues.
"Foxy Lady," one of Hendrix's most recognized and successful songs, is a disappointment in this live version. Compared to the studio version or live concerts, this song seems sped up with no passion.
However, one of Hendrix's less popular songs at the time, "Dolly Dagger," brings satisfaction to this album. The song starts with a funk melody and continues with a guitar riff throughout the track. Bassist Billy Cox, in an interview with Alice Cooper, said he created the intro for Dolly Dagger while setting up his bass guitar one early morning and became the intro as soon as Hendrix heard the riff.
Although Hendrix goes unrecognized for his vocals, he does manage to express his emotions in quite a few songs like "Message to Love." This album would not be complete without the funk rock this song provides. The track starts by building momentum and releases an appealing beat that is difficult to not sing along too.
Normally artists play concerts to get fans excited about something. But for artists such as Hendrix, concerts are a place to experiment and unleash creativity.
"Voodoo Child" was the highlight of the show with no noticeable errors and an energetic guitar solo that had the crowd dancing, as seen in the latest concert video on YouTube.
The concert closes with "Stone Free," filled with guitar riffs and improvisation that sounds like it could go on endlessly. Hendrix ends by showing his guitar capabilities with a snippet of "Hey Joe," showing a glimpse of what could have been a great transition.
After his death Hendrix went on to sell millions of albums. ,including the unforgettable "Live at Woodstock" to "Live at Monterey." Hendrix and classic rock fanatics should give "Live in Maui" a try, despite the quality and comparison to classic albums.