The Courier wins 27 awards at Texas Intercollegiate Press Association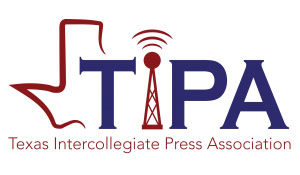 The Brookhaven Courier editors and staff earned 27 awards at the Texas Intercollegiate Press Association 2021 Virtual Convention held March 26. Traditionally, this three-day convention is where two- and four-year college and university journalism students from across the state gather for workshops, lectures and live contests. The 2021 convention was held as a one-day event via Zoom.
In 2020, due to COVID-19, TIPA was canceled for the first time since WWII. TIPA was founded in 1909. According to the TIPA website, within the past century, it has become one of the largest and most respected collegiate groups in the country.
"It is always amazing to be awarded for our hard work at The Courier. These last few semesters have been extremely different due to COVID, so the wins mean a little more this time around," Mykel Hilliard, editor-in-chief for The Courier, said. After spring break 2020, The Courier shifted to online publication after all on-campus activities and operations, including classes, were moved online.
Courier staff members won nine first place awards at TIPA in categories including news feature, opinion, headline writing, photography, illustrations, and newspaper layout and design for work produced and published in 2020.
The Courier had 12 students win 27 awards. Of those, half won two or more awards including former editors Matthew Brown, Xochitl Gonzalez and Jacob Vaughn. 
These accolades showcase why The Courier is known for cultivating a culture that pushes writers to excel to high achievement, while also gaining useful hands-on experience in journalism and leadership.
Hilliard was one of four two-year students who won the $400 Mike Warms Scholarship. He was also named co-winner of the Texas Community College Journalism Association Journalist of the Year award. As part of the award, Hilliard will complete a 10-week summer internship with the Corpus Christi Caller-Times.
Hilliard said: "I am still in shock. I am extremely grateful. It makes the long hours I put in on stories so much more worth it."
Brandon Donner, former photo editor, won three awards for his photography including first place for General News Photo and third place for Breaking News and Sports Action photos. "Great feeling to be recognized amongst my peers, considering I haven't won before," Donner said. "Consequently, going back and forth with Daniel and Jubenal, lifted my confidence about being nominated."
"Winning big at TIPA 2021 showed people's work didn't go unnoticed, and for them to not give up on themselves or their papers," Donner said. 
Marsha Gale Hampton, former contributor for The Courier, said: "When I was doing homework and writing stories for the class, I had no idea that it was going to go that far. I'm very honored by the whole thing." Hampton won honorable mention for her feature story about local magician Edward Ruiz, who has since joined The Courier as a contributing writer.
The convention featured speakers from different disciplines in journalism including Tom Fox, Dallas Morning News photographer; Beth Francesco, senior director for the National Press Club Journalism Institute in Washington, D.C.; and Amanda Koontz, account manager at Movers + Shakers, a creative TikTok and digital disruption advertising agency.
The speakers presented workshops on topics including implementing leadership strategies, improving newswriting, using augmented reality in journalism, and using TikTok for the newsroom.
Koontz spoke about being innovative in today's multimedia landscape, placing importance on breaking stories on TikTok. She also keyed in on the importance of newsrooms being open to the use of new social media platforms to gain access to new demographics and to have an advantage of seniority over their competitors.