Mountain View magician's virtual metamorphosis
Magician Geoffrey Grimes dealt four playing cards onto the corners of a black table mat. He placed a coin underneath each card. The coins seemed to jump on their own from under one card and then appeared under another card.
Grimes, an English professor at Dallas College Mountain View Campus and a magician, appeared as a guest speaker at the Dallas Magic Club in February. He presented a coin matrix routine at the club's monthly meeting held online.
Following his performance, Grimes was invited to share his insight on how to present magic to a virtual audience. Like most performers during the COVID-19 pandemic, Grimes has moved his teaching and work online. Grimes said, "It's very difficult to move from one arena to another arena as a working performer."
Going virtual pushed Grimes to become familiar with new technology and software. He built a physical space to perform in from his home. Grimes said: "When COVID hit, I didn't want to give up performing. My only option was to develop a virtual show."
In the beginning, being an English professor and magician allowed Grimes to combine magic with education. In 1999, Grimes, along with students, staff and faculty, created the Mountain View Magic Club where students share their mutual interest in the art of magic.
Club members receive instructions on tricks and learn magic from Grimes and other local magicians. The students also help to entertain hundreds of area children and their families at the annual magic shows sponsored by the college and the club including the MVC Food Bank Fall Festival.
Elena Ponsler, a Mountain View former student, became a club member and eventually the club's president while attending Mountain View to study early childhood education.
One day while on campus, Ponsler ran into Grimes who asked, "Hey, would you like to see the oldest trick in the world?" Grimes performed a classic sponge rabbit routine in which he made rabbits move from one hand to the other, then they multiplied into many rabbits inside Ponsler's hands.
That was Ponsler's first magic trick. "I fell in love with magic," she said.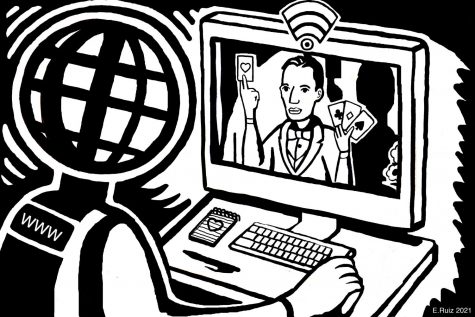 Ponsler went on to perform magic at a local restaurant which included close-up magic as part of the dine-in experience. Ponsler said: "It's not all on me. I had a good teacher." Her son was interested in magic and she said Grimes took the time to teach him some magic tricks as well.
As part of the Mountain View Magic Club, Grimes also created the Mark Wilson Magic Club. Wilson was a world-famous magician who grew up in Oak Cliff and attended Sunset High School and Southern Methodist University. Wilson began his career at Magicland Magic Store in downtown Dallas. Wilson was part of the first televised magic shows in 1955.
Grimes is helping to keep Wilson's name and legacy alive. When students join the magic club, Grimes makes sure to give them a copy of Wilson's book, "Mark Wilson's Complete Course in Magic" and teaches them magic principles from the 503-page book. Grimes said: "We hope to continue the Mark Wilson Club. I guess it will continue as long as I am there."
At 77 years old, Grimes still enjoys teaching and is committed to continuing the magic program at Mountain View.
Magician and colleague Michael Smith worked on several magic projects with Grimes over the years including the annual charity magic shows. Smith said: "One of the keywords I would use to describe Geoffrey is that he is very generous. He gives a great deal in his teaching and his magic and his relationships with his family [and] with his friends."
Grimes is a member of the Society of American Magicians and the Dallas Magic Club, he has been assembling a collection of his own essays. Grimes said, "I've been writing essays for various organizations, magic organizations, for about 15 years."
Grimes, like most performers, looks forward to when it will be possible to take magic back out to the community.