Dallas College hosts first graduation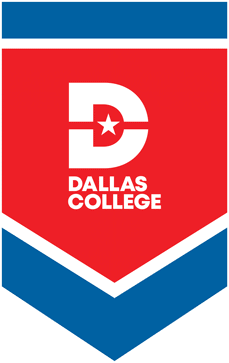 Hundreds of students entered the auditorium in a sea of royal blue caps and gowns as families and friends awaited with excitement for the ceremony to begin. Some searched for their loved ones, waving as they found them. Others took selfies or held conversations with those seated near them as the anticipation of graduation compounded.
Dallas College held its first graduation ceremonies as a single institution June 24-26. This was the first series of graduation ceremonies since the transition to Dallas College. Seven ceremonies were held over the span of three days at the Curtis Culwell Center in Garland.
Alex Lyda, senior managing director of communications, said 11,647 students graduated this year.
Ketcia Mapamboli sat anxiously waiting to walk the stage, adorned in her decorated cap and silver sparkling glitter on her eyelids. "I feel amazing, blessed," she said. Mapamboli graduated with an associate of arts degree and said she plans to continue her education to obtain a bachelor's degree in finance.
A pre-recorded message from guest speaker, first lady Jill Biden, was broadcast to an auditorium of graduates and their families.
The 2021 class optimistically listened as the first lady congratulated them. "The education you've received has prepared you well," Biden said. "The decisions you've made will guide you well, and so all that's left is for me to wish you well. Congratulations class of 2021."
The 2021 graduating class faced different academic challenges during the 2020-2021 school year.
Liliana Cruz, Brookhaven Student Government Association outgoing president, was the first student speaker for one of the ceremonies. Cruz talked about not being able to set foot on campus for class or other activities and interact with classmates and professors. Instead of focusing on the struggles caused by the pandemic, she said, Cruz wanted to remember when things were normal.
"I want everyone to leave today's graduation with a couple things in mind," Cruz said. "First, is that graduation is a result of hard extended work and persistence. We are all walking across the stage because we have accomplished greatness. And second, setting high expectations will allow you to establish a clear path forward."
Graduating student Regine Porter, a single mother of three, said she learned to read at the age of 24. She graduated with an associate of arts degree in education and will be graduating with her bachelor's degree in education next year from Paul Quinn College. She said she wants to teach first grade. Porter said, "I am super pumped because I am 42 and I should have done this years ago."
Porter said she prefers online classes because she can complete her work on her own time. "Online classes are less stressful and allow me to simply focus on the matter at hand," Porter said.
Susan Hyde-Mahoney, student leader and speaker during another of the ceremonies, earned both an associate of arts and associate of science from the School of Law and Public Service. Hyde-Mahoney suffered a spinal cord injury following a successful career as a police officer and emergency medical technician, and enrolled in Dallas College in 2018.
"This is what perseverance looks like," Hyde-Mahoney said during her speech. "Wherever the next chapter takes you, be proud. Hold your head high knowing that this value of higher education that you have obtained today sets you far apart from many others."