Lonon begins chancellor role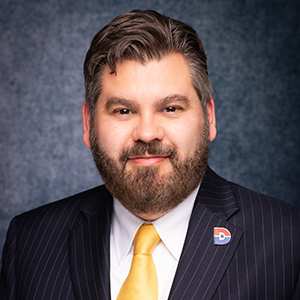 On March 1, Justin Lonon began his tenure as Dallas College chancellor, becoming the eighth chancellor to oversee the college. Lonon succeeds Joe May who will relinquish his day-to-day duties to become chancellor emeritus on Aug. 31. 
As chancellor, Lonon will lead 125,000 students and oversee $204 million in economic impact. 
On March 2, during a presentation on the new Dallas College's 2030 framework, Lonon said he did not envision taking over as chancellor when he began working for the college but was led by a passion for students and the college's mission. "I'm truly looking forward to the journey that's ahead of us," Lonon said. 
The 2030 plan outlines the short- and long-term goals for Dallas College. 
Monica Lira Bravo, Dallas College board of trustees chair, said she and the board look forward to working with Lonon as chancellor. "Over the past few years, we've all gotten to know and work with Dr. Lonon," Bravo said. "We appreciate his leadership style and look forward to all the good things that are coming our way."
Jee Hang Lee, president and CEO of Association of Community College Trustees, offered his congratulations to Lonon. "This is a pivotal time for community colleges throughout the country," he said. "I know that Justin is the perfect person to meet the latest challenges and opportunities. Justin, I look forward to your leadership."
Lonon, an Arkansas native, graduated from Missouri State University where he earned a bachelor's degree in public administration. He then earned a master's degree in public administration from the University of North Texas. Lonon also holds a doctorate in management from the University of Maryland – Global Campus. 
Lonon began working for the college in 2005, serving as executive director of public and governmental affairs. In 2015, he began working as executive vice chancellor. And in 2019, Lonon served as interim president of Dallas College Brookhaven Campus. 
Aside from his work with Dallas College, Lonon serves on several national and local boards including the United Ways of Texas, the YMCA of Metropolitan Dallas' Advancement Committee, the Dallas Father of the Year Awards and COMBASE, a community college association. 
May expressed excitement for Lonon stepping into the role. "I can speak from personal experience that being in that role has been the highlight of my career," he said. "And I know that it's going to be the highlight of yours as well. I look forward to watching over the next few years as Dallas College continues to meet the needs of students, of our employers, and of the communities we serve."
"Obviously, Brookhaven has a special place in my heart, having spent time here as interim president," Lonon said, referring to his nearly six months as interim president. "Every time I'm here, I always enjoy walking around the campus, engaging with our amazing faculty and staff that I know are so committed to serving our students and serving our community."