Dallas hits the streets for March for Our Lives
On a blistering summer day in Dallas, locals and people from surrounding areas gathered at Dealey Plaza on June 11. Shoulder to shoulder with Segway and JFK trolley tours, the plaza quickly became full. Signs reading "Ban Guns Not Books," "Enough is Enough," and "Books Not Bullets" could be seen in the hands of attendees taking selfies as they waited for the march to begin. 
Roughly 400 people participated in the march to City Hall Plaza to make their voices heard as the Uvalde massacre remained fresh on attendees' minds. March for Our Lives organizers, Karter Stanton, Naz Soyal and James Thompson, were accompanied by Moms Demand Action and others.
Soyal, 18, told The Dallas Morning News she doesn't understand why Texas laws prevent someone her age from purchasing alcohol and cigarettes, but not guns. "It doesn't make any sense," Soyal said.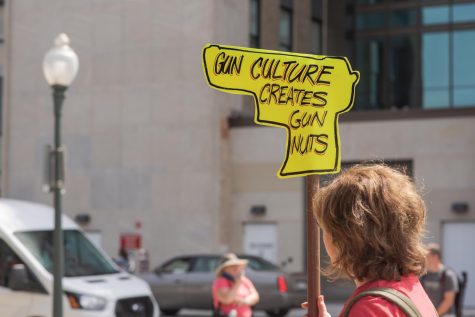 Thompson, who helped Stanton and Soyal, told DMN the group was calling for a number of gun reform measures such as universal background checks, assault weapon bans and more investment in community services.
As the march started a sea of signs appeared among the crowd. Along with the signs came the chants, "Books not Bullets" erupted from the crowd as they marched toward City Hall. The crowd marched on Marilla Street and approached City Hall, marchers were greeted by organizers and volunteers who brought out coolers filled with water bottles for marchers.
"This time we are demanding that it be done different, and I believe that change will be made," Abigail Glavy said. Glavy hopes there will be a day when students no longer have to do shooting drills, that everyone can go back to doing things they enjoy such as attending concerts, festivals and church without having to worry about a potential shooting.
One of the guest speakers, Kathryn Vargas, MDA's volunteer local group lead, said to the crowd, "It takes more than thoughts and prayers." Vargas spoke of policy changes and actions that need to be taken to stop mass shootings. MDA is pushing for gun reform and common sense gun laws. "We must continue to show up," Vargas said.
One speaker, in town for a wedding, found out about the march and wanted to come support the movement he loves very much.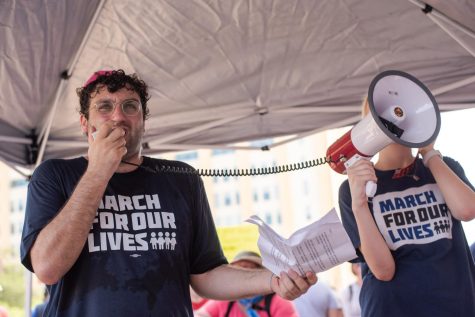 Adam Eli, Gays Against Guns organizer, spoke of what brought him to join March for Our Lives movement. "I love your movement so so so much!" Eli said gun safety reform laws and the LGBTQ+ movement go hand in hand. "We all have the same enemy; I'm looking at you Greg Abbott," Eli said to the crowd of marchers standing outside City Hall Plaza. Eli talked about the Pulse massacre in Orlando, which led to the creation of Gays Against Guns, and about gun violence against trans people.
Christine Leftwitch, a first grade teacher, spoke to the crowd, voice cracking, about how being a teacher has changed since the surge of school shootings. Leftwitch talked about doing active shooter drills and trying to get students to stay quiet and take drills seriously. She spoke in remembrance about the brave teachers who gave their lives to protect students from harm.
The guest speakers finished. Marchers began their walk back to their cars. Some lingered and talked to the guest speakers and organizers, thanking them for putting on the event and sharing their stories.