Fitness Lab adds equipment, extended hours
The Brookhaven Campus Fitness Lab, formerly known as the weight room, in the basement of T Building now offers brand new equipment and additional hours for Fall 2022.
Located in Room T123A, current hours of operation are 7 a.m. to 5 p.m. Monday through Friday.
The Fitness Lab is open to all students, staff and faculty during open hours, except for specified class times for students.
Jorge Rodriguez, fitness center manager, said they are working to extend hours from 7 a.m. to 7 p.m. Rodriguez said extending the hours is difficult without additional staff.
Previously, the lab was used only by student athletes or for instructional classes. Although the Fitness Lab is now open to all students, staff and faculty, many may not know about it. For those who want to start exercising but feel hesitant, Rodriguez said, "It doesn't matter what your fitness level is. Everyone is welcome here in the fitness center."
For those who have never used the facility or are unfamiliar with the gym equipment, the person sitting at the Fitness Lab front desk can help. Rodriguez said all fitness lab employees know how to safely use all pieces of equipment. If anyone has any questions about fitness or specific workouts, they can email Rodriguez.
To use the Fitness Lab, students must have a current Dallas College student ID, be enrolled for the current semester and wear athletic clothing while exercising. Showers are available for everyone to use and are located across the hall from the Fitness Lab.
Jose Cerda, a student who used the Fitness Lab, said the Fitness Lab "strives to offer the most safe, effective and innovative programs to students and members of all abilities." Cerda said he recommends the fitness lab because it can help improve concentration, keep the mind focused and boost work productivity and academic success.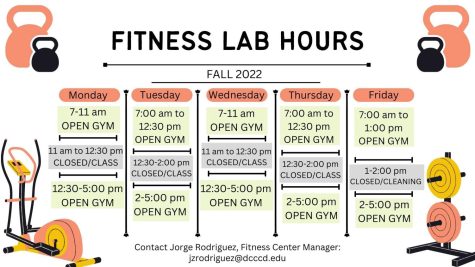 New equipment includes a treadmill, squat rack, hoist jungle gym system, balance beams, rack of dumbbells, kettlebells, barbells, foam rollers and mats. Rodriguez said he hopes the new additions will encourage more people to come in.
"It looks better," Rodriguez said. "It's a little bit newer, and we're just trying to keep it clean and looking really nice for the people to feel like, 'OK, I want to come and work out.'"