Lady Bears claw way to top ranking
As they reached the end of their season, the Dallas College Brookhaven Campus Lady Bears volleyball team dominated in their conference. They currently have an 12-0 win streak and are 9-0 in conference play. They hit their stride heading into the season's final stretch, and are currently at No. 5 on the 2022 NJCAA National Volleyball Poll.
Every season, the team's goal remains the same: Win a national championship. Jason Hopkins, Lady Bears volleyball head coach, said, "Everyone's expectation is to go win a national championship and I don't think anyone's deviated from that expectation." 
At the start of the 2022 season, the team was made up of strangers with a roster lined with freshmen. However, as the season progressed their compatibility contributed to their victory streak.
Hopkins said: "They are all [still] learning each other and getting used to each other on the court. If they keep on that path, then the end goal is the national championship match."
The freshman-led team started the season with a 3-1 loss in their first game against Temple College. However, they did have a pair of wins against Rose State College and Seminole State College.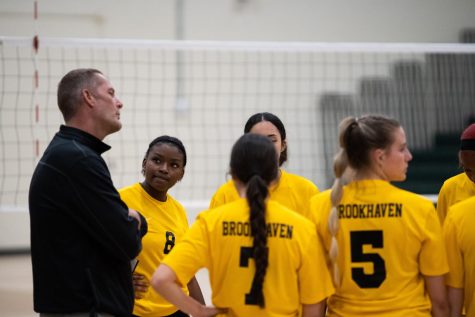 Freshman outside hitter Ariel Austin was named Dallas Athletic Conference player of the week for Aug. 28-Sept. 3 and Sept. 18-24. Austin is averaging 4.45 kills per set and 5 points per set for the season, the highest on the team. 
They competed in the Ranger Wrangler Classic at Ranger College on August 26-27 and posted a 1-3 turnout. They also competed in the Blinn Volleyball Invitational on Sept. 16-17, where they had a 3-1 record at the tournament.
After a slow start to the season, they picked things up and went on a 16-5 stretch between Aug. 26 and Oct. 14. This stretch was highlighted by their 12-0 win streak, and an 9-0 win streak in conference play.
The Dallas Athletic Conference Tournament will be held Oct. 25-29. The Bears are training to end their season with a victory.