DFW pinball community extends playfield to all generations
The Dallas-Fort Worth area is home to a growing pinball community. Pinball, the classic arcade game, has had a stark rise in popularity in recent years. It brings back a desire to relive the nostalgia of one's childhood and search for a like-minded community.
In a collector's custom arcade, players fill the room, overwhelmed with excitement. Machines line the walls, and colorful LED lights illuminate recognizable movie characters. Reinvigorating the power of rock music, the famous silver ball darts across the playfield, hitting bumpers like a drum. The mechanical sounds of pinball flood one's ears. It's game time. The tournament is about to begin.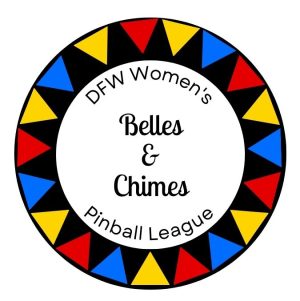 Pinball inclusivity
When people think of pinball, many imagine men at the helm of every pinball machine, but they are not the only ones that comprise the pinball community.
Lora Tennison is the co-director and a participant of the DFW Women's Pinball League and DFW Belles & Chimes Chapter. Tennison said Belles & Chimes is a women's pinball group that welcomes people from disassociated groups.
"We're trying to be all-inclusive, trans, non-binary are welcome to play with us because they would be picked on in the mixed League, and we want them to have a safe environment to play," Tennison said. "We have a local chapter in almost every major city, but [our purpose] is to play pinball, get to meet other people who enjoy playing pinball and have fun."
Before starting the Belles & Chimes chapter in D-FW, Tennison was a member of the DFW Pinball League for men and women that met weekly. About seven years ago, Tennison said she began playing pinball competitively. "I found that I was one of maybe three women that showed up regularly," she said. "At the time, I literally was the only woman playing in the weekly league."
The simple driving force that motivated Tennison to dedicate energy toward social recruitment was getting more women to play. "Slowly women started playing with us," she said. "Wives started coming, and we've got a bunch of singles that are now playing as well." The DFW Women's League meets concurrently with the DFW Pinball League for most weekly tournaments.
Retro back in style
Retro arcade games have been making a steady comeback with pinball machines from the 1970s to 1990s, with more modern variants in the last 20 years and popular video games from the 1980s, such as Pac-Man and Galaga.
In recent years, establishments such as Free Play and Cidercade have increased across DFW, featuring these retro arcade games catering to adults with food and alcoholic beverages.
Collectors
The DFW pinball community is unique. There are numerous private collectors of pinball machines scattered across the Metroplex.
Collectors do not have just one or two machines; they typically own around four to 50 pinball machines alongside other classic arcade machines, all within their homes. Individual pinball machines range $2,500 to $70,000. Serious collectors such as these invest large amounts of time and money into their collections. They will not let just anyone play on their machines.
In the pinball community, etiquette is simple: Do not play rough with the machine, and do not even think about eating or drinking while playing on someone else's machine.
Most collectors want to share their love of playing pinball with others, and many are opening their homes and inviting in the DFW Pinball League and DFW Women's Pinball League.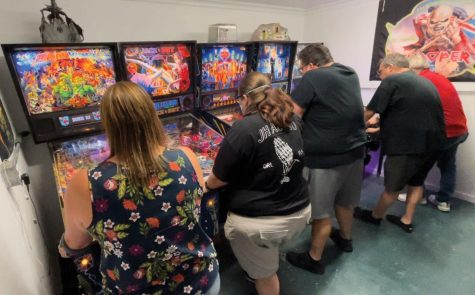 Sandra Hegeman, co-director of the DFW Women's Pinball League, said, "It seems like there's an expansion of the number of collectors that are opening up their homes to us, which is really nice."
[Collectors] come to the tournaments, see how they're run, and they think, 'Well, I've got some games, I'd like to have some people play them besides just me.' And some of them don't get to play [their machines] very often because they've got work commitments and everything. So having other people come and enjoy it, they really like that. They really like seeing other people enjoy what they've put into the machines and what they've done," Hegeman said.
Community
The D-FW pinball leagues are more than just competition and weekly tournaments. Tennison said: "We're unique because we go to the collectors' houses, we have a potluck party with a little pinball on the side. We want it to be fun for everyone."
The leagues are run by volunteers, people who love playing pinball and want to continue to support the community. The directors do not get paid and all sponsors host and/or donate prizes to each tournament.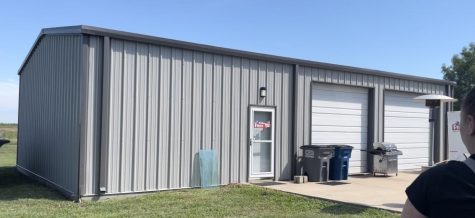 Tennison said: "We couldn't do this without our sponsors and without our collectors opening their homes to us. Without them, we would not be where we're at. We would still probably be under 30 players. Having [a] local venue or a home venue with well-maintained, well-taken care of and well-loved machines has really made a big difference. And I think that's why the DFW [pinball leagues] have grown so fast."
Sandra Hegeman moved from Wisconsin to Texas four and a half years ago. Hegeman recounted her first encounter with the DFW Pinball League. "I walked in by myself," she said. "[I] told a few people where I was going because I didn't know what I was walking into."
However, her anxiety quickly subsided. "They immediately welcomed me, showed me tips and tricks [on] how to play," she said. Players showed Hegeman everything she needed to do and kept an eye on her to make sure she was OK. "You don't get that with all the communities out there when you go and visit them," Hegeman said.
The pinball community is multi-generational. The desire to connect with like-minded individuals over a common interest in a fun environment has only increased. Tennison said, "It doesn't matter who you are, how much money you make, what you do for a living or what you believe in, you're welcome to come play."
"We will help you learn how to play the games and what the rule sets are. And we're willing to teach you and teach you skills. The IFPA, which is our governing body, that's International Flipper Pinball Association, they have a lot of information on their website. You can find the rules to almost every game ever made there, when it comes to pinball," Tennison said.
The DFW Women's Pinball League can be found online at facebook.com/dfwwomenspinballleague.