Summit urges sustainability
Dallas College Brookhaven Campus welcomed attendees, exhibitors as well as in-person and virtual speakers to discuss the importance of living an environmentally conscious life at the 12th annual Sustainability Summit. The focus of the Nov. 4 event was to motivate everyone to "be the change."
This year's summit was the first to be held in person and via a live-stream with over 900 virtual attendees watching. Viewers were able to submit questions through the Slido website to be answered after each session.
Environmental activist Xiuhezcatl Martinez opened the event by introducing himself in his native language, Nahuatl. "X," as he is commonly referred to, outlined his trajectory as a young environmentalist, with both parents advocating for environmental and climate justice.
Martinez's mom was the founder of the Earth Guardian Community Resource Center in Maui, Hawaii. The accredited high school "traveled around the islands, and everything in their curriculum was based around youth empowerment and sustainability," Martinez said. "We were encouraged to express ourselves creatively as a way to resist the change."
Martinez went on to explain the importance of youth using their voices and speaking out. "It means to play a part in shaping our future," he said.
When asked about the importance of the climate conversation and how people believe their voices don't matter when it comes to voting, Martinez said it's very difficult to trust politicians and their agenda, regarding climate change.
"They don't want us to determine where our future lies," Martinez said. "There is so much power that our generation has when we mobilize… it is a matter of raising our standards."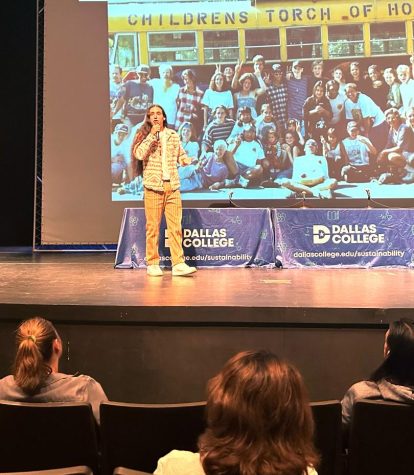 Attendees had the opportunity to choose two workshop sessions. The breakout sessions discussed different ways in which changes could be implemented to live a more environmentally conscious life. Six presentations were made available to choose from: In the Community, On Our Travels, In the Home, With Our Wallet, At Work, and In the Environment.
Following Martinez's keynote speech, the Performance Hall welcomed the Be the Change in the Community Panel moderated by Rudy Bush, editor of The Dallas Morning News editorial page. The panel of non-partisan organizations expressed the importance of political engagement in relationship with the environment.
Barbara Larkin, vice president of voter services of the League of Women Voters of Dallas, said younger generations have a difficult time trusting candidates on their ballots.
"Younger people want to vote," Larkin said. "It's fairly understandable that the younger generation feels like they can't trust any information."
Ania Henderson, community ambassador of the Citizens Climate Lobby, said the environmental conversation should not be a partisan issue.
"It's a human issue," Henderson said. "We want everyone to feel confident that they can make a change." 
The In the Home session, moderated by Randy Boys, Oncor electric delivery strategy and technology manager, discussed different methods to make homes and businesses more sustainable.
Lisa Roark, program manager for Turn Compost and a Dallas College alumna, said composting makes our homes more environmentally conscious.
"When you have the ability to compost at home, you're reducing your food waste and realize how many things we are throwing out," Roark said.
"It's important to have anything that you can grow, even if it's a container in your balcony box," Roark said. "Plus, plants make you happy. They reduce depression and change the vibe of our whole space."
Roark highlighted the importance of conscious purchasing and reducing support of animal-tested products and environmental contaminants, such as aerosol products.
The last live-streamed workshop was In the Environment, giving attendees the chance to hear from experts about sustainable agriculture. Neil Kaufman, assistant director of  sustainability for urban agriculture at Dallas College, works toward making Dallas College more productive and sustainable.
"We want to see how much food we can grow and how much carbon we can sequester," Kaufman said. "Here on Brookhaven campus there is the windmill garden… it's one of the most bio-diverse little pockets that you'll see."
Seth Godin, a best-selling author and entrepreneur, was the afternoon keynote speaker. With descriptive graphs and memorable visuals, Godin's pre-recorded keynote speech concluded the event on a charismatic and reflective note.
"I am here to help you see that there's a way towards better," Godin said. He went on to explain the impact that manufacturing has on the planet, and how people are not aware of the production of carbon and its side effects.
Godin said the effects of climate change are not only affecting the planet, but the people who live on it, and highlighted the importance of understanding climate change. "The Earth is getting warmer, and the pressure is on us."
Godin said, "We are surrounded by a system based on convenience.We'll give up anything for convenience. We don't have to persuade an online troll that we are right and they are wrong. We need to get to work."