Art gallery to feature Dallas College alumni
The Dallas Fort Worth metroplex is an area with a large booming art scene. A huge addition is coming in the form of Santa Fe-based interactive art gallery Meow Wolf, which will feature local artists including Dallas College alumni.
Meow Wolf is an arts and entertainment company specializing in immersive and interactive art galleries based in Santa Fe, New Mexico.
The company opened their first permanent location in 2016 with the help of none other than "A Game of Thrones" creator George R.R. Martin, who invested in leasing and renovating an empty bowling alley.
In 2021, two more locations were opened in Las Vegas and Denver, but the company is now aiming to expand their immersive psychedelic flair to the Lone Star State, with their Grapevine location set to open in 2023 and a Houston location slated for 2024.
Among these local artists collaborating with Meow Wolf are some Dallas College Alumni, including former Richland Campus humanities instructor Sara Cardona, former Eastfield Campus student Kwinton Gray, former El Centro Campus instructors Carlos DonJuan and Adam Palmer, and former Brookhavean Wanz Dover.
Meow Wolf CEO Jose Tolosa said, "Texas is one of [the] largest and most diverse states in the country with a vibrant artistic scene, and it's also the state with the largest visitation to our existing Meow Wolf locations that doesn't today hold a Meow Wolf location."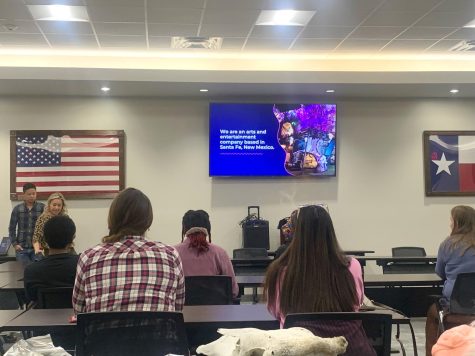 In anticipation of their Texas debut, Meow Wolf held town meetings in Fort Worth and Grapevine on Oct. 18 and 19 respectively to address their mission and to answer any questions regarding their 2023 exhibit.
Present at the meetings were Meow Wolf general manager Kelly Schwartz and senior director of operations development Brian Loo.
While they did not disclose the exact date for the opening, the location will be a permanent one in the 40,340 square foot space left by the former Bed, Bath and Beyond store inside Grapevine Mills mall.
They also addressed their company culture, as they seek to be an inclusive employer and give back to groups such as LGBTQ and Latinx communities, including offering $18 as starting wages for all employees.
Q: How do you hope the first Texas location will be different from the other Meow Wolf locations?
A: Each Meow Wolf location is unique to each site, which means we reach out to local artists and this one is no different. We have over 30 Texas artists who are partnering with us to showcase their art, flair and style.
When you walk into our space, it will be different from every other location you've been to. The art is also entirely handmade, it is not made in a factory or mass-produced. So when everything is made by hand, it will never be the same.
Q: Why did you choose Grapevine to be the hub of your first Texas location?
A: Ultimately, there is nowhere more central to the DFW area than Grapevine.
There are 8 million people in the metroplex and if you are looking to touch the most people, then Meow Wolf being in Grapevine makes perfect sense.
In addition to that, we also want to attract tourists, people coming in from Austin, San Antonio, Oklahoma and Louisiana, so Grapevine gives us that opportunity.
Q: How did you reach out to these local artists?
A: We actually put a call out on our website for artist collaboration as we are constantly looking for more artists.
If you go to our website there is a collaboration form where you can submit your work and showcase your art, and we also reached out through our social media to share the form. We also have Will Heron, who is our local artist liaison, born and raised in the Dallas-Fort Worth area, so he has been the link between the artists and Meow Wolf itself.