Virtual desktops arrive at BHC
Dallas College Brookhaven Campus has received new devices with virtual desktop capability in the Special Academic Program student center in Room M129. The new devices are some of the 340 computers being installed around campus and will be ready for use before Thanksgiving break.
Michael Johnson, Dallas College director of virtual environments, said the IT department began installing the new devices with virtual desktop capability on Nov. 9. The installment of this new software will allow students to access their personal virtual desktop from any computer on any Dallas College campus.
Johnson said, "We are bringing virtual desktops to campus because we want the students to be able to use the software from anywhere, including at home. The virtualization project that we are doing allows students to reach that software anywhere. It allows Dallas College IT staff to publish software in one location for all students. So instead of IT going into a room and loading software on PCs in this room then moving to the next room. When we publish it in the cloud everybody gets it all at the same time all over the district."
Johnson said, "[Virtual desktops are] basically a computer inside of another computer. You are using a computer without being present at the hardware. You're essentially calling a virtual desktop that lives in the cloud, those actually run on servers somewhere, but somewhere is not particularly important. It is that the service is available to you when you call it. So you don't have to keep up with the hardware that makes it happen."
Manny Estrella, Dallas College assistant director for network campus support, said, "the main goal is to make the experience for each campus the same. We have a lot of students going back and forth to different locations. This way they can get the same experience no matter what campus they're doing their studies at."
Estrella said, "The biggest change that we are hoping for is students to start to trust our machines. That when they go in they know that the machines will work as intended." Ideally, if students are able to trust that the computers on campus are reliable, they will no longer feel the need to carry around another piece of hardware, Estrella said.
Students will no longer have to click save on each document and close each tab before they log out of the desktop computer.
Everything will be automatically saved on the students' OneDrive linked to their account. They will be able to close their session on the desktop computer, move to a different computer and open their virtual desktop with no changes or lost documents.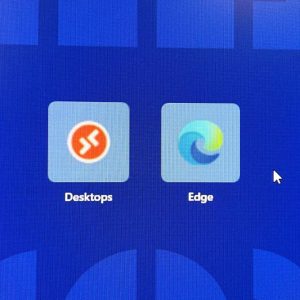 Johnson said there will be two icons on the desktop. One is the Edge browser, with no login required and usable as a traditional browser to search the web.
The other icon takes you into the new Microsoft Azure portal, where students will sign in with their student account and it will bring all the software they need for their classes onto their personal desktop until they are no longer a student at the college.
Johnson said, "It allows students to get to software anywhere they are. So any student with an active student account currently enrolled, they have access to this already, even though they may not know it. They can access it from home, from anywhere. The new machines that we are installing at Brookhaven operate exactly the same way the new machines at Mountain View operate, and the new machines that are going in at all the other campuses, they will all work exactly the same."
Johnson said there were almost 800 new devices installed at Mountain View Campus. At Brookhaven, 340 will be installed, while 500 will be installed at El Centro Campus.
He said: "If funding is consistent and holds out, I'm hoping that within 18 months all the campuses, all over Dallas College will be completed."
"I would like to encourage everybody to give the computers a try," Estrella said.
"It is a different way to access the documents and applications that you are used to but I believe the responsiveness will blow everyone away."