Coach Williams scores award
Dallas College Brookhaven Campus women's soccer team is a dynasty, with four championships in eight years and six consecutive conference championship appearances.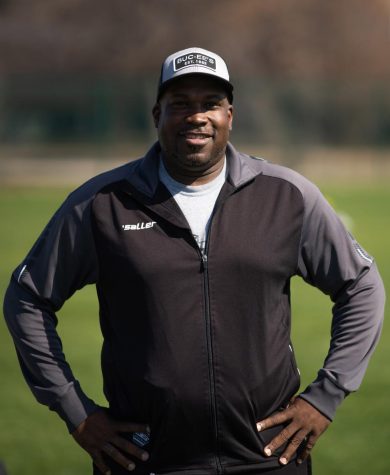 The success can be attributed to the coaching. The Lady Bears are led by head coach Jimmy Elder and assistant coach Robert Williams. Elder and Williams joined the team eight years ago.
Williams received recognition for his work following the Lady Bears' historic 2022 season. Williams received the Assistant Coach of the Year Award from the Black Soccer Coaches Community with United Soccer Coaches. "The award means the world to me," Williams said. "I was at the awards ceremony in tears. I do this for the love of  the game, I don't do this for any recognition and I can't put it into words knowing that my peers decided that I should get this award."
He started his coaching career at age 18 in Bermuda, where he coached a U11 boys team for the local club he played for. He coached that team until they were a U21 team and then went down to a U9 boys team. He came to coach for Brookhaven in 2015.
Elder said how proud he was of Williams, and what he does to help him as a head coach. "He deserves it," Elder said. "He fills the water, does the ice, recruits the players, helps me coach, helps me, mentors the girls and helps the girls in the classroom. He sacrifices well beyond what he actually gets paid to, and it's hard to find that in an assistant coach."
Williams said winning last season's national championship was memorable. "Winning our fourth national title was even more special because it was the first time we went back to back," Williams said. He also highlighted the development of their sophomore goalkeeper, Hayli Nichols, and how she helped their championship run. "She struggled in her first year and didn't play much, but she came in this year and worked extremely hard," Williams said. "She was phenomenal and her growth and determination led to her only giving up three goals all season."
Nichols said Williams helped her become a better player. "My freshman year, I wasn't the greatest player and I would always talk to Coach Williams about how I could get better and advance," Nichols said. "He was always checking in on me and making sure I was doing what I needed to do academically and on the field. It led to me being the starting goalkeeper."