International student enrollment soars by 84%
In Spring 2023, 2,041 F-1 students were enrolled in a certificate or undergraduate degree at Dallas College. This was an 84% increase from the previous year, according to a report provided by Quenton Lowery, a Brookhaven Campus designated school officer for registration and admissions. In Spring 2022, 1,115 F-1 international students were enrolled at Dallas College.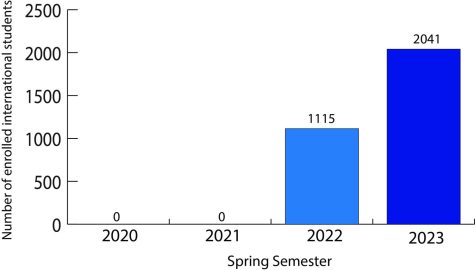 The F-1 visa allows international residents to enter the U.S. as full-time students at a certified college, university or other academic institution. After earning their degree, students must return to their home country or find a job that will sponsor them to work in the U.S. after graduation.
Dallas College experienced a decline in F-1 students seeking a certificate or degree in Fall 2020. According to the National Center for Education Statistics, in 2020, 0% of enrolled students at Dallas College were F-1 visa holders.   
Lowery said the COVID-19 pandemic halted enrollment for F-1 students, bringing it to 0% for three semesters during lockdown.
The Department of State suspended embassy services worldwide due to travel and sanitary restrictions in March 2020, creating backlogs and extended waiting times for those applying for visas, especially international students.
"Starting Summer and Fall 2020 and Spring 2021, there were a few transfers, but [there were] pretty much no additional [international] students," Lowery said. Dallas College F-1 students currently account for approximately 3% of the student population.
According to the National Association of Foreign Student Advisers' economic analysis for the 2021-2022 academic year, international students contributed $33.8 billion to the U.S. economy, in addition to creating 335,423 jobs in the academic year.
Lowery said international and F-1 students are important for the enrichment of Dallas College programs and culture, adding different perspectives and interests. Lowery said regardless of being pressured to fulfill certain requirements, F-1 students excel in their chosen programs. 
Sofia Reyes, a Dallas College international student, said Dallas College has provided her with resources to navigate the enrollment process and make connections on campus. Reyes said she appreciates Dallas College providing international students with a Designated School Official, or DSO, that assists F-1 students with any questions or concerns they might have.
Dallas College Designated School Officials guide students from the initial application to graduation and work authorizations. They work closely with F-1 students to comply with their visa requirements to maintain their status.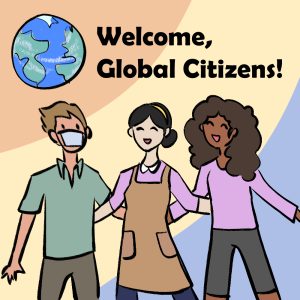 Reyes said she navigates through the culture shock and adapts to the American culture and college experience with ease. She said the Multicultural Affairs department has provided resources to promote different cultures and nationalities on campus. "Their events make me feel seen, appreciated and respected," Reyes said.
Sean Guinyard, a multicultural affairs coordinator at Brookhaven Campus, said international students play a big role in culture at Dallas College, and the Multicultural Affairs office is open for students looking for resources. Multicultural Affairs also hosts events to celebrate diversity, culture and bring awareness to domestic students about international students.
"We [recently] had International Education Week," Guinyard said. "It was an opportunity for us to host events geared toward international students, like International Tea and Coffee."