Brookhaven names Student of the Year
A student stares into the hallways of the Dallas College Brookhaven Campus she courses through daily. A smile creeps onto her face. "I don't regret any of it," she said about her experience as a student.
Gisselle Lopez, president of the Student Government Association and a Phi Theta Kappa member, has been selected as the Dallas College Student of the Year for Brookhaven Campus. She took a few seconds to translate her gratitude into words. "It's definitely a rewarding feeling," she said.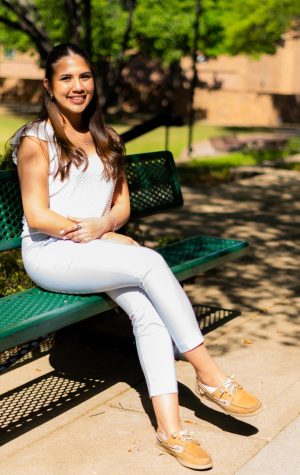 Recognition
Lopez is part of organizing campus cleanup projects, reconstructing the SGA constitution and creating a survey for students to voice their concerns. "I kept pushing through," she said. "I kept doing what I love, which is helping others."
"I never see her sit down and relax," Oscar Lopez, a Dallas College student and Gisselle's brother, said, chuckling. "At home, she's also working."
At home, Gisselle sits on her bed with a laptop across from her. Her laptop fan runs as the computer overheats. Gisselle finally wraps a meeting with other SGA members across Dallas College, letting her laptop rest. She begins winding down for the night, but chimes from her phone prevent her from doing so. Gisselle checks her phone and sees an email congratulating her for receiving the Student of the Year honor.
She let out a scream of excitement. Gisselle's dad checked on her, and she told him the news. "He was very proud of me," Gisselle said, swiveling in her chair as she recalled the moment, "Anytime [he has a chance], he says, 'This is my daughter. She's the first one to go to college.'"
Overcoming Obstacles
Gisselle is a first generation college student. Her mom is from Sinaloa, Mexico, and stopped going to school after middle school. Her dad is from Jalisco, Mexico, and did not graduate from high school. "They were both young when they came to the U.S.," Lopez said. "I've been living with my dad since they separated."
Growing up with her dad came with unexpected challenges for Gisselle. When she was in eighth grade, she and her dad faced homelessness. She said, "My dad was laid off from work and he was struggling to find a job."
Gisselle and her father lived out of a car, and if they got lucky, a family member would offer them a place to spend the night. "It was hard, but I wasn't depressed," she said. "I knew we would be out of there." They lived under these circumstances for the next three years.
As a result of these struggles, school became Gisselle's main shelter. She spent most of her time roaming the grounds with her friends from sunrise to sunset.
Her father found an apartment, and Gisselle got ready to graduate and move on to the next chapter in her life.
She decided to attend community college. She said, "I thought I was going to go straight to the workforce, and so I told myself if I flunk out or it doesn't work out, at least I'm not going into debt because of Dallas Promise."
Dallas County Promise covers tuition for Dallas County high school graduates who attend partner schools such as Dallas College.
Gisselle's first semester consisted of getting lost in Brookhaven's hallways and walking through a revolving door of success coaches. Dallas College's online services, such as eCampus and eConnect, were hard for her to comprehend, she said.
Changed Mindset
Gisselle was lost. "I was super quiet," she said. "I wasn't interacting with anybody. And I didn't have any interests in student clubs or organizations my first year of college."
In the Spring 2022 semester, Gisselle became active with SGA. "What made me change was realizing I did enjoy school," she said. "I wanted to keep it pushing."
Jeremiah Stinnett, a co-adviser of Brookhaven SGA and Brookhaven Male Achievement Program lead, nominated Gisselle for the Student of the Year honor.
Stinnett said: "She really believes that as students, whether you are at Brookhaven Campus or a different campus, you have rights and expectations that should be happening for you, and it should matter. I really do believe wherever she ends up, whatever she does, it is going to be impactful."
Today Giselle moves through every corner of Brookhaven, listening to and helping students who need support.
"I didn't have the proper guidance when I first started college, and I know there are other students like me," Gisselle said. "I want to use my voice to help others going through what I went through."
Gisselle said: "I want to create a nonprofit for children facing homelessness. That's what matters to me most because that's what I have experienced. I feel like that will fulfill my life purpose."