Alumnus recalls unforgettable graduation walk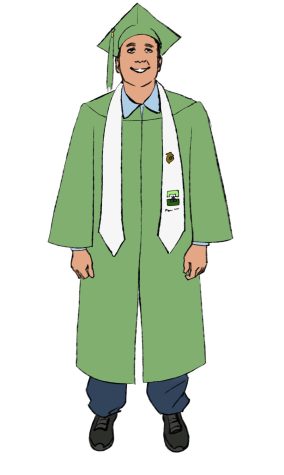 Samuel Salmeron expected a normal walk across the stage on May 11, 2017, his graduation day. After eight years, and many challenges along the way, it was time to receive his well-earned degree.
With excitement and eagerness, he approached the main stage, name card in hand, reflecting on the years of college education that were behind him. Salmeron had been working at Dallas College around nine years at that point, but he never expected to be the standout of his graduation ceremony.
AN UNFORGETTABLE WALK
On May 11, 2017, graduates moved like a well-oiled machine. Students walked up to the presenter, turned in their name cards and walked across the stage with their diploma in hand without interruption. It was Salmeron's turn, and as he handed his name card, the well-oiled machine of students took a pause.
As his name was called, former Brookhaven College president Thom D. Chesney urged professors and staff on stage to shake Samuel's hand and personally congratulate him in front of all attendees. Confusion and shock were the only thoughts going through Salmeron's head, while his family, with gasps and excitement, cheered from the audience.
He shook hands with everybody on stage, and made his way down. With excitement, Salmeron had only one phrase on his mind: "I did it."
FINDING DIRECTION
Growing up in a military family and constantly moving from state to state, Salmeron spent his high school years in Honolulu, Hawaii.
He attempted to start his college career after graduating from high school in 1989. Salmeron never considered himself the studious type, and left his college education undone. "I dropped out." Salmeron said. "I was failing every class, and I had no option really."
His parents wanted him to have a sense of direction, and originally set him to enlist in the military. He refused and moved to Texas. With a construction job lined up, he hoped to find his direction.
Salmeron eventually found his way into Brookhaven Campus as a heating, ventilation, air conditioning and refrigeration technician.
Salmeron wanted to take advantage of the tuition discount for full-time employees. He was informed of this benefit through his sister-in-law, Mai Salmeron. She said getting him started was the most difficult task. It took locating old transcripts and taking placement exams for Samuel to gain momentum and begin his academic journey once again.
Three of Samuel's siblings were Brookhaven alumni who transitioned to four-year universities. Samuel felt the pressure to enroll after high school. He took their example as motivation, and became the last sibling to enroll in college, determined to finish.
"
If you are in a two-year college, and it takes you four, five, six years, it does not matter. What matters is that you finish.
— Samuel Salmeron, HVAC Technician
SLOW BUT STEADY
In 2008, Samuel enrolled in his first college class after taking a break from his studies since 1989. He said by taking one or two classes a semester, he balanced work and school.
The biggest challenge Samuel faced when taking his classes was technology. He said there was a leap between going to college in the '90s and today. "When I originally went to college, everything was on typewriter," Samuel said. "Technology totally changed."
There was a point every semester where Samuel wanted to throw in the towel. He said he regularly visited his advisers to drop classes, but they never allowed him to quit.
Mai said her brother-in-law felt frustrated and tired of taking classes. She reminded him of how close he was to getting his degree, and to lighten up his coursework through interesting elective classes.
Having a support system was important for Samuel. His family, professors, classmates and coworkers wanted to see him succeed. "I had the right people around me to push me, guide me, and help me finish," Samuel said.
Eventually, it became easier for Samuel to find motivation. There was a community of people who wanted to see him finish his degree. "I believe that his trust in me made it easier for him to reach out when he needed help or guidance," Mai said. "That allowed him to continue with his education and not be discouraged."
He said he does not regret any minute of it. Having the opportunity to go to college for free and walk across the stage gave him the greatest satisfaction.
Mai said, "That moment solidified for me that [the] Dallas College family does support and care for their students and employees, and want[s] them to succeed."
Samuel said he encourages students from all walks of life to keep going. "If you are in a two-year college, and it takes you four, five, six years, it does not matter," he said. "What matters is that you finish. All of this was worth it."