Working in quick and broad strokes, Donald Mowat, Emmy-winner and Oscar-nominated makeup artist, demonstrated his techniques to Dallas College Brookhaven Campus students in the Performance Hall on Sept. 13. Mowat picked a student volunteer from the audience to recreate a look from a scene in "Prisoners," where actor Paul Dano's character, Alex Jones, gets beat up and tortured. Comparing this process to drawing and line painting, Mowat lightly applied a reddish-purple product on the volunteer's face with a triangular sponge, concentrating around the eyes, eye sockets, nose and mouth.
He started with a basic pattern, then built layer upon layer to deepen dimension and construct the bruised look. He heavily misted the face to recreate sweat. Then, he began to place swipes of fake blood on the cheek and forehead, pooling the fake blood in areas where it would naturally collect, such as below the nose, chin and corners of the eyes.
Mowat achieved illusions of swelling by placing cylindrical dental inserts on the inside of the check to recreate cheek swelling and used a blowing tube on the eyes to create swelling.
Mowat has worked on numerous films such as "Dune: Part One," "Blade Runner 2049," and "Prisoners." Donning a light pink blazer, white button-up shirt and khaki pants, Mowat sat down with Tony Armer, film commissioner and director of Creative Industries, and emanated his amiable demeanor with delicate answers and charming jokes.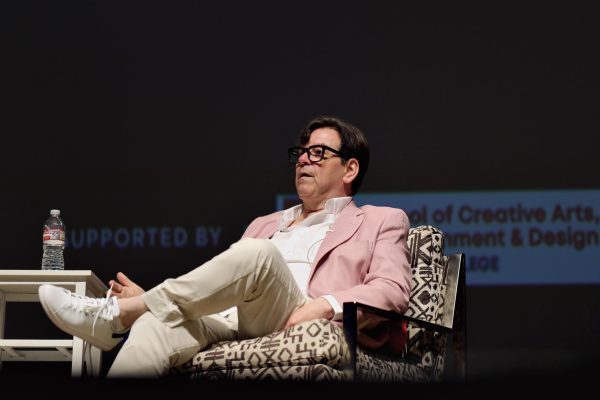 Mowat opened with an emphasis on the importance of giving credit where it is due. "I always try to make sure people know that you acknowledge other people who've contributed to your success," he said.
Reminiscing about high school, Mowat compared those years of his life to prison. "I just didn't fit in," he said. Despite his unpleasant experience, Mowat said he discovered his love for theater in high school and now encourages students who feel left out to persevere and find hope. He said, "You have to make the most of the things you like, and the things you don't like. You got to suck it up and buck it up."
Mowat's first makeup gig was initiated by his high school English and drama teacher, who assigned Mowat to be the makeup artist for a school play. Mowat said awards are as much an honor as they are a curse, referring to his Oscar nomination for "Dune: Part One." He said, "The award is about getting to do what you love to do." Mowat said he felt other films he has worked on deserve more recognition. He said the timing of some awards may conflict with an artist's perspective on quality and standards. "It comes with a lot of, 'Why now? Why not for this?'" he said.
Mowat said he has no regrets transitioning from theater to commercial film. "I've never thought about turning back," he said. "There's nothing I would have rather done in my life."