As the Fall semester has begun, Dallas College Brookhaven Campus has hosted a variety of events to welcome students, staff and faculty back to school.
The BHC Luncheon took place Aug. 17. The luncheon saw staff and faculty gather in W Building for a come-and-go event featuring a variety of speakers, including Christie Slejko, interim president of Brookhaven. Staff and faculty lined up out the door and into the hallway for the luncheon. Candy and Dallas College merch were placed on each table in the room. The Brookhaven Bear mascot made a special appearance at the luncheon, posing for photos with staff and faculty.
Slejko highlighted some upcoming events for staff and faculty to participate in. Slejko said, "A Seat at the Table is an opportunity to talk about our values and provide feedback about the experience of being a Dallas College employee." Slejko also highlighted the Quality Enhancement Plan and the Employee Giving Campaign.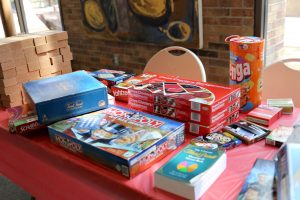 Students were invited to the Welcome Back Bash on Aug. 31 in the Commons Courtyard and Performance Hall Lobby. Activities such as playing cornhole and tie-dyeing shirts were available to students. A meal line table was set up in the Performance Hall Lobby, with board games set up on a table across the room. Dallas College merch was available as well.
Students were invited to join clubs at the Club Expo Sept. 6-7. Multiple student clubs were at the event in S Building lobby, including the Brookhaven Art Club and Criminal Justice Club. Each table had a flier with a QR code for students to scan. Tables also had candy to give out. A popcorn machine was set up next to the tables for all participating students.