Blue bins help BHC campus go green
By Joie' Thornton
Staff Writer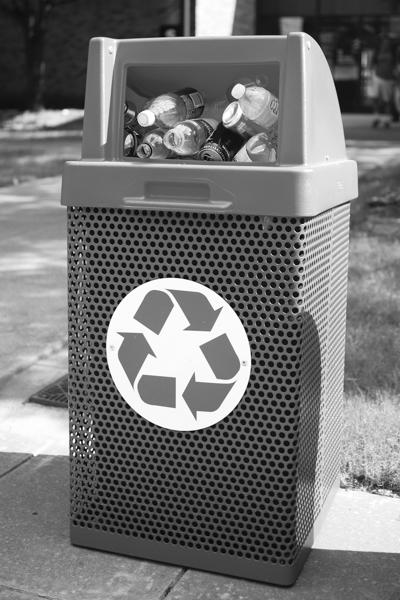 Filled to the brim with bottles of consumed sodas and downed energy drink cans, the new recycle bin outside the S Building is becoming a popular option for disposing of waste. The trash receptacles around campus now have a new friend.
Brookhaven College obtained 50 new outdoor recycling bins in an effort to increase awareness about recycling and being green.
Brookhaven director of facilities Tommy Gallegos said the process of obtaining the exterior bins started a year ago. Through college funding, the bins were brought to the campus over the summer. The purpose of the bins around campus is to have students participate in going green.
Carrie Schweitzer, assistant to the president and part of the Green Team on campus, said that the Green Team hopes everyone will appropriately dispose of their trash by recycling. Schweitzer said, "I wish students would, and anybody on campus would, be able to hang on to their plastic or aluminum long enough to get to a recycling bin or to leave it in your car to recycle it at home." Schweitzer said the Green Team wants to continue to increase the awareness of recycling around the school.
Brookhaven is a single stream campus, which means recyclables are not separated by type, such as clean paper or plastic. The net result is a more efficient recycling process. Gallegos said another goal in single-stream recycling is to place at the top for the Recyclemania competition.
Recyclemania is a national eight-week-long competition every spring between colleges, cataloging the amount of goods recycled. Last year, Brookhaven placed 271 out of 361 in the per capita classic and No. 1 among the Dallas Community Colleges.
Mary Schoals, public information assistant, said the new blue bins will attract attention to recycling and provoke students to choose the recycling option over wasting goods.
Schoals also said the Green Team is thinking about labeling the bins so students will know exactly which bins recyclables go into.
Schoals said she hopes with these new bins and the efforts of the Green Team, students will become involved in recycling around campus. Schoals is optimistic that students will see Brookhaven as a green school, and that could possibly influence them in selecting Brookhaven as a school of choice and moving on to another green school.
For future recycling, Schweitzer and Gallegos both said they would like to have recycling bins in the parking lot area as well.