By Chris R. Allison
Copy Editor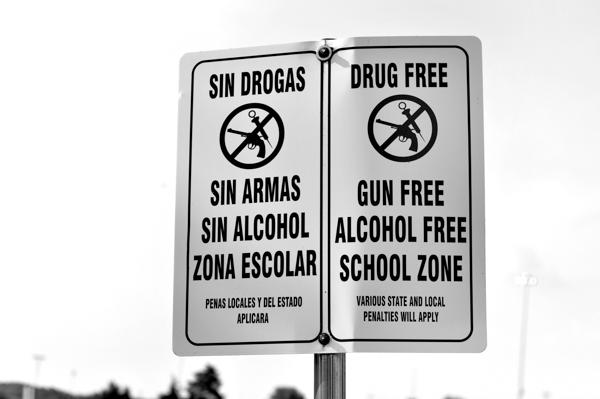 The Brookhaven College policy regarding guns on campus has changed little, despite the growing number of gun-related bills introduced into the Texas Legislature.
Of the few bills voted into law, fewer affected any students, faculty or staff of the Brookhaven campus. Although Texas state law prohibits concealed handgun license holders from carrying guns onto higher education campuses, the "Guns in Cars" bill, which went into effect Sept. 1, allows those with concealed handgun licenses to keep guns locked in their cars on campus parking lots. It also prohibits universities from creating any laws against such storage.
This bill clarifies an unclear policy for Dallas County Community College District campuses.
According to DCCCD Penal Codes 46.05(a) and 46.035(f) (3) from 2008, a person is prohibited from carrying weapons, including firearms, onto school premises.
However, the term "premises," by legal definition, "does not include any public or private driveway, street, sidewalk or walkway, parking lot, parking garage or other parking area," according to the 2008 code.
The DCCCD student code of conduct from 2012, in contrast, defines "premises" as "buildings or grounds owned, leased, operated, controlled, or super- vised by the College District."
This interpretation is based on the state policy of allowing school districts free reign in this area. The "Guns in Cars" bill clarifies the rules for those packing heat.
In a world affected by school shootings from Virginia Tech to Sandy Hook Elementary, the issue of campus safety and security is timely.
The debate over how to address this issue continues with a variety of proposed solutions, including arming teachers or hiring private security.
Safety features at Brookhaven include a campus-specific police department, officer and staff training and regular lock- down drills.
The Protection of Texas Children Act allows individual school districts to decide whether or not to allow faculty to carry handguns in the classroom.
A July 17 article in the Huffington Post covered the latest school district to arm its teachers, the Canadian Independent School District, located northeast of Amarillo. "CISD is not the first school district to vote to arm teachers in Texas. Some teachers in the Harrold Independent School district have been allowed to do such since 2008. They were the first district with such a policy and enacted it in response to the Virginia Tech shootings," the article read.
Arming faculty brings a new set of problems, including the necessary firearm training, the task of deciding whether to divulge to parents which teachers are carrying guns, the selection process for which teachers would be given guns, the compensation they would receive, the need for psychological and mental evaluation of teachers, and the issue of employee versus employee violence, the article continues.
Despite such concerns, a number of districts in Texas have elected to arm faculty and staff since 2008. Exact numbers are unknown since some districts have chosen to remain secretive regarding their policies, according to the Huffington Post article.
Brookhaven freshman Maritza Lopez said she sees little need to allow guns on campus or to arm teachers. "You never know what's going to happen, but I feel comfortable and safe here," she said.