Lady Bears maul Richland Thunderducks 3-0
By Maddox Price
Editor-In-Chief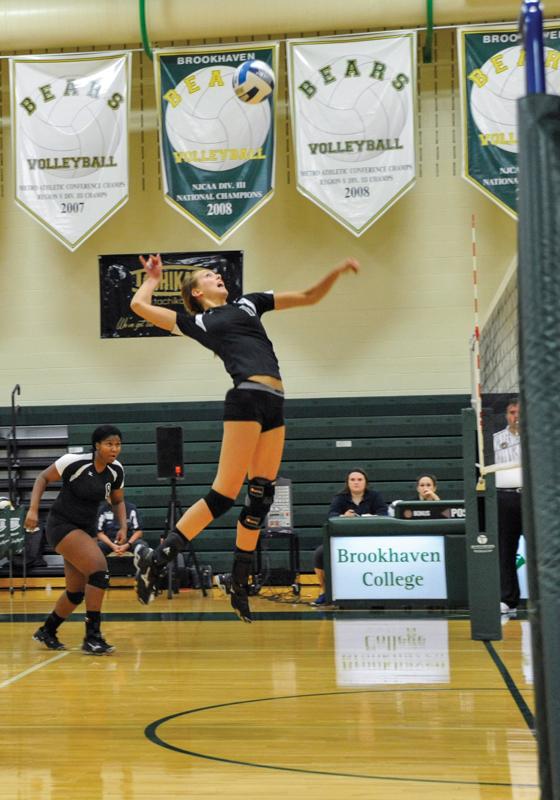 "Come on Lady Bears, let's make this a quick one," one avid fan shouted from the stands, following the ceremonious Pledge of Allegiance. And it was, lasting just over an hour. The Brookhaven College Lady Bears volleyball team made a triumphant turnaround from its loss against the Midland College Warriors Sept. 21.
The Lady Bears dominated the Richland College Thunderducks in a three-set shutout Sept. 23 at Brookhaven. The Lady Bears took the first three sets, winning 25-21, 25-16 and 25-18.
Head coach Jason Hopkins said the team held its own during the entire game. "We never really had too many dull moments," Hopkins said. "We kept positive throughout the entire match, whereas this past weekend, we played Midland College and it was in stark contrast. It was rough. I'll just leave it at that."
Reeling from a competitive first set, the Lady Bears came back in the second to serve the Thunderducks kill after kill, thanks to the aggressive defense and successful roof blocks of opposite hitter and middle blocker Bailey Lawson, middle blocker Kim Parker and outside hitter Lauren Bratton.
The Thunderducks let their guard down, giving up multiple attack errors as well other service errors. With their hands on their hips and angered stomps, the Richland players were not pleased with some of the calls and were given a verbal warning by the head referee to resolve the behavior.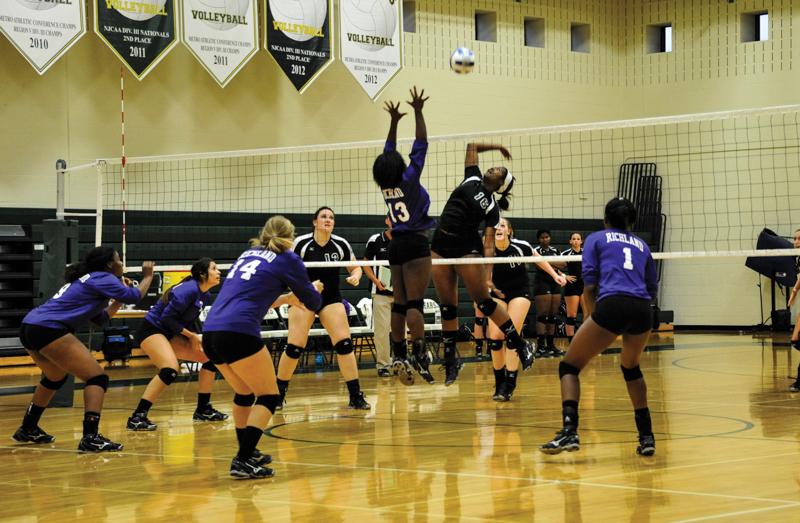 Shelby Ellis, Lady Bears outside hitter, said the Thunderducks played well and gave the team a good fight. Hopkins said he was surprised by Richland's performance. "I saw them during the tournament and they looked strong, but today they just didn't look like the same team," Hopkins said.
Outside hitter Cadyn Laing stood out, topping the game with 19 kills, 4.5 blocks, two aces and three digs. Leading with 36 assists and four digs, setter Sarah White was on point throughout the match.
Hopkins said: "They all played lights out in their position, every last one of them. They played and did exactly what they needed to do."
Laing and Parker said their personal goal for the season is to work on "blocking, blocking and more blocking."
Hopkins said the team's objective is always the same: "We are always shooting for a conference championship and a national championship. That's always our goal."
The Lady Bears volleyball team will host its next game against Arlington Baptist College 4 p.m., Sept. 30. Hopkins said it would be great to get more support: "Just having more student body support would be cool. Any chance we can get for people to come to the match – it's fun and it's free entertainment."