By Chanel Sidi
Staff Writer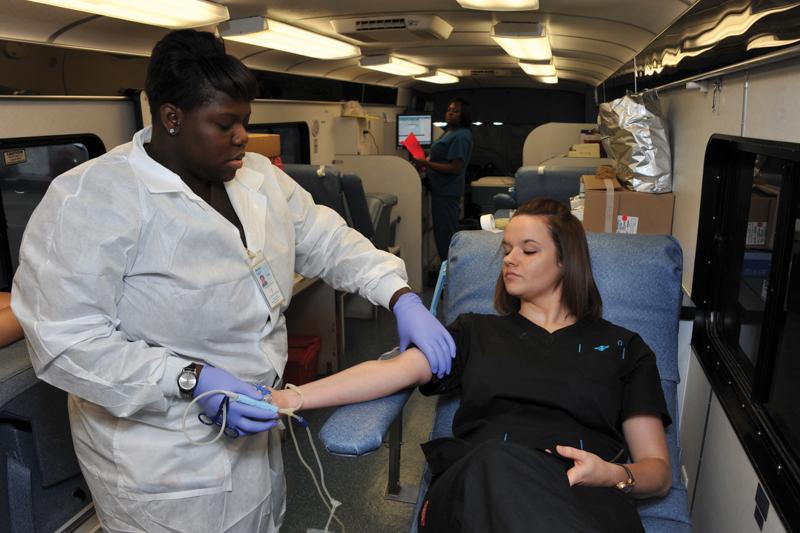 The intense Texas sun was shining, radiating heat off the sizzling Brookhaven College asphalt.
The listless flags in front of the campus hanging at half-staff served as reminder of the events of 9/11, 12 years ago.
The mammoth Carter BloodCare bus was stationed in the first few rows of the parking lot.
Upon entering the remote mobile clinic, donators were greeted with the warm smiles of Carter BloodCare operators.
Despite a lengthy day of demanding work, the team welcomed questions from prospective donors and readily offered information.
The number of students occupying the narrow space was surprising, given the seeming vacancy outside of the bus.
Leonel Garza, a chemical engineering student, reclined as his blood was being extracted.
Garza is a regular donor. "I always donate blood. You never know when someone may need it," he said.
According to an article published in the New Republic July 29, 2002, "Faced with an unprecedented turnout, the American Red Cross and other organizations over-collected so massively that they had to discard thousands of gallons of the perishable liquid."
Carter BloodCare phlebotomist Chelseay Pannell said, "When things like the bus crash we recently had, West or Sept. 11 happen, more people donate blood."
Although Carter has donors who come in regularly, "doing the blood drive on this day has brought in some more students than usual," Pannell said.
Blood donations are imperative in saving lives, however, the most effective way to be of service is to donate on a consistent basis, according to a World Health Organization document.
According to redcrossblood.org, "one donation can help save the lives of up to three people."
Administrative assistant to Brookhaven's nursing department Doris Gordon said, "It's giving back to your community, and actually makes you an active member, thus becoming an integral part of the community."
By contributing blood regularly, the life potentially revived could be that of a loved one, or that of the donor.