Campus officer details love of music, bagpipes
By Aaron Ortega

Senior Staff Writer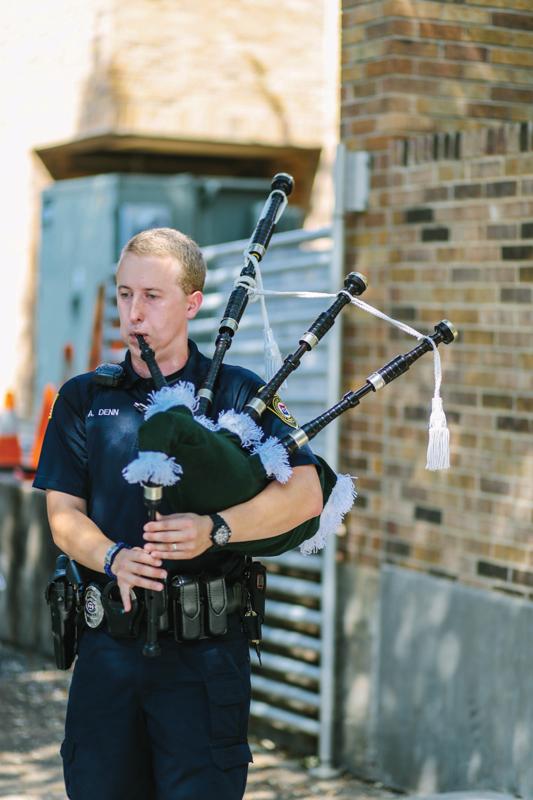 Officer Aaron Denn conveys a modest demeanor upon first meeting him, Captain Gabriel Galvez, watch commander of Brookhaven College Police Department said. "He was kind of quiet and reserved at first, until you get to know him, then he opened up and talks a lot," Galvez said.
Few may know that Denn, who can trace his family roots on his mother's side all the way back to Scotland and the Wallace family tree, opens up and expresses himself through one of the loudest and most recognizable musical instruments.
Denn said the sound frequency the common bagpipe transmits can travel at least a half a mile, or approximately the distance across the Brookhaven College campus from Marsh Lane to Alpha Road. "That is one of the most common comments that people have on bagpipes: 'That's really loud. I didn't expect it to be that loud,'" Denn said. Bagpipes, Denn said, originated as a military instrument, and their loudness was developed for coordinating military movements in Scotland.
Upon learning of Denn's hidden talent, Galvez said, "I was surprised, thinking to myself, 'Is this the same guy?'" Galvez said he has experienced other bagpipers playing, but recognized a clear difference between Denn and the others.
Denn has worked as a campus officer at Brookhaven for almost two years and said he enjoys working here. "Aaron is a good guy and a go-getter," Captain Galvez said. "Aaron is always willing to help out everyone on the college and is a great team player."
Denn's history with musical expression began early with piano lessons. Later, in high school, he picked up the guitar. But he would eventually find an unsuspected adoration for a woodwind instrument he had not experienced in his previous musical exploits.
"When I played piano, that was because my parents told me to. When I played guitar, that was kind of because it was the cool thing to do," Denn said. "But I just kind of fell in love with bagpipes."
He added: "Until I met my wife, the bagpipes were like my whole love. Everything I loved went into the bagpipes, and I cherished them. Then I met my wife and things changed, but bagpipes are still very special to me."
Around six years ago, Denn decided he would take it upon himself to learn and explore the bagpipes' unique sound. He picked up study equipment and taught himself the basics, from fingering and movements to melodies.
The endurance required for playing the bagpipes may overshadow the simple hand movements of playing the piano or guitar. "Learning to play was pretty demanding," Denn said. "A lot of it because the bagpipes require a lot of physical stamina, and for guitar and piano, it's mostly your hands you have to worry about."
"Bagpipes are a real temperamental instrument," Denn said. "They can be affected by temperature, humidity, whether the sun is shining or not. It's a skill to make them sound good."
Through connections of family and friends, Denn eventually displayed his pipe-playing talent at weddings, birthday parties and charitable events. Eventually his exposure increased, due to both his GigMasters web page and his band's performances with the North Texas Caledonian Pipes and Drums, and the Metro Dallas Police Pipe Band.
Denn's list of gigs and events over the years range from pub performances, parades, weddings, funerals and pipe band competitions. The North Texas Caledonian Pipes and Drums band participates in competitions all over the country, from Kansas to Georgia, and won the North American Piping Championship in Michigan in 2008.
As each gig is unique, Denn expressed his appreciation for each performance, as they represent different forms of significance.
"Every single one is special," Denn said as he recounted various events he's participated in. "For a wedding, it just contributes to making the day super special. For the opposite end, for a funeral, the music really helps people to honor their loved ones and cherish their memory, and it can help in the grieving process too."
For one such funeral, Denn was to participate in an honor guard for a naval veteran in Comanche, Texas. "I had to drive almost two hours south of Fort Worth. I was terrified I was lost," Denn said. "I found this tiny, tiny little cemetery in the middle of nowhere."
The memorial service featured a naval honor guard and included the flag folding ceremony to honor his service. "What was neat about that one was I was able to bring one aspect of Texas and our national heritage to honor his service in this tiny little community of rural Texas," said Denn.
Participating in the St. Patrick's Day Parade is one of Denn's favorite memories because he has a connection to this celebration through his Irish ancestry. He also said every year varies from crowd to crowd. After piping for nearly four hours, although Denn feels rather winded, the nature of the celebration touches him and proves to be a favorite, year after year.
Denn's passion for the bagpipes makes an impression on those who witness it. "His willingness to share his remarkable, truly beautiful talent on the bagpipes at college and community functions exemplifies a giving spirit," said Dr. Thom Chesney, Brookhaven's president.
Galvez said he appreciates Denn's passion for the instrument and commitment to his band."He believes in tradition and keeps the true honor of the bagpiper alive," Galvez said.
Next month, Denn will be piping along with a Presbyterian church choir, playing "Amazing Grace." On Nov. 11, he will appear in the Dallas Veteran's Day Parade in downtown Dallas