Open forum brings flavorful discussion
By Brigitte Zumaya
Staff Writer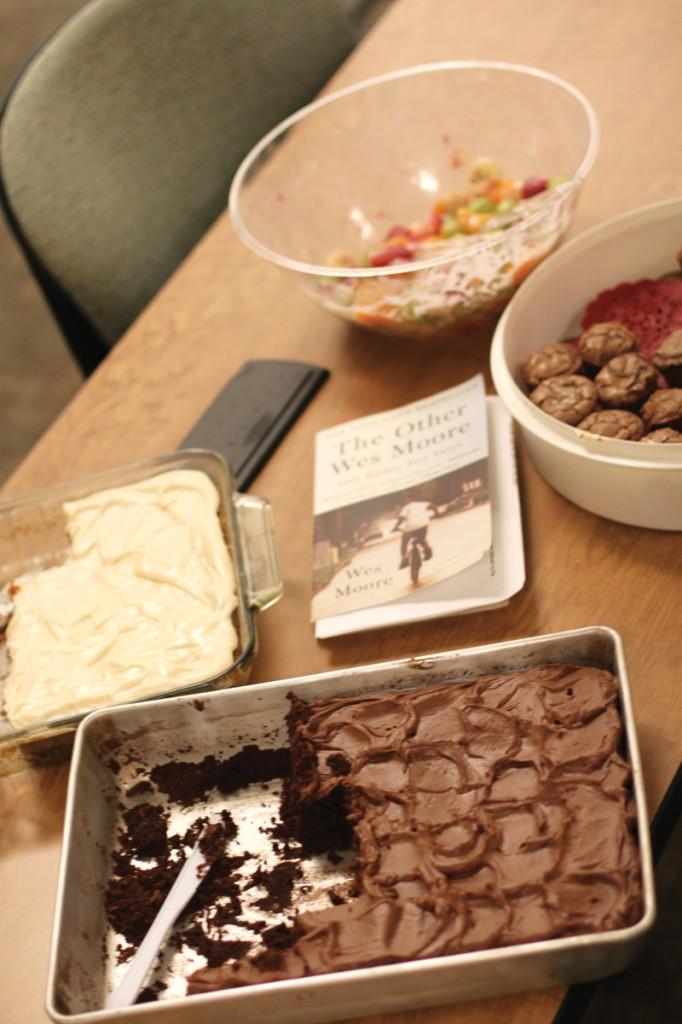 Amid a table of mouth-watering brownies, cake and other sugary treats, guests tickled their tongues before delving into savory literary conversation.
Students, staff and faculty gathered for the Brookhaven College Open Book Project discussion on "The Other Wes Moore" Sept. 24.
Everyone was welcome, and attendees were offered free food, such as carrots, chocolate cake and fruit salad. The name of the event, "Sweet Talk," referenced those sweet treats. "I came for the book and the discussion, and the bonus was the sweets," English professor Brian Roffino said.
Brookhaven English professor Haven Abedin said the event felt like a book club, and she wants students to expand the discussion outside the novel.
"Reading is great, but if you can talk about it with somebody else, you can get so much more out of it," she said. The discussion began with Abedin asking the audience questions.
"It's basically a chance for the Brookhaven community to come together and talk about this fascinating book," Abedin said.
She also mentioned the open nature of the event and the ease with which students were able to express their opinions and perspectives on "The Other Wes Moore."
"I enjoyed hearing what students and other people around the campus have to say about this book," Roffino said.
According an article on npr.org, "The Other Wes Moore" has become a popular pick for college campuses with common reading initiatives. The award-winning New York Times bestseller "The Other Wes Moore" highlights the struggles of two men with the same name who, in similar inner city neighborhoods, took different paths. "It's a book about choices," Roffino said.
At the discussion, Brookhaven student Stephanie Cecena said hearing other people discuss the book made her want to read it.
Abedin said: "I recommend it. I read it in three nights, because it was a page-turner." Roffino also recommended the book "to anyone who thinks about their own lives, anyone who is curious about life possibilities," he said. "It's a book that relates to a lot of issues in many students' lives." "The book raises issues that are important to everyone, and the main one is, why do some people make it and other people don't," Abedin said.
The Quality Enhancement Plan Committee is trying to get more students, staff and faculty to come in and discuss the latest books. Abedin said, "We're hoping the word will spread." Some teachers gave extra credit in order to get students involved in the book club events. "My math teacher offered extra credit, and I get five extra points for my next math test," Cecena said.
Roffino said, "I tell my students pretty much any time they go to an Open Book event and write a little bit about it, I'll give them extra credit."
Readers can purchase Moore's book at the campus bookstore or find it on reserve at the campus library.